Man könnte schon fast sagen "Alle Jahre wieder". Alle Jahre wieder habe ich das Haus voller langhaariger Menschen. Und hinterher voller langer Haare. Aber ganz ehrlich, das stört mich nicht. Ich öffne den Lieben trotzdem jedes Jahr wieder gerne mein Zuhause. Ein paar erste Eindrücke von unserem Treffen und Bilder mag ich euch heute zeigen. Und es lohnt sich auch bei Heike auf dem Blog vorbei zu schauen, denn sie tut es mir heute gleich.
Was erwartet den geneigten Leser jetzt? Haarfotos, Frisuren und ein bisschen Haarschmuck. Und wer war mit dabei? Alle Damen vom Gruppenbild plus ein paar Zaungäste die sporadisch vorbeigeschaut haben. Nun denn, Gruppenfoto zuerst.
Ich versuche mal alle abzuholen, denn vermutlich liest nicht jeder schon seit Jahren hier mit. Im Langhaarnetzwerk ist es, man könnte sagen, üblich sich hin und wieder zu treffen. Um mal zu sehen wer hinter einem Nicknamen steckt, um sich mal hemmungslos über ein nicht ganz alltägliches Hobby auszutauschen, aber natürlich auch um einfach eine schöne Zeit zu verbringen. Recht bald habe ich gemerkt was man da für liebenswerte Menschen kennen lernt und habe die Chance genutzt, da ich den Platz hatte/ habe und hab mal ein paar davon zu mir nach Hause eingeladen. Ich habe wie gesagt die Möglichkeit dazu und mache da auch gerne den Gastgeber.
Historie der Allgäu Treffen
Dass ich "diese Haartraum" bin (bitte nicht zu Ernst nehmen) und ich auch noch Senza Limiti (der Haarschmuckhersteller meiner Wahl) dazu bringen konnte zu mir nach Hause zu kommen hat sicherlich auch geholfen sogar Leute aus ganz anderen Ecken Deutschlands anzuziehen. Keins der Mädels hätte ich sonst wohl kennen gelernt, aber jede davon würde ich schmerzlich missen. Nun machen wir das also jedes Jahr. Treffen im Allgäu mit Senza Limiti. Auch wenn wir mittlerweile oft in die Werkstatt nach München fahren, einfach weil es da so schön ist.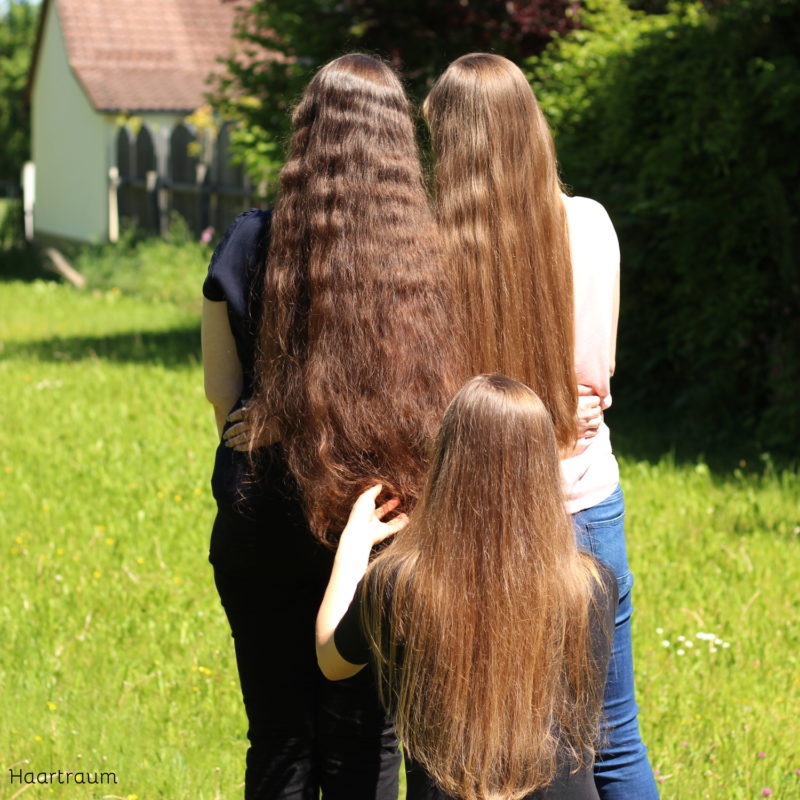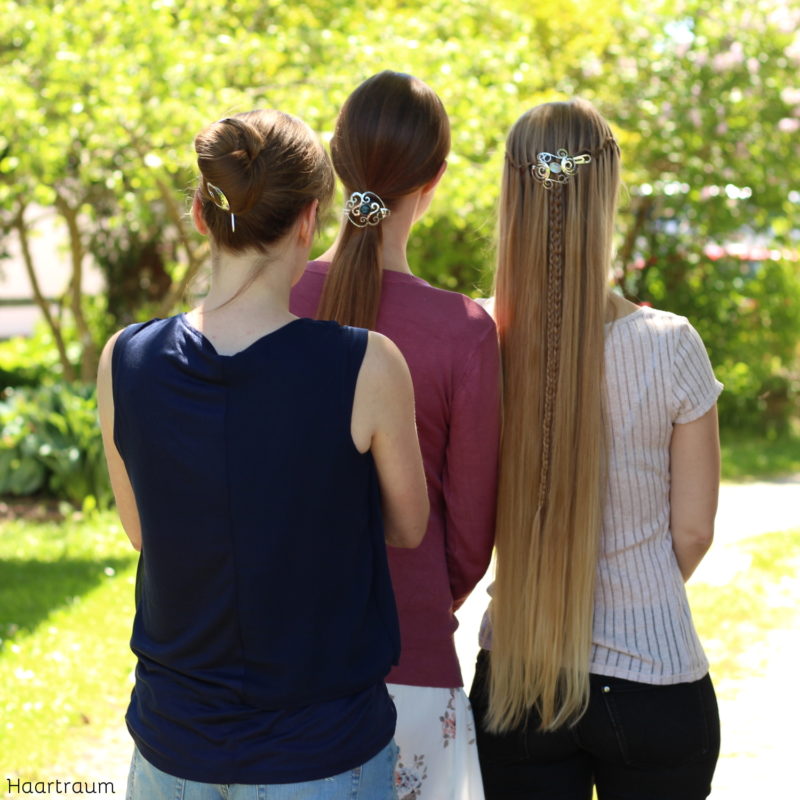 Für mehr Details wühlt euch doch am besten durch die Posts aus Mai und Juni der letzten Jahre. Dieses Jahr war unsere Gruppe vergleichsweise überschaubar, aber wir hatten auch andere Umstände. Bzw. Heike hatte sie.
Das Wetter war uns hold und so hatten wir für alle Bilder Sonnenschein, sofern es nicht einfach schon zu spät war. Und natürlich war war alles viel zu schnell vorbei und wir haben viel zu wenig geflochten und… nein. Wir hatten einfach nur eine gute Zeit. Freut euch auf die nächste Zeit, zwischen meinen Schottland Berichten möchte ich euch ein paar tolle Sachen von Senza Limiti zeigen (ja, es ist etwas neues bei mir eingezogen) und was wir so geflochten haben. Haare geschnitten habe ich übrigens auch, unter anderem bei Heike. Das erste Mal seit Jahren, dass sie jemand fremden an ihre Haare gelassen hat. Na hoffentlich hat sie das nicht bereut (nein, das hat sie nicht, so viel kann ich verraten). Mehr Details zum Schnitt gibt es auf ihrem Blog!
Ich weiß, viele die hier mitlesen sind auch im LHN – wart ihr schon auf einem Treffen?
Bis bald!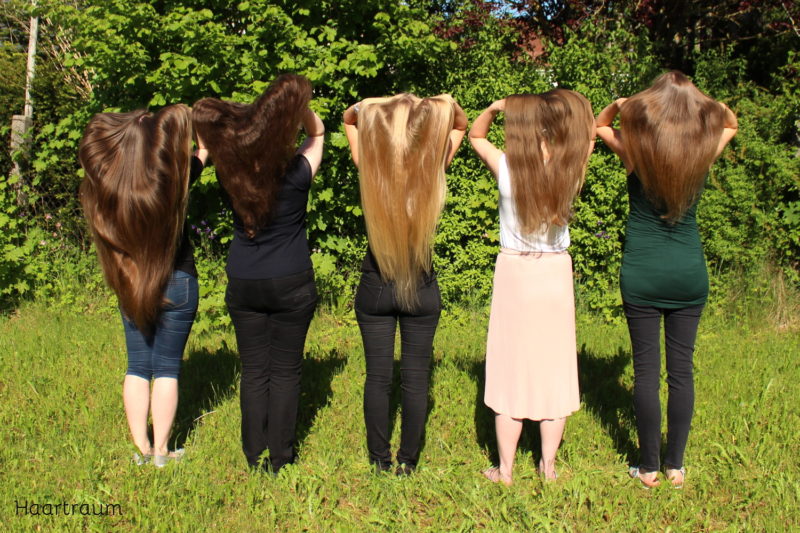 It's the same each year. My house is full of long haired girls, at least once a year. Today I want to show you some impressions of our meet up last weekend. So in this post you will find hair pictures including hair jewelry. Who was part of our meeting? Mainly the girls on the first group picture.
In case you are not following this blog for years (which is rather likely) you will not kow the history of this. In our german long hair forum we tend to meet every now and then and one time I decided to do ameeting at my house. I could even invite Senza Limiti! So we had a big meet up with some beautiful hair jewelry. This was when I first met most of the girls. Without our great hobby I would not know them now and there would definitely be something missing. Since then we met at least once a year to chat and have a good time, but also to get some Senza Limiti pieces. But we tend to go into their workshop because it is so beautiful there!
You can find some post on those meetings on my blog. Time flew by so quickly, but we still had time for braiding and pictures and lots of fun! In between my Scotland reports I need to show you some new hair jewelry (yes, something new moved in) and some hairstyles. By the way, I also did some hair trimming, you can find some details on that on Heike's blog because she is also blogging on our meeting today!
I know some of you are members of the lhc – do you have meet ups like this, too?
Until next time!