Schöne Dinge gehen wie immer viel zu schnell zu Ende. Dazu zählte auch mein Besuch bei Heike. Denn obwohl wir so produktiv waren, soviel Spaß hatten und dazu gutes Wetter – bei guten Freunden könnte man immer noch länger bleiben oder nicht? Hiermit endet dann unser gemeinsamer Monat indem wir euch gezeigt haben was wir so alles geflochten und angestellt haben, passender weise mit den Bildern vom letzten Morgen vor meiner Abfahrt. (Abgesehen von zwei Frisuren die ich noch geflochten habe, aber eben nicht an Heike. Die zeige ich euch noch ganz bald). An diesem Morgen beschlossen wir ganz ungezwungen nochmal spazieren zu gehen um die Morgensonne zu genießen, bevor ich mich für viele Stunden ins Auto setzten würde. Also tat es für mich ein schlichter Engländer, gleichzeitig die perfekte Reisefrisur (mit Dutt kann ich mich nämlich nicht anlehnen). Ganz spontan hat ihn Heike dann mit Blumen verziert. Sieht das nicht toll aus? Ich finde ja das hat total was von Rapunzel (also im Disneyfilm, wenn sie von den kleinen Mädchen einen Zopf geflochten bekommt). Auch das Grün macht sich sehr gut.
Great things tend to be over far to fast. For example my stay with Heike last month. Eventhough we did so much things, had so much fun and such gorgeous weather – you could always stay longer with your best friends. So this is the end of our moth, where we showed you together what we did. And those pictures are a good way to end, as we made them the morning before I left. We decided to go for a simple walk to enjoy the morning sun and so I did a simple english braid. By the way my favourite hairstyle for travelling, as  I cannot lean into a seat with a bun. And as we were on our way, Heike gathered some flowers and decorated it. Looks just like from Tangled, doesn't it?
Für Heike gab es dann einen Hybridzopf, einfach weil der so schön filigran ist, plus Gänseblümchen. Besonders toll finde ich hier ja wieder ihr Kringellöckchen in der Quaste. Zusammen mit ganz viel Sonnenschein haben wir noch ein paar letzte schöne Fotos gemacht (machen lassen).
Die Blumen in meinem Haar haben überraschend gut gehalten, ich musste sie letztendlich aber für die Fahrt wieder rausnehmen. So, wenn ihr jetzt so zurück schaut was wir euch im Juni so gezeigt haben,  was war euer persönliches Highlight, welche Frisur oder welche Fotos haben euch am besten gefallen? Mir persönlich fällt die Entscheidung schwer, aber ganz oben stehen da schon die Pullthrough Zöpfe, sowohl der an Heike als auch an mir.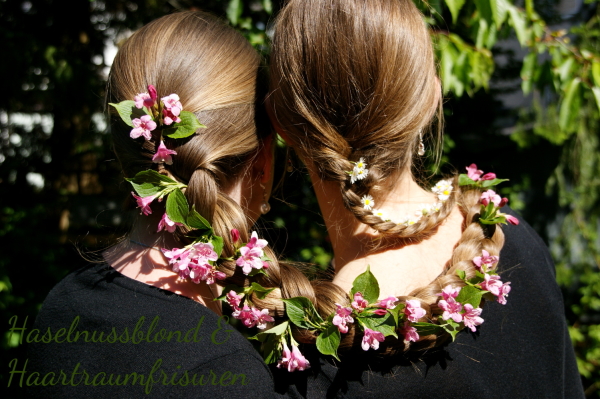 On Heike I did a Hybrid braid because it is so delicate and we added some daisys. I especially love the little lock in the end of her braid. The flowers in my hair held really well and I only had to take them out because I had to sit into my car. Now, if you look back to what we have shown you through july, what was your favourite hairstyle or picture? I think this is a tough decision, but my favourites would probably be the pullthrough braids, both ones on Heike and on me.