Nachdem ich den Elastic Braid an mir probiert habe konnte ich nicht widerstehen ihn auch an jemand anderem zu probieren. An mir selbst war er ziemlich grob, aufgrund der großen Strähnen die ich genommen hatte, hier ließ ich mir Zeit und machte ihn filigran und gleichmäßig. Nur echt mit 36 Haargummis.
After I tried the Elastic Braid on myself I could not resist to try it on someone else. On my head it was rather rough textured because I made thick parts, but this time I took a lot of time to do this braid. Only with 36 hair ties.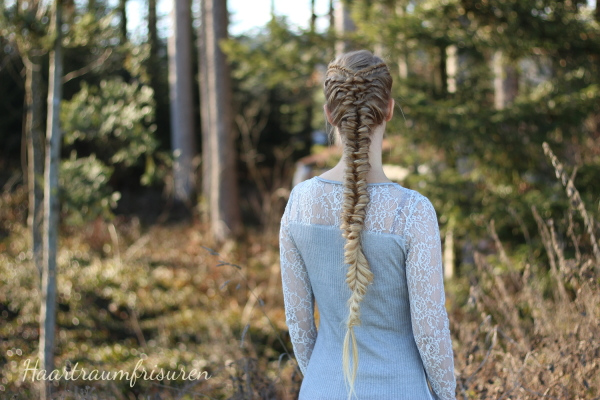 Für ein schönes Detail am Ansatz gab es noch zwei holländische Fischgräten dazu. Dadurch und weil ich ihn eben so filigran gemacht habe, hab ich tatsächlich eineinhalb Stunden da rum gefummelt, also einmal Peter Pan lang, denn das lief nebenher. Aber ehrlich, das Ergebnis entschädigt doch dafür, oder? Woher die Drehung am Ende kommt konnte ich nicht ganz identifizieren, aber tatsächlich macht sich das auf dem Foto sogar ganz gut. Ich finde es wahnsinn, wieviel Volumen man mit dem Zopf zaubern kann. Dafür fühlt er sich natürlich locker an, aber hauptsache es hält.
For a nice detail on the beginning I added dutch fishtails. For all this braiding this took about one and a half hours to do. But the result is so beautiful! I love how much volume you can creat with this braid. It feels loose, but holds up really well.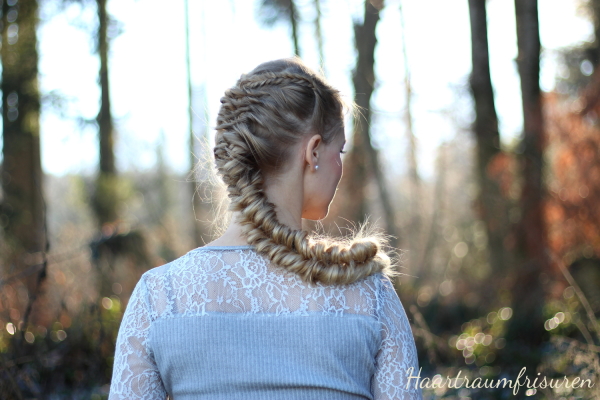 Ich habe den Zopf dann aber nicht nur geflochten, sondern auch wieder aufgemacht. Denn die Silikonhaargummis können echt viel Haare kosten beim rausmachen. Gerade die ganz oben, die habe ich daher auch raus geschnitten. Was sagt ihr zur Elfe in leicht angefrosteten Wald? Ich bin ganz verliebt in die Bilder.
I did not only braid the braid, but also unbraid it. Because this can be really tricky with those tiny silicone elastics. This is why I cut out most of them carefully. What do you say to the beautiful fairy in the frozen forest?