Ein einfacher Zopf war die Mission. Rausgekommen ist das hier. Zusammen mit ein paar Freundinnen haben wir einen sogenannten Twin auf Instagram organisiert. Jede wollte einen ganz einfachen Zopf zeigen und alles wird unter #thesimplebraidtwin gesammelt. Sich helfen zu lassen war ausdrücklich erlaubt, wie man zu dem Bild kommt war uns eigentlich egal. Also nutzte ich einen Besuch bei meiner lieben Lady Amalthea um zu flechten und zu fotografieren. Dabei hab ich mich vor allem an ihr ausgetobt und einen richtig, richtig dick auseinandergezogenen Engländer mit kleinen Akzenten geflochten.
The mission was a simple braid. This is what I ended up with. Together with some friends of mine we organized a twin on Instagram. Every one of us wanted to show a simple braid, collected under #thesimplebraidtwin. It was permitted to take some help and so I used a visit with my dear Lady Amalthea to create some braids. I got really craz while pancaking her braid and so you see a really thick braid on her with some tiny accents.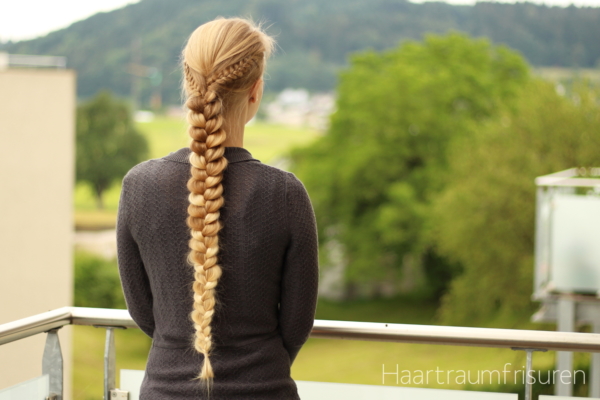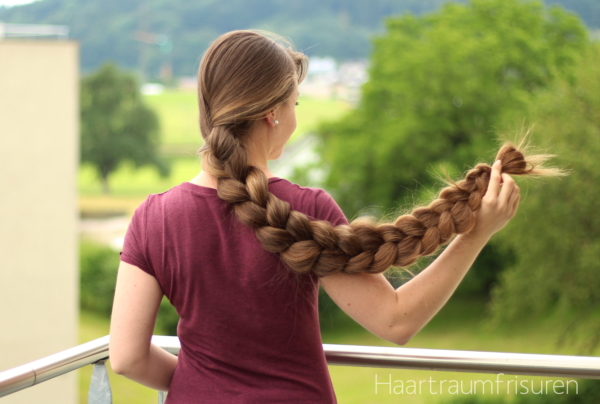 Für mich gab es etwas ein wenig simpleres. Einfach ein Engländer, ohne irgendwelche Akzente und auch nur ein wenig gepancaked. Denn ich weiß durch meine Länge und auch die Menge meiner Haare sieht schon so ein verhältnismäßig simpler Zopf nach was aus. Und ist für mich auch einfach die unschlagbarste aller Alltagsfrisuren. Gleich neben dem LWB, wenn ich hochgesteckt tragen möchte.
Nicht ganz zu diesem Thema, aber trotzdem daran angelehnt ist die zweite Frisur, die ich meiner Freundin geflochten habe. Sie liebt diese seitlichen Lace-Braids heiß und innig, daher wird das meist das letzte, dass ich ihr flechte, damit die drin bleiben können. Sie halten normal auch gut über Nacht. Dazu eine recht grob abgeteilte französische Fischgräte am Oberkopf die dann in einen Franzosen/ Engländer übergeht. Und weil der dicke Zopf beim ersten Mal so gut ankam, gleich nochmal ordentlich breiter gezogen. Und mit mittlerweile altbekannter Pose. Ist doch irgendwie schöner, als den Zopf immer nur über den Rücken hängen zu lassen, oder?
For me I decided to make it even simpler. English braid, slightly pancaked. I know because of my lenght and the thickness of my hair this can be enough to create an eye catcher. And furthermore I love an english braid. My favourite everyday hairstyle beside the LWB which I'm wearing when I want to go for an updo.
The second hairstyle I did on my friend was inspired by this theme, but not quite as simple. She loves those side lace braids and so this is usually the last thing I'm braiding on her. They even survive the night and so she can wear them even longer. On top of her head I did a french fishtail, changing to a french then english braid. And again pancaked because she liked it so much. Showed off in the well know "Haartraum" pose. Better than always letting the braid hang down the back, isn't it?