Noch immer geht mir der Stoff über unser schönes Langhaar Wochenende nicht aus. Denn auch Senza Limiti gehörte dazu. War auch nicht anders zu erwarten, oder? Obwohl ich keine Wünsche hatte und eigentlich eisern bleiben wollte sind zwei Stücke bei mir eingezogen. Das erste zeige ich euch heute, das andere demnächst.
Still I'm not running out of things to post from our wonderful longhair weekend. Of course Senza Limiti was also part of it. You didn't expect it otherwise, right? And even I had no wishes and did not want to get anything two things moved in. I'm going to show you the first one today.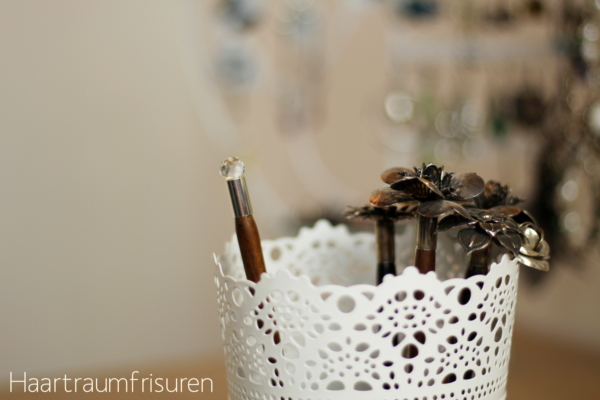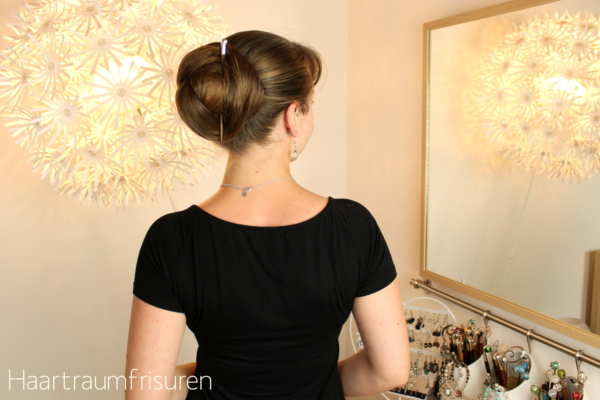 Es handelt sich nur um ein ganz kleines, schlichtes Stück. Eigentlich nicht besonders genug, für einen eigenen Beitrag, oder? Nein, weit gefehlt. Denn ich persönlich mag es manchmal dezent. Besonders, wenn ich den Stab hochkant trage wie hier im "Nessa Bun". Da brauche ich wirklich nur ganz kurze Stäbe und bevorzuge solche ohne Kugel normalerweise. Denn ich mag von vorne keine Antenne haben. Aber dieser kleine Kristall – wer könnte dem schon widerstehen? Denn von vorne fällt er überhaupt nicht auf, selbst wenn er übersteht. Und auch die Holzfarbe passt gut zu meinen Haaren. Super passend dazu sind außerdem meine Kristall Ohrringe von Teufelslocke. Mit auffälligem Stab trage ich lieber unauffällige Ohrringe. Aber hier dürfen die ruhig etwas funkeln.
It's a very small and basic piece. You could think not even special enough to be worth an own post. But that's not true. I personally love to have such simple pieces. Especially if I'm wearing a stick vertically like in my "Nessa Bun" here. For this bun I need really short hair sticks and prefer those without any balls. But who could say no to a tiny crystal like this one? You can hardly see it and it only adds a little sparkle to your bun. And the colour of the wood is also perfect for my hair. And a perfect match with my crystal earrings from Teufelslocke. With big hair jewelry I prefer tin earrings, but with this stick they are allowed to sparkle.
Und das beste zum Schluss. Der Stab war eigentlich nicht für den regulären Verkauf vorgesehen. Aber Heike und auch ich waren sehr angetan von ihm und somit könnt ihr ihn ganz exklusiv und nur solange der Vorrat an kleinen Kristallen reicht kaufen. Und da wir ihn beim Treffen im Mai entdeckt haben und Heike im Langhaarnetzwerk fast so heißt, nennt sich das limitierte Stück nun "Mai". Es gibt ihn mit braunem oder schwarzem Holz in den Längen (gemessen bis zum Metall) 8,5 cm/ 11 cm/ 13 cm/ 15 cm. Noch nicht überzeugt? Dann schaut ihn euch auch noch bei Heike an, da werdet ihr sehen wie toll er auch in kleinere Dutts passt. Auch für alle, denen sonst Senza Limiti zu teuer ist, ist der hier eine Möglichkeit die in Betracht gezogen werden sollte, denn er kostet 15€. Bestellungen direkt per mail an info@senzalimiti.net.
Als Abschluss möchte ich euch noch einen kleinen, flauschigen Zaungast vorstellen. Das wollte ich eigentlich schon lange mal machen und hab heute endlich dran gedacht. Vielleicht kriege ich auch mal die zweiten, leider viel scheueren Fellnase mit aufs Bild. Fürs erste dürft ihr daher nur die süßen Schlappohren der entspannten Dame des Hauses anschmachten.
And now last but not least – it was not supposed to be sold. But Heike and I were so in love with it that you can now buy it. Exclusive and only as long as the tiny crystal supply lasts. It's called "Mai" and available with black and brown wood and with the following lenghts (measured from tip to the metal) 8,5 cm/ 11 cm/ 13 cm/ 15 cm. You are not yet in love? Go over to Heike's blog and see how wonderful it fits into smaller buns. This is also a rather cheap stick if you want to try Senza Limiti for the first time. Orders directly to info@senzalimiti.net. They ship worldwide by the way.
And to come to an end I want to introduce you a little friend. I wanted to do this for such a long time. Maybe you will get to know the second fluffy rabbit one day, but he is rather shy. Until then you will have to drool over her cute ears.