Nach all den Gewinnspiel Posts muss unbedingt mal wieder eine Frisur dazwischen. Hier eine Frisur die nicht sehr schwer ist, wenn man französisch flechten kann. Sie braucht lediglich etwas Zeit. Es sind Classics die aber nicht ganz bis in den Nacken geflochten, denn dort sollte genug Haar übrig bleiben für einen dritten, ungefähr gleich dicken Zopf bleiben. Die drei Zöpfe werden dann zu einem Zopf geflochten, nennt man auch drei mal drei Zopf. Das ergibt ein tolles Muster und einen schönen, breiten Zopf.
Allerdings verkürzt das den Zopf doch sehr stark, kann ja manchmal auch praktisch sein.
Wie gefällt euch das? Die Fotos musste ich übrigens einfach draußen machen, weil die Sonne den ganzen Tag so toll gescheint hat. Das macht einen bombastischen Glanz.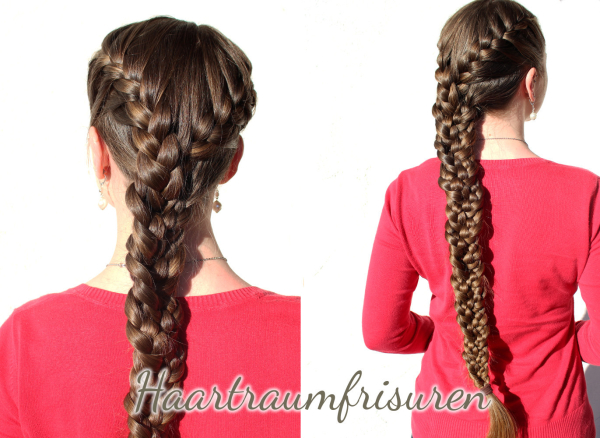 fter all those giveaway posts it had to be a hairstyle again. This one is not very hard to do if you can do a french braid, but it takes some time. I braided Classics, butleft some hair open in the neck to braid a third braid with it. Then I made a big braid out of the three braids. This 3×3 braid is really thick and looks intricate.
But of course this makes the braid very short compared to your open hair. All the pictures were taken outside in the sun, makes the hair look so shiny. What do you think of this?