Auf meinem Kopf ist in letzter Zeit ein ziemlicher Flechtwahnsinn ausgebrochen. Wann immer ich auf einem Treffen mit vielen anderen flechtbegeisterten Langhaars bin, wird sich wieder gegenseitig übertroffen. Mein Wunsch ist ja mittlerweile bekannt, ich lasse mir gerne etwas flechten, was ich an mir selbst nicht oder nur schlecht kann. Das führte nach einem Neuner Zopf, einem runden Achter und dann einem Elfer zu diesem Wahnsinn. Ein Dreizehnsträngiger Zopf. Dreizehn. Der Zopf war 12cm breit. Drei Mädchen waren nötig um die Stränge zu halten und zu flechten. Sie waren über 45min beschäftigt. Ich fühlte mich während dieser Zeit übrigens ziemlich nutzlos und habe ein paar lustige Fotos dabei gemacht. Mal eine ganz andere Perspektive.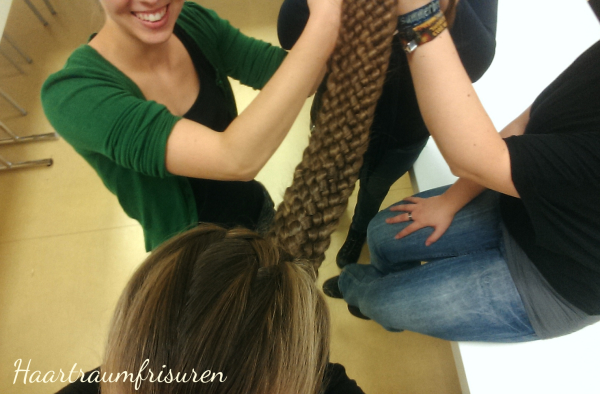 Da der Zopf so breit ist verkürzt er natürlich auch ordentlich. Und er sieht aus wie ein Teppich, oder? Ich bin immer noch ganz fasziniert, wie gleichmäßig er geworden ist. Großes Lob an die Flechterin, die auch schon für den Neuner zuständig war. Aber offenbar ist noch nicht das Ende erreicht, beim nächsten Mal sollen vielleicht wirklich noch mehr Stränge ausprobiert werden, ich bin gespannt!
There was something like a crazy competition going on on my head the last time. Everytime I met some other braidloving longhair girls they made an even crazier braid on my head. It started with a nine strand braid, then a round eight strand braid and finally a eleven strand braid. But today I'm showing you a braid with two more strands, thirteen. It was 12cm wide and it took three girls, six hands and almost one hour to braid it. As I had nothing to do in this time I took some funny pictures.
As the braid is so thick, it's rather short compared to my hair open. And it looks like a carpet, don't it? I'm still so amazed how evenly it looks. All honour to the braides, she already did the nine strand braid. And it seems like this is not the end, we were already talking about a braid with even more strands. I'm so curious!