Haare schneiden gehört zum wachsen lassen dazu. Ja, es gibt auch Leute die jahrelang schnittfrei wachsen lassen, aber ich schneide regelmäßig. Oder besser gesagt lasse schneiden. Ganz am Anfang habe ich mich aber auch am selber schneiden versucht. Wie das geht hab ich euch zusammen mit Heike gezeigt. Mittlerweile sind meine Haare dafür zu lang und davon abgesehen habe ich jemanden der sie mir zuverlässig schneidet. Aber um zum Thema zu kommen – ich habe mich langsam rangetastet und mittlerweile habe ich selbst schon vielen Langhaars die Kante nachgeschnitten. Auszugsweise möchte ich euch mal einen Vorher-Nachher Vergleich zeigen, auch wenn der Schnitt jetzt schon eine Weile her ist.
Cutting hair belongs to growing it. Yes, there are people who are growing their hair for years without cutting it. But I do cut it regularly. Or let someone cut it. At the beginning I also tried cutting it myself. I already showed you how this works together with my friend Heike. Right now my hair is too long for a really good self trim and beside that I have someone to cut it. But back to toppic – I took little baby steps until today where I did trim a lot of long haired girls. Just as an example I want to show you one before and after.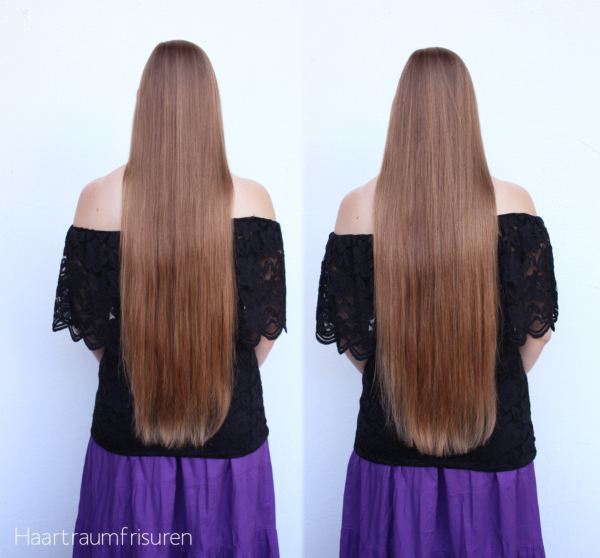 Die Haare kennt ihr von der ein oder anderen Frisur und könnt sie außerdem auf Instagram verfolgen. Sie kam zu mir mit dem Ziel ein gutes Stück abzuschneiden, da sie unzufrieden war. Also haben wir gemessen und ein Vorher-Foto gemacht. Und während wir überlegten wie viel wir abschneiden, wurde es immer weniger. Von 97,5 schnitten wir zurück auf 94,5cm. Anfang des Jahres hatten wir zuletzt geschnitten um nach und nach die Folgen des Post-Schwangerschafts-Haarausfalls zu beseitigen. In dem Video dazu zeigen wir euch auch, wie man zuverlässig die Haare messen kann. Das ist also nicht die reale Haarlänge, sondern ab der Stirn gemessen. Nur so bekommt man vergleichbare Werte um den Zuwachs zu messen.
You probably know her hair from hairstsyle pictures and you can also follow them on Instagram. She came to me wanting to do a really big cut.. So we measured her hair and did a before picture. And while we were talking she wanted to cut less and less… So we cut from 97,5cm to 94,5cm. The last cut was at the beginning of 2016. We are doing this to get rid of her post pregnancy hair loss damage. Back then we did a video where we showed you how to measure your hair best. This is not the real lenght, but only this way you get comparable results.
Mittlerweile ist sie schon fast wieder zurück auf der Ursprungslänge und wer weiß, vielleicht knackt sie dieses Jahr noch die 100 cm. Auf jeden Fall mussten wir schöne, frisch geschnittene Haare gleich für ein paar Fotos nutzen.
Right know she almost grew back to the before lenght and is aiming to get 100cm by the end of this year. Anyway we had to take some pictures with her fresh cut hair.