Wo wir ja gerade beim Thema große Schnitte sind (ich bin übrigens weiterhin super glücklich mit meiner neuen Länge, oder eher Kürze), machen wir doch gleich noch ein bisschen weiter. Und ich geh mich in der Ecke verstecken. Vor nicht allzu langer Zeit habe ich noch getönt, wie ich meine Freundin Sabrina, ohne es zu beabsichtigen, überredet habe statt des geplanten großen Schnitts doch nur ein bisschen an der Kantenform zu arbeiten. Tja. Ihr könnt es euch auch diesmal denken. So schön die Haare auf unseren letzten Fotos waren, im Alltag fühlte sie sich so nicht wohl und es war ihr zu lang. Nach zigfachem Hin- und herüberlegen entschied sie sich, dass ich doch nochmal ran sollte. Und diesmal radikal. Wir nahmen also Maß, beratschlagten uns und dann schnitt ich ein kleines Zöpfchen ab.
As we're talking about big cuts anyway (I'm by the way still super happy with my now shorter hair) I will just continue with that. And I will go and hide somewhere. Just some weeks ago I told you super proud that I conviced my friend Sabrina not to cut her hair without meaning to do so. Well, I think you can guess what's next. Her hair was super pretty on the last pictures we did, but she was just not happy with it in everyday life. After thinking about it and rethinking it again and again she decided to cut. And this time more then just two centimeters.
Auf dem Bild liegt es neben meinen Zopf von den ersten zwei Schnittlagen. Könnt ihr erahnen wieviel es ist? Weniger als bei mir, deutlich, aber dennoch ein gutes Stück. Zwölf Zentimeter haben wir abgeschnitten. Die stark u-förmige, sehr runde Kante vom letzten mal fand sie zwar optisch sehr sehr schön, aber im Flechtzopf unpraktisch. Daher diesmal ein deutlich flacheres U. Außerdem hätte ein U den "Pinsel" etwas weniger Pinselig gemacht und die Kante weniger dicht und deswegen entschied sie sich dagegen. Ja, der Zopf ist kürzer, aber davon abgesehen habe ich das Gefühl sie freut sich ziemlich über diese Mega Kante. Ich hoffe ihr nehmt es mir nicht übel, aber wer bin ich ihr nach meinem Schnitt einen nur halb so großen Schnitt zu verwehren.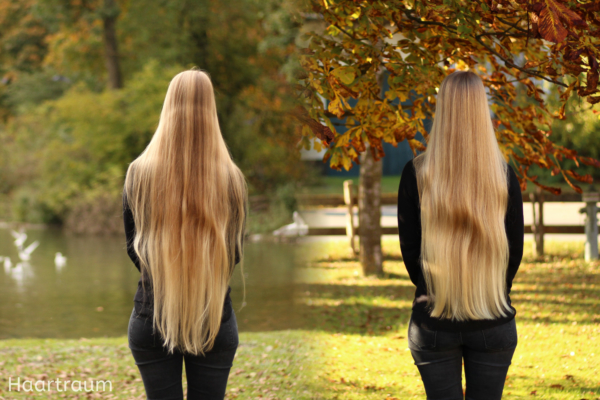 On the top picture you can see what we cut on her compared to my first layers Heike did cut. Can you guess how much we did cut? Less then with me, but anyway a lot. Twelve cm to be exact. And we changed the shape of her hemline. She really liked the look of that round and u-shaped line last time, but it was not so good to wear in a braid. This is why I went for a softer u-shape. And because she just loved how thick her ends are now. I hope you won't be angry with my, but who am I to talk her out of that after what I did the week before?