Heute zeige ich euch, nein wir zeigen euch die ersten Frisuren die wir bei Heikes Besuch hier geflochten haben. Entschuldigt, falls ich mich wiederhole, aber ich liebe ja Pullthroughzöpfe und somit wollte ich gerne bei Heike einen französischen dreisträngigen Pullthrough machen. Denn bei feinem Haar geht fast kein Weg an Silikonhaargummis vorbei, aber die sind gerade französisch selbst schwer rein und vor allem schwer wieder raus zu bekommen. Also machte ich mich vorsichtig ans Werk und fummelte vorsichtig einen Haufen dieser Dinger in Heikes Haare. Beim rausmachen machte ich mir diese Mühe nicht, ich habe sie einfach vorsichtig rausgeschnitten. Das spart viel zupfen und ziepen.
Today I will show you, we will show you which hairstyles we braided first when Heike visited me recently. Sorry, if I say it again, but I love pullthrough braids and so I wanted to do a threestrand one on Heike. If you have thin hair you almost have to use silicone hair ties and especially if you're doing a french version they are hard to get in yur hair and even more difficult to remove. So I started my work carfully and put a ton of them in Heike's hair. When we undid it I was not taking this effort again and cut them out, of course even more carefully. This saves a lot of pain and hairloss.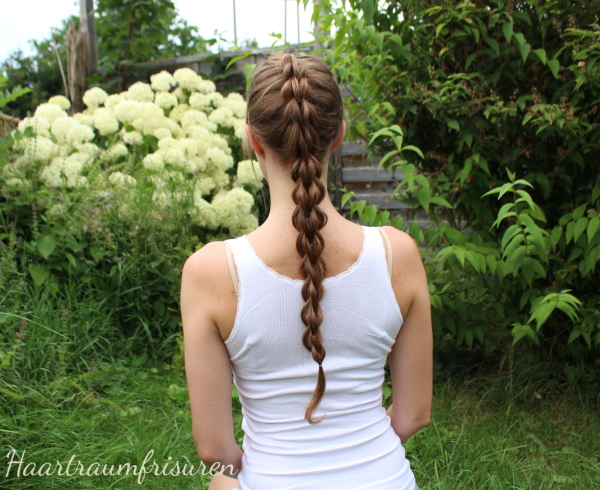 Ich habe mir von Heike etwas mit Band gewünscht, da ich schon wieder ein paar neue in meinem Arsenal habe. Die liebe Andrea hatte mich mit ein paar tollen, neuen überrascht. Heike schlug also einen vierer Carousel Braid vor. Ein Zopf den man schon auch an sich selbst flechten kann, aber wenn er auch gleichmäßig sein soll gehört er eher zu den schwierigeren. Vor allem um diese breite, aufgefächerte Optik zu erreichen. Dafür muss man fast horizontal flechten, das dauert und da werden schon irgendwann die Arme schwer. Ich fand es also toll einfach nur zu warten und am Ende diesen Hammer Zopf am Kopf zu haben. Ihr könnt jetzt einen Moment schätzen wieviel Meter Band in diesem Zopf eingeflochten sind, ich war völlig schockiert am Ende.
I wished for a braid with ribbon because I have some new ones. My friend Andrea surprised me with some beautiful new ones. So Heike suggested a four strand carousel braid.A braid you can do on yourself, but it takes time especially if you want this thick kind of braid because then you have to braid almost horizontally. So I enjoyed just sitting there, waiting and in the end wearing this gorgeous braid. Now it's time for you to guess how many meters of ribbon there are in my braid. I was absolutely stunned!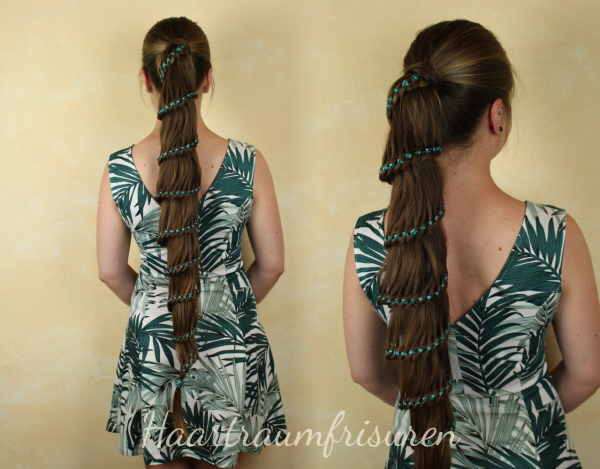 Na, was denkt ihr? Das Band war neu und noch 5m lang. Der erste Gedanke war es doppelt zu nehmen, aber Heike meinte es wäre dann zu dick. Und zum Glück hat sie sich das so gedacht, denn am Ende waren etwa 4,50 m der 5 m in meinem Zopf verarbeitet. Der Rest ist unauffällig an der Quaste versteckt. Unten seht ihr nochmal das Band im Detail, denn das ist nicht einfach nur grün, sondern gemustert. Hat irgendwie spontan auch total gut zu meinem neuen Kleid gepasst.
So what do you think? The ribbon was new and 5m in total. My first thought was to fold it in half, but Heike said then it would be too thick. Luckily she said this, in the end we used almost the whole ribbon! 4,5m of the 5m in total were in my braid. Below you can see the ribbon in a close up because it is not simple green, but with a pattern.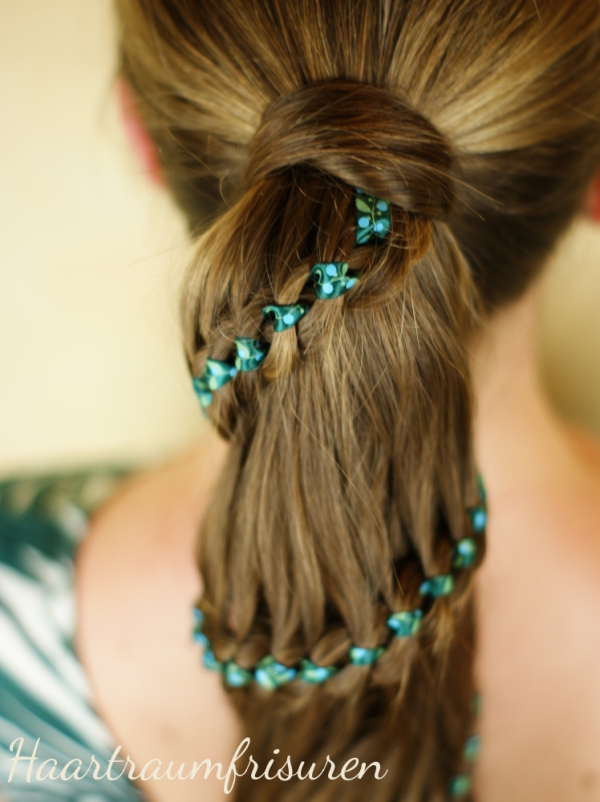 Und hier kommt mein Zopf Foto zusammen mit Heike. Ich bin zwar kleiner, aber dafür ist mein Zopf länger, oder so ähnlich. Wie findet ihr die Baumoptik dieses ausgefallenen Zopfes? Spontan war uns ja danach ein paar Christbaumkugeln mit dran zu hängen. Naja, vielleicht zu Weihnachten. Der Pullthrough hat mich mal wieder begeistert, war nicht anders zu erwarten. Auch bei feinem oder dünnem Haar macht er ordentlich was her. Langweilen euch die Pullthroughs eigentlich schon?
So now here is my braid picture together with Heike. What do you think ybout this extraordinary tree like braid? We immediately felt like we had to add some christmas tree balls. Maybe for christmas. The pullthrough braid amazed me, like I expected it. Even with fine or thin hair it looks gorgeous. Are yu already bored by all the pullthroughs?