Beim letzten Mal schienen die Bilder von unterwegs gut anzukommen. Zwischenzeitlich haben wir wieder einen wunderschönes Fleckchen entdeckt und gleich ein paar Fotos gemacht. Ich war wie fast immer und sehr kreativ mit einem Engländer unterwegs. Der zeigt schon deutliche Abnutzungsspuren durch das laufen, aber so sieht ein Zopf in echt nunmal aus. Mein geliebter Cardigan war auch mit dabei, der macht zwar nicht unbedingt eine vorteilhafte Figur, ist aber einfach zu gemütlich. Und eure Aufmerksamkeit soll ja auch den tollen Motiven gelten.
Der kleine Stausee war so unglaublich blau, die Farbe auf dem Foto trifft das ganz gut. Gleichzeitig war er sehr klar, man konnte jedes Detail am Grund erkennen. Zusammen mit dem Sonnenschein, den wir an diesem Tag erwischt hatten gab es eine tolle Stimmung. Von weiter oben war das Blau noch etwas dunkler und intensiver. Es wirkte wirklich etwas unecht.
Last time you seemed to like my pictures from my trips. In the mean time we discovered another beutiful spot and took some pictures there. I wore again an english braid.
This little barrier lake was so unbelievable blue, the colour on the picture shows it really well. At the same time it was so clear you could see every detail on the ground. In Combination with the sunlight the atmosphere was gorgeous. From above the blus was ever darker and more intense. It seemed a bit unreal.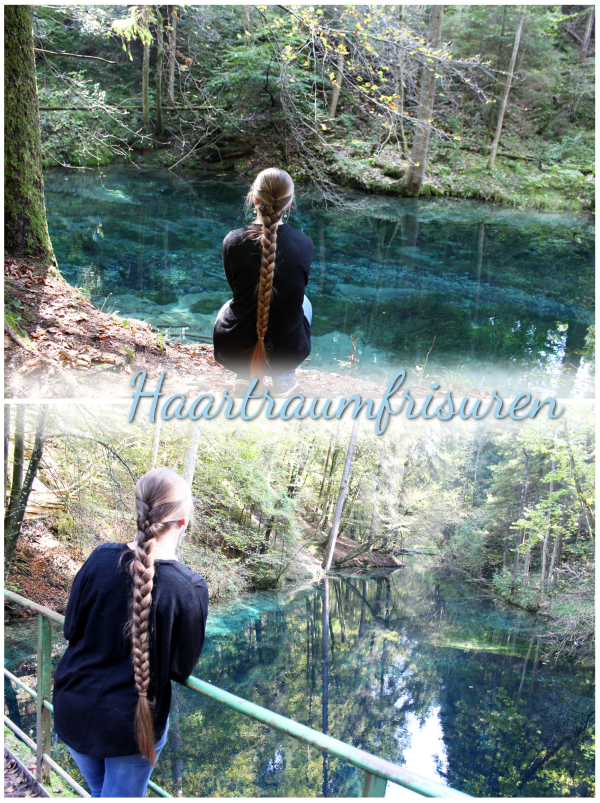 Weiter ging es direkt am Lech entlang in weiterhin strahlendem Sonnenschein. Und dieser Baumstumpf musst einfach erklommen werden. Mal wieder ein wunderschöner Tag, gleich bei mir zuhause um die Ecke!