Ich bin dann mal weg und auch schon wieder da. Und ich habe euch was mitgebracht. Einen simplen, aber wirklich schönen seitlichen Franzosen an meinem liebsten blonden Flechtopfer (Opfer hier bitte mit Ironie lesen, denn scheinbar hält sie dafür gerne still, was für ein Glück). Irgendwie sind die schlichten Sachen doch immer wieder die schönsten.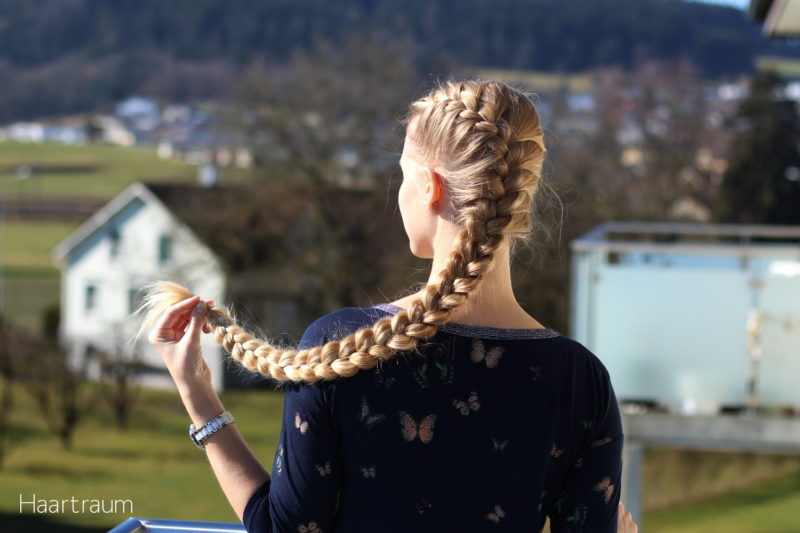 Ein Französischer Zopf ist wohl das erste was man lernt, gleich nach einem regulären dreisträngigen Zopf, wenn man anfängt sich damit zu beschäftigen. Und so Grundlegend der Zopf auch ist, langweilig ist er sicher nicht. Klar, man kann ihn gerade am Kopf nach unten flechten. Oder schräg über den Kopf von einer Seite zur anderen. Oder eben wie hier komplett auf einer Seite. So sieht man auch von vorne was vom geflecht. Fängt man sehr weit vorne an, lässt sich auch ein eventuell vorhandener Pony locker miteinflechten. Nur mal ein paar Ideen und Anregungen, denn der Franzose ist ein sehr alltagstauglicher Zopf, den ich auch sehr gerne trage. Ihren Zopf hier habe ich gepancaked, das heißt breiter gezogen. Dadurch werden die Windungen noch herzförmiger und sehen voluminöser aus. Dabei habe ich nicht nur den herunterhängenden Teil des Zopfes bearbeitet, sondern schon beim flechten auch die französichen Windungen am Kopf. So kann ich die bestehende Strähne über die hinzugenommenen Haare führen und dem ganzen etwas mehr Tiefe verleihen. Der Zopf sieht so irgendwie dreidimensionaler aus. Und natürlich locker das den ganzen Look ein wenig auf.
Das Gegenstück zum Franzosen, den Holländer mag ich auch total gerne. Ich glaube ich kann mich nicht entscheiden, welche Variante ich lieber mag. Wie sieht es bei euch aus, gibt es einen Favoriten?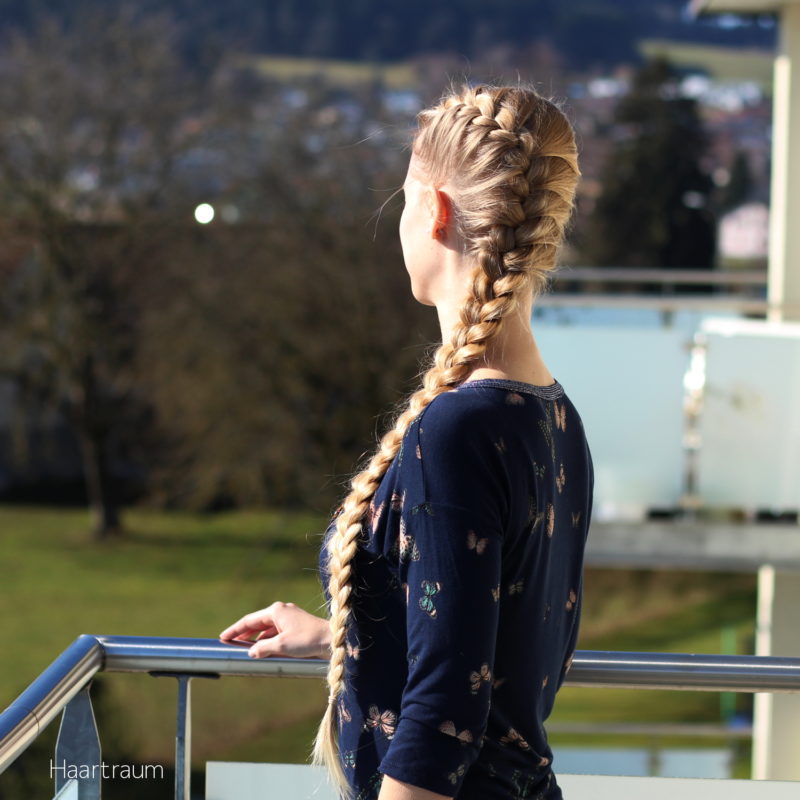 ….halt, Stop! Da fällt mir auf, dass es ein Bild gibt, dass ich irgendwie noch nicht hier auf dem Blog gezeigt habe…. zumindest finde ich es gerade nicht. Das hole ich hiermit nach, denn es passt einfach zu gut. Zwei ganz normale, gerade Franzosen, an Sabrina und mir aus dem letzten Sommer. Da sieht man auch den Effekt der durch das breiterziehen entsteht sehr gut. So, das wars jetzt aber wirklich 😉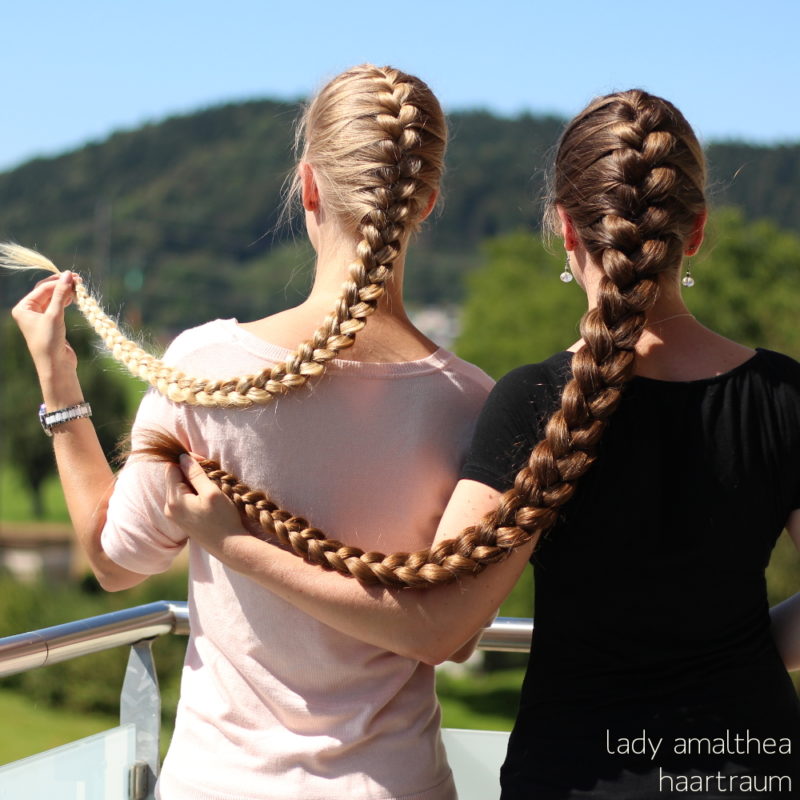 There and back again. And I braought you something. A simple but beautiful side french braid done on my beautiful blonde friend. I'm so lucky she always lets me braid her hair. Somehow those simple braids are the most beautiful ones.
A french braid is probably the first thing to learn right after you get into braiding and know how to do an english braid. And eventhough it is such a basic braid it's never boring. You can braid it straight down on the back of your head or you can braid it across your head from one side to the other. Or like here you can completely do it on one side of your head. If you start right at your forehead it is easy to include any kind of bang into the braid. Just some variations as a french braid is one of my favourite everyday braids. I pancaked this one here because it makes the braid much more heart shaped and adds a lot of volume and depth to it. I really like the effect.
The counter part to a french braid is probably a dutch braid. But if I had to choose I wouldn't know which one to prefer. What about you, do you rather wear a french or a dutch braid?
But wait! I forgot to share a picture with yo. This is Sabrina and me last summer wearing two simple and straight french braids. Both of them pancaked a little bit for this special effect. Now I'm really at the end!