Wie genau ich darauf kam diese Frisur genau so zu machen weiß ich nicht. Aber ich weiß, dass ich etwas lockeres und verspieltes kreieren wollte. Es wurden dann also Kordeln mit Fischgräte.
I don't know how I exactly came up with this hairstyle, but I wanted to create something soft and romantic. I ended up with rope braids and a fishtail.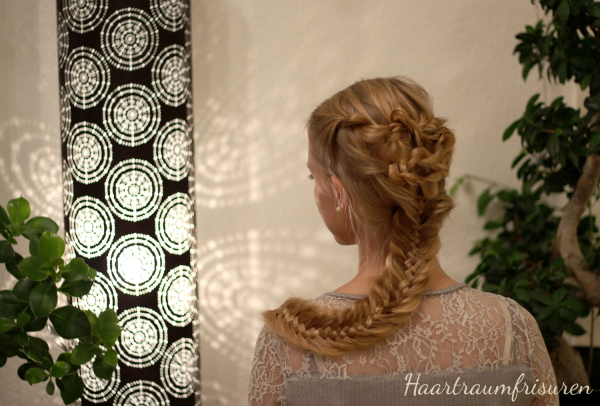 Die Kordelzöpfe sind nur aus einem kleinen Teil der Haare und kräftig und unregelmäßig gepancaked, dann festgesteckt. Das gibt dem ganzen einen lockeren Look der wie ich finde durch die verschiedenen Blondtöne noch unterstrichen wird. Der Zopf ist ein Woven Fishtail Braid, der ist deutlich breiter als eine normale Fischgräte und passt so besser zu den Zöpfen am Hinterkopf. Ist aber auch etwas breitgezogen, damit er besser zum Gesamtbild passt. Wenn ihr dem Blog schon länger folgt, wisst ihr ja, dass mein blondes Modell eher feines Haar hat und einen geringeren Zopfumfang. Umso schöner finde ich, dass man mit den richtigen Techniken und Frisuren auch aus feinem Haar richtig was rausholen kann. Mit meinen Haaren würde sowas nicht funktionieren, es würde niemals so leicht und elfenhaft wirken.
The ropebraids are made out of a tiny bit of hair, but I pancaked them to make them look bigger and more messy. Then I pinned them down and made a woven fishtail braid. This one is  a lot bigger than a regular fishtail braid. I think this suits the loose braids on the head better. It's also pancaked by the way. Maybe you already know that my blonde model has rather thin hair, but I love how you can make such beautiful things out of it if you use the structure. This hairstyle would never look so light and fairy like with my hair.