Der Spiral Braid ist so eine Sache für sich. Eigentlich sieht er wirklich toll aus, an mir gefällt er mir aber nicht. Ich habe ihn vor langer Zeit schonmal selbst probiert und dann hat Heike mir einen geflochten. Das war bei mir wie ein Helm und sah so überhaupt nicht gut aus. Aber wenn mich jemand bittet einen zu flechten sagen ich natürlich nicht nein. Und in diesem Fall war das Ergebnis wirklich toll, denn es hat auch sehr gut zur Trägerin gepasst. Es steht ja nicht jedem Gesicht die selbe Frisur gleich gut. Hier hat es aber einfach toll gepasst!
The spiral braid is not my favourite braid. It doesn't suit me and I have to much hair. I've tried it a long time ago on myself and Heike braided one on me, too. It looked more like a helmet than a beautiful hairstyle. But when I get asked to braid one I don't say no. And in this case the result was really beautiful because it looked so good on this girl and her hair was just perfect for this.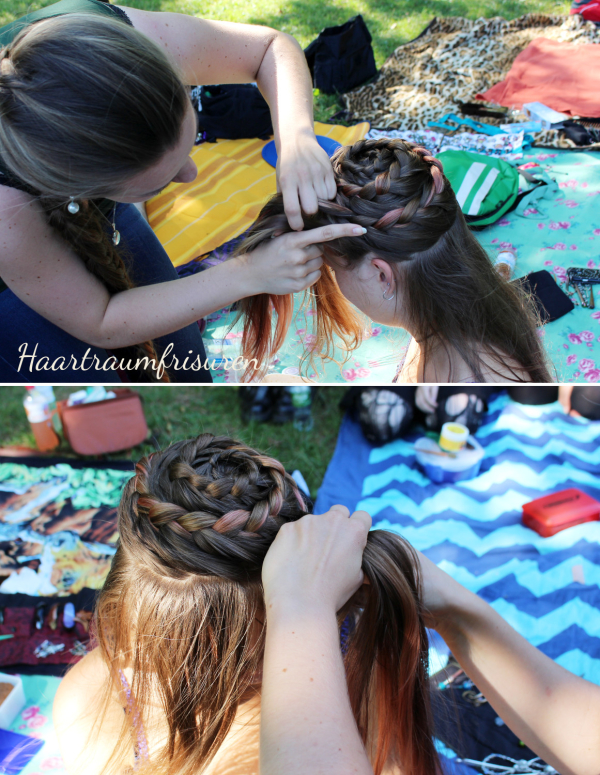 Und weil wir beim flechten Zuschauer hatten gibt es auch mal ein paar Fotos von mir bei der Arbeit, also beim flechten. Besonders schön finde ich ja den Effekt des roten Dip Dyes. Durch das viele im Kreis flechten kommen die Längen an unterschiedlichen Stellen am Kopf zu liegen und die rote Farbe fließt langsam in den Zopf mit ein. Gerade im Sonnenlicht strahlt das richtig schön!
And because there were some people watchig us there are also some pictures from me at work. I really love the effect her red dip dye creates in this braid! Especially in the sunlight.