Sind wir denn bei wünsch dir was? Ja schon, oder? Vielleicht habt ihr es schon im letzten Sommer bemerkt, ich bin gern und viel unterwegs und treffe mich mit vielen anderen Langhaars. Ganz einfach, weil das ein Hobby ist, das verbindet und es immer super viel Spaß macht. Man lernt dabei ganz viele liebe Leute kennen. Und früher oder später heißt es eigentlich immer "…kannst du mir was flechten…?"
Maybe you have noticed that I love to meet other fellow longhairs last year. I've been to a lot of meet ups and continue to do so. It's a hobby that conects and makes fun. You get to know so many nice people. And there's always this point when someone asks me "can you braid my hair…?"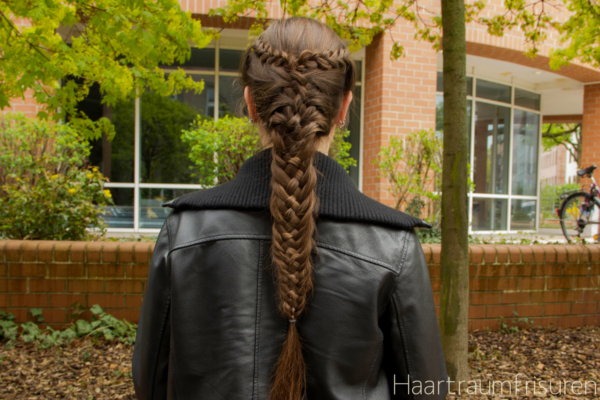 Ja, natürlich kann ich das. Und was? Interessanter Weise setzen die meisten so viel Vertrauen in mich, dass ich immer einfach machen darf. Manchmal schwierig, weil man ja nicht unbedingt weiß, was der Person gefällt, aber auch spannend, weil man sich eben einfach austoben kann. Ich mag ja zum Beispiel eben gern kleine Akzentzöpfe mit verhältnismäßig schlichten Zöpfen unten dran. Darum also als erstes einen Woven Fishtail Braid mit Engländern als Akzenten. Die bekommen durch gezieltes breiter ziehen eine tolle herzchenform.
Of course I can. And what do you want? Usually people rely on me and tell me to just do anything. Can be difficult as you don't always know what someone prefers, but also exciting because you can just try what you want. So, I love little accent braids combined with rather simple braids. So here is a woven fishtail braid with english braids as accents.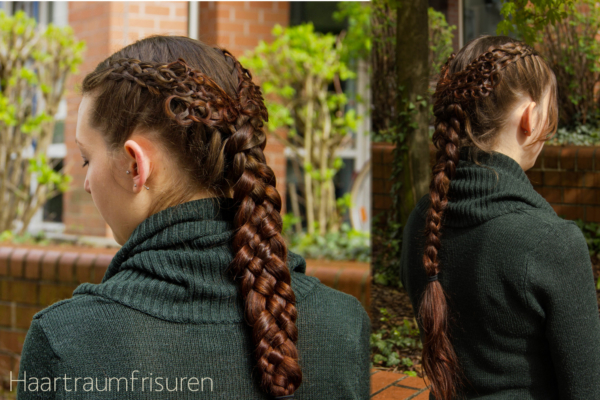 Die zweite Frisur kennt ihr, zumindest so ähnlich, schon aus dem letzten Sommer. Fünfer Classics mit Luftmaschen Akzenten. Diesmal nicht mit verkordelten Fünfern sondern einem im Nacken kombinierten. Da sie im Nacken einen Dread hat ist es immer schwierig fünf gleichmäßige Strähnen hinzubekommen, aber ich finde es sieht trotzdem gut aus.
You've probably already seen the second hairstyle. At least something similar. I did this already on me last summer, but with rope braided five strand braids. This time I combined the classics and added the crocheted accents.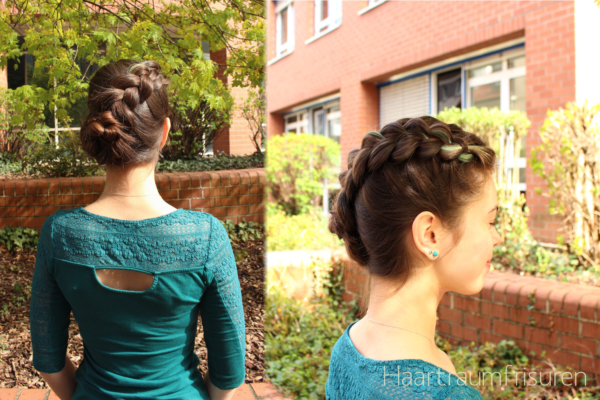 Dann ein schräger, gedutteter Holländer. Die Herausforderung war hier der Dutt, ich wollte erst etwas blumenförmiges stecken, aber dafür waren die Haare schlichtweg zu kurz. Daher wurde es ein eher kleiner und kompakter Dutt. Der holländische Teil ist dafür umso spektakulärer. Einerseits weil mir der Grad des Pancakens sehr gut gefällt – der Zopf ist breit, aber noch nicht zu locker – aber andererseites vor allem wegen der Türkis-blau-grünen Strähnen, die einen abgefahrenen Akzent bilden.Ja, das gefällt mir wirklich sehr, vor allem mit dem farblich passenden Top.
Zum Abschluss noch die ganze Truppe einmal, wie immer lauter tolle Mähnen und auch ein paar wirklich außergewöhnliche Längen. Findet ihr mich? Anders als sonst meist habe ich hier nämlich recht starke Flechtwellen.
After this a diagonal dutch braid, bunned. The challenge with this hairstyle was the bun. I tried to do something flowery first, but her hair was just to short. So it became a rather small and compact bun, but the highlight was the dutch part anyway. On the one hand becasue of the pancaking – I love that it is big, but looks tight and not too messy. And on the other hand because of the turquoise highligts. I like them, especially with the matching shirt.
At the end a picture of our whole group. As always a lot of beautiful hair and some extra ordinary lenghts. Can you spot me? My hair has braid waves which is rather umcommon with me.