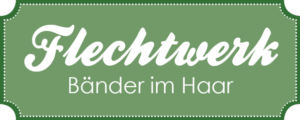 Es ist mal wieder Zeit für Frisuren bei Flechtwerk. Heute irgendetwas mit Bändern. Bin schon sehr gespannt was die anderen so gezaubert haben: growbeyondyourlimits, haselnussblond,nixenhaar, waldelfentraum und wuscheline. Und da mir gesagt wurde, dass ich den flachen Vierer mit Band schon zur Genüge gezeigt hätte habe ich neue Inspirationen gesucht. Wer mir auf Pinterest folgt hat vielleicht auf meiner Frisuren Pinnwand ein paar mit Bändern gesehen. Was ich hier pinne plane ich übrigens immer wirklich nachzubauen. Heute seht ihr zwei davon.
Zuerst etwas wie ein Engländer, nur dass eine Strähne das Band ist und eine eine ganz dünne Haarsträhne. Die Dicke Haarsträhne habe ich dann noch etwas in Form gezogen, damit die Form etwas besser rauskommt.
Das ergibt ein interessantes Muster, auf der Vorderseite schlängelt sich die Haarsträhne entlang und auf der Rückseite das Band.
It's time for new hairstyles on Flechtwerk. Today something with ribbons. Take a look what the others have created: growbeyondyourlimits, haselnussblond, nixenhaar, waldelfentraum und wuscheline. And as I was said, the flat four-strand braid with ribbon was shown often enough – so I tried something new. If you follow me on Pinterest you have maybe already seen the hairstyles of today. By the way, I'm planning to do all hairstyles I'm pinning there on my own.
First one is a regular three strand braid, but one strand is the ribbon and another only a thin piece of hair. This makes an interesting pattern, with the thin strand of hair curling on the front.
Der Gedanke bei Flechtwerk war ja, zu einem Thema verschiedene Ideen von verschiedenen Köpfen zu sammeln. Oder in unserem Fall eben an verschiedenen Köpfen. Deshalb habe ich noch eine weitere Frisur an einer Freundin probiert. Ihre Haarfarbe, nebenbei bemerkt Natur und nicht gefärbt, lenkt natürlich etwas von der Frisur ab, aber seht selbst. Das gleiche Band wie bei mir (ja, ich habe es nicht geschafft ein neues zu besorgen) und der Zopf ist eine Art Waterfall-Carousel-Braid. Im Prinzip macht man hier eine Waterfall-Kordel mit dem Band. Gefällt mir wirklich gut.
The idea about Flechtwerk was to show different Ideas on one toppic. In our case hairstyles on different heads. So I tried another one with the hair of a friend. Her hair colour (by the way all natural) is distracting from the hairstyle, but see yourself. It's the same ribbon, and the braid is some kind of waterfall-carousel-braid. I really like it.
Wäre das Band länger gewesen hätte ich noch weiter runter geflochten, aber ich finde den Effekt auch so sehr schön. Der Vorteil eines solchen Zopfes ist, dass keine Länge verloren geht, da quasi nur mit dem Band geflochten wird.
Wie findet ihr Frisuren mit Band? Im Alltag tragbar, oder eher nicht?
Im nächsten Monat geht es dann um unser liebstes Leave-in, also wieder Haarpflege. Da muss ich nochmal in mich gehen, was mir von den Dingen die ich verwende das liebste ist. Vielleicht schaffe ich es auch trotz Umzug euch ein Rezept für etwas selbstgemachtes zu zeigen, der Wunsch danach ist ja groß von eurer Seite.
With a longer ribbon you could braid further down, but it is beautiful this way I think. The advantage of such a braid is that you loose no lenght because you only braid with the ribbon.
What do you think about hairstyles with ribbons? Wearable in everyday life?
Next moth toppic will be our favourite Leave-in. Maybe I will have some time to show you a reciept for a self-made leave-in. But not sure about that.