Vielleicht habt ihr es euch beim Neuner Zopf schon gedacht, ich war unterwegs und habe wieder einige liebe Langhaare getroffen. Und weil neben meinem Mega Zopf noch vieles anderes geflochten wurde und jede Menge wundervolle Fotos entstanden sind, möchte ich dem ganzen noch einen extra Beitrag widmen. Fangen wir einfach an mit einem Gruppenbild voller toller, langer Haare. Natürlich haben nicht alle so lange Haare wie ich, jeder fängt ja irgendwann mal an sie wachsen zu lassen und das geht dann nicht über Nacht. Zum Spaß haben wir uns hier nach der Haarlänge sortiert, genauer gesagt nach dem Abstand der Spitzen zum Boden.
Maybe you have already guessed this when I showed you the ninstrand braid recently. I met some other long haired girls again. And because we did so many cool stuff beside this huge braid I thought about writing an own post about this day. I start with a picutre of all the girls, sorted by how close the tips are to the floor. Of course not every gilr has hair as long as mine because you need to start growing it at some point.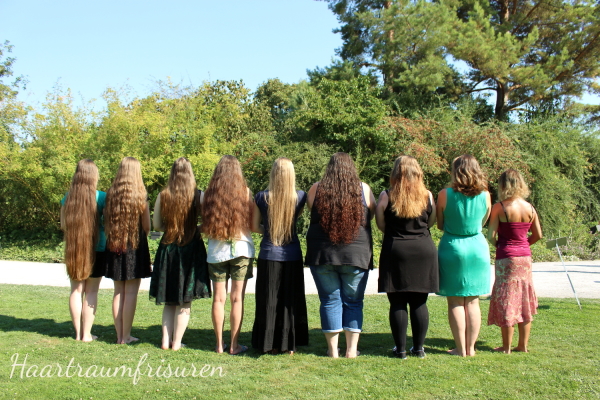 Das Wetter war perfekt und so konnten wir den ganzen Nachmittag im Gras sitzen, quatschen und flechten. Zeitgleich war eine Veranstaltung im Park, daher wurden wir tatsächlich mehrmals angesprochen, ob wir nicht auch anderen etwas flechten könnten, gefragt was wir da so machen und mit Komplimenten zu den Kunstwerken bedacht die wir so auf dem Kopf trugen. Auf dem Foto unten könnt ihr uns bei der Arbeit sehen. Solche Flechtreihen entstehen tatsächlich immer wieder – so wird die Zeit optimal genutzt.
The weather was perfect and so we sat outside the whole day in the grass, talked and braided. Several people asked us about what we are doing and even if we could braid their daughters hair also. And we got a lot of compliments on our hairstyles! Below you can see us at work.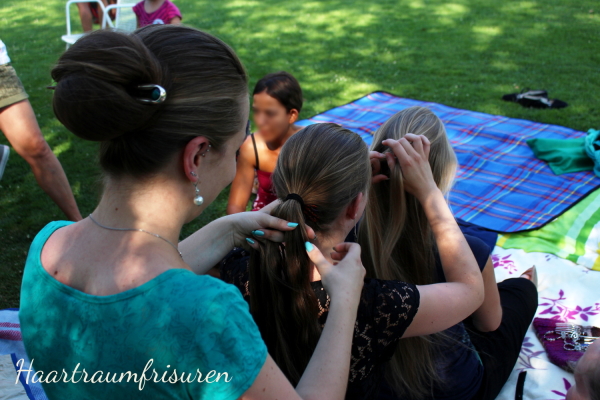 Ich liebe ja Zöpfe die mehrmals über den Kopf laufen, hier in diesem Fall war es ein Fünfer. Bei anderen verhältnismäßig einfach zu flechten, aber trotzdem total schön. Rechts auf dem Bild seht ihr zwei Holländische Zöpfe, die zwei Reihen Waterfallbraids einrahmen. Alle dann zu einem Vierer zusammen geflochten. Manchmal muss man sich einfach austoben!
I love to braid which are going over the head for several times – from left to right. In this case it was a five strand braid. On the right you can see what happens if I just play around. Two dutchbrads and two waterfallbriads in the middle braided together at one side.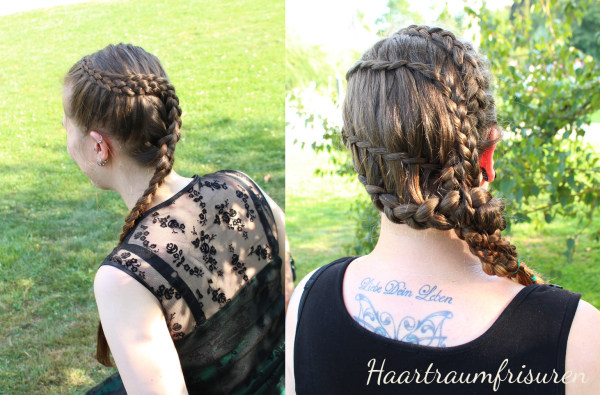 Unten auf dem linken Bild seht ihr einen Zopf, der an seinem breitesten Punkt aus siebenSträngen besteht, die werden nach unten hin aber wieder weniger. Ich habe Stränge zusammen genommen um weiter runter flechten zu können und den Zopf sanfter auslaufen zu lassen. In Nacken hatte sie einige geflochtene Zöpfe mit Kunsthaar, die geben hier den farbigen Effekt und erleichtern zusätzlich das Flechten mit so vielen Strängen. Daneben ein Schnappschuss von mir beim Fotografieren eines anderen Langhaars. Natürlich nutzt jeder gerne die Chance mal ein schönes Foto machen zu lassen, wenn man Leute hat die einen perfekt hindrapieren und aus eigener Erfahrung wissen was bei so einem Foto wichtig ist.
On the left picture you can see a braid with seven strands at its widest point. Braiding down I combined some strands so the braid ends rather small. The girl had some braids with coloured hair which are giving the highlights in this braid. On the right you can see me taking a picture of another girl.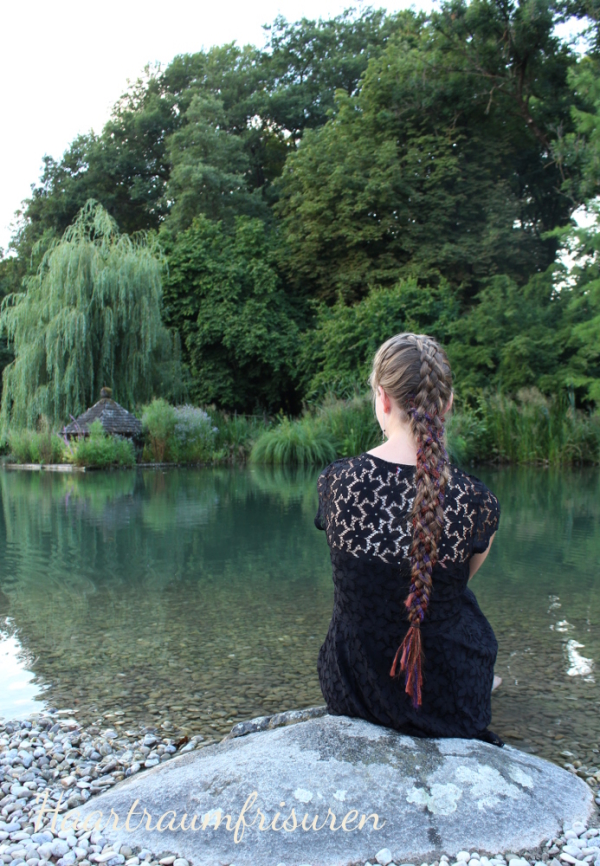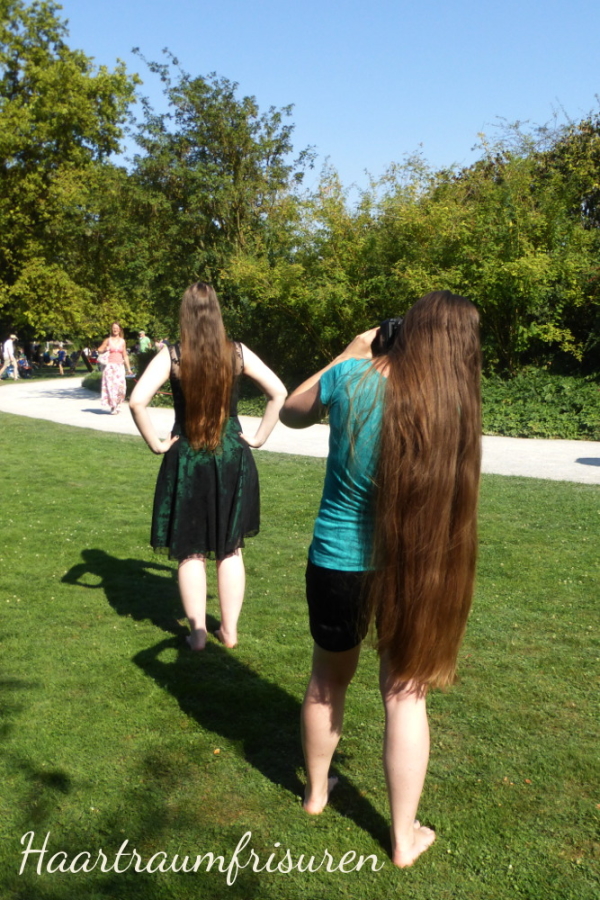 Am Ende des Tages hatten wir alle irgendeinen Zopf auf dem Kopf und nutzten die wunderschöne Kulisse für ein wirklich cooles Foto. Denn ganz links seht ihr ein Frisur aus holländischen Classice mit drei Strängen, daneben eine Frisur aus einem Fünfer, dann einen Siebener und ganz rechts ich mit meinem Neuner. Und zufälliger weise sind wir auch noch alle passend zur Kulisse in grün/ petrol/ blau gekleidet. Gefällt mir wirklich sehr! In der Zwischenzeit habe ich noch ein paar weiterer solcher schöner Tage verbracht, seid gespannt auf noch mehr solcher Berichte!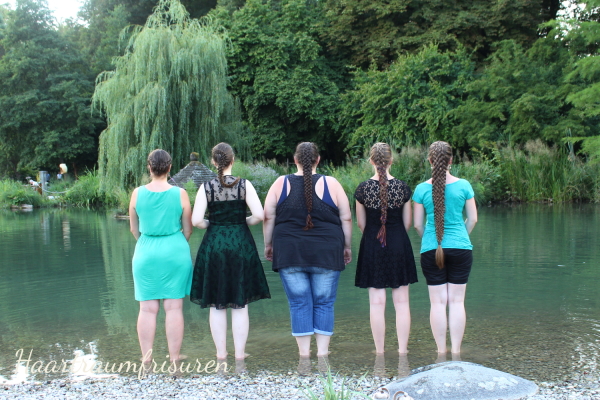 At the end of the day we all had beautiful braids on our heads. And of course we used this beautiful setting for a picture. On the left there is a hairstyle made from three strand dutch braids, next to this a five strand hairstyle. In the middle a seven strand braid and on the left it's me with my nine strand braid. And we all were wearing colours matching the setting, really cool, don't you think?