Immer wenn ich mal jemanden zur Verfügung habe an dem ich mich beim flechten austoben kann versuche ich Frisuren zu machen, die ich an mir selbst nicht machen könnte. Diese Art Zöpfe zeige ich euch heute. Denn wie schon beim Fischgräten Half-up vom letzten Beitrag muss man hier locker zunehmen und das geht nicht mehr wirklich gut symmetrisch sobald man den Zopf nach vorne holen muss. An jemand anderem hingegen ist es vergleichsweise einfach. Die größte Schwierigkeit besteht darin sich die Haare passend einzuteilen, aber auch das geht einfacher wenn man alles im Blick hat. Ich finde solche Frisuren auf jeden Fall wunderschön.
Every time I get my hands on someone to braid with his hair I try to do something I could not do on my own head. I will show you two of those braids today. Just like the fishtail half up I added hair rather loosely and that is hard to do when you take the braid over your shoulder. If you're braiding someone else this is rather simple. The hardest thing is to do is take the right amount of hair.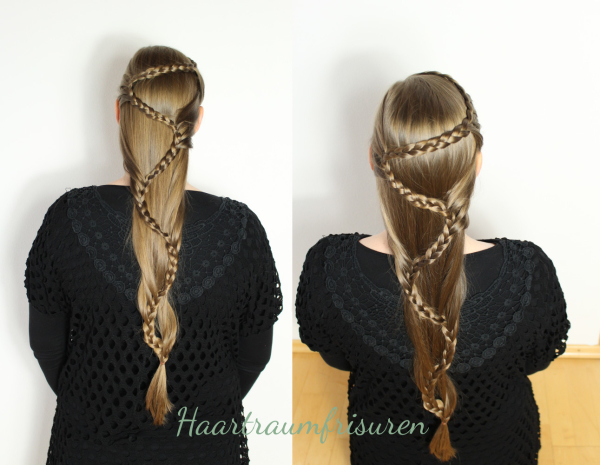 Bei der ersten hier habe ich an der Stirn mit einem französischen Lacebraid begonnen und den Zopf dann in Schlangenlinien nach unten laufen lassen, aber nur an den "Ecken" weitere Haare dazu genommen. So sind die Haare eher offen und werden nur vom Zopf eingerahmt.
The first hairstyle started with a french lace braid and then I leaded the braid winding down her back just adding hair at the corners. This way her hair is rather open and framed by the braid.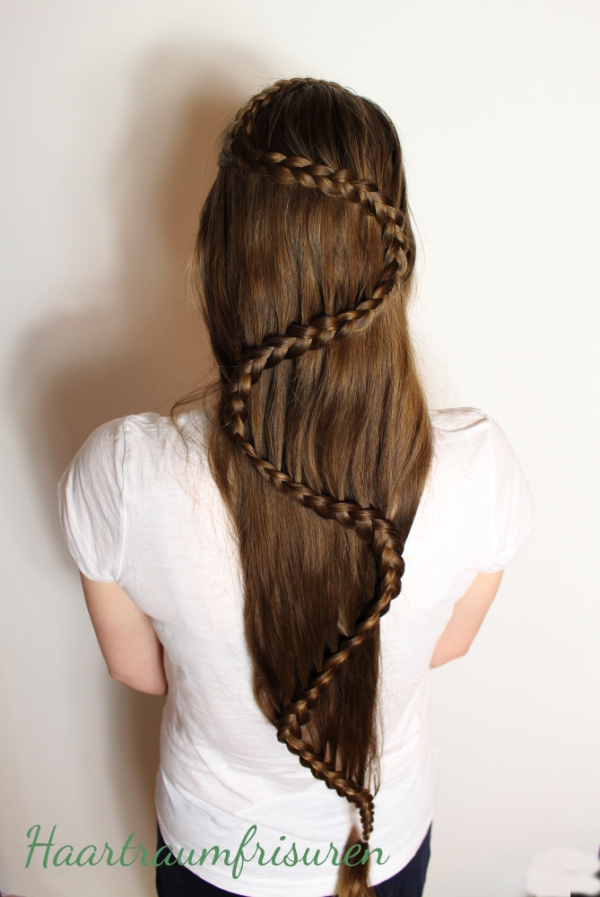 Die zweite Frisur ist ähnlich, auch hier schlängelt sich der Zopf über den Rücken nach unten und auch er beginnt mit einem Lacebraid an der Stirn, allerdings holländisch um diese Optik des aufliegenden Zopfes zu bekommen. Denn hier habe ich kontinuierlich Haare von einer Seite hinzugenommen. Bei jedem Richtungswechsel habe ich dabei die Seite gewechselt zu der ich Haare hinzugefügt habe, denn das soll immer von oben sein, damit sich der Zopf nicht verdreht.
Bei den zwei Mädels seht ihr übrigens zwei ganz unterschiedliche Haare, Nummer eins hat eher scwer zu flechtende Haare, weil sehr fein und flutschig. Durch viel Übung habe ich aber mittlerweile auch das im Griff. Das Modell der zweiten Frisur hingegen hat etwas dickeres Haar, dass sich wesentlich einfacher flechten lässt. Versteht mich nicht falsch, beide haben tolles, gesundes Haar, aber die Dicke des einzelnen Haars unterscheidet sich und führt zu unterschiedlichen Eigenschaften.
Wie findet ihr solche halb offenen Zöpfe?
The second hairstyle is quite similar, the braid winds down the back and started with a lacebraid, but a dutch one this time to maintain the look of the braid laying on top of the head. And I added hair all the time from one side. After every change of direction you need to change the side you're adding to.
By the way, here you can see two very different types of hair. The first girl has rather fine, slippery hair which is hard to braid. But I've practiced often enough so I can handle it quite well now. The girl on the second picture has thicker hair which is so much easier to braid. Don't get me wrong, both have beautiful, healthy hair, but thair single hairs are very different.
What do you think ybout braids like this?