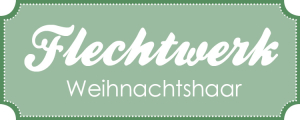 Beim Thema Weihnachtshaar dachte ich dieses Jahr sofort an Christbaumschmuck. Natürlich in den Haaren. Aber einfach ein paar Kugeln ins Haar hängen? Nein, das ist keine wirklich überzeugende Idee. Dann stieß ich auf Instagram mehrfach auf Zöpfe die Christbäumen sehr ähnlich sahen und musste das natürlich selbst probieren. Und um meinen langen Haaren gerecht zu werden gibt es nicht nur ein kleines Bäumchen sondern einen richtigen Baum. Basis dafür ist ein simpler Half up Pullthrough. Ohne die Kugeln und Deko könnte an den definitiv auch so tragen, mit hätte ich zuviel Angst etwas davon zu verlieren. Dafür hätte man die Kugeln anders befestigen müssen. Ich habe sie einfach mit Pins an Ort und Stelle festgesteckt. Zum Weihnachtsthema musste außerdem wieder mein rotes Kleid herhalten, passt einfach zu gut. Jetzt lasse ich einfach die Bilder sprechen und bin gespannt was ihr dazu sagt, wäre das eine Frisur für euch zu Weihnachten? Tatsächlich hat mir der Half Up ohne Kugeln viel besser gefallen als erwartet.
When we decided for the christmas hair toppic I was thinking about some christmas tree decoration, of course in my hair. But simply putting some christmas tree balls into my hair seemed way to uncreative. Luckyly I saw a bunch of tree shaped braids on Instagram recently so I decided to try this on my own. To make it suit my extra long hair I did not only do a little tree, but a really big one all over my back based on a pullthrough half up. Without all the decoration you could definitely wear this, I was surprised how it turned out. I did not expect to like it, it was only planned as some fun. Of course I had to wear my red dress for christmas themed pictures. So now enjoy the picture and let me know what you think about this braid. Would you wear it for Christmas?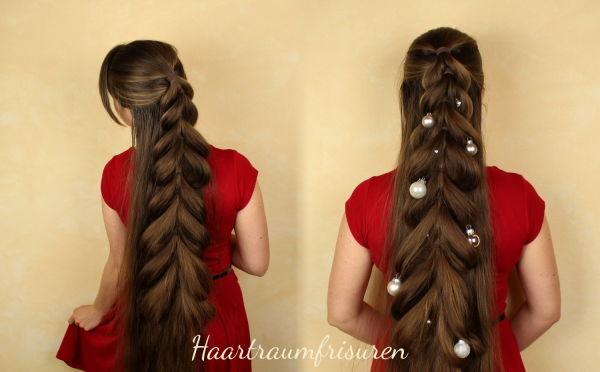 Das nächste Thema gibt's im neuen Jahr und passend dazu geht es da dann um einen Ausblick und wo es mit den Haaren hingehen soll. Gleichzeitig kann man dann natürlich auch einen Blick zurück werfen um zu sehen was im letzten Jahr so passiert ist.
The new toppic will be next year and we will have a look at our future plans. Where to go with my hair? And of course a little flashback to the last year. Now let's go over to the other girls and see what they made from this toppic:
Und wie immer bin ich gespannt was der Rest aus diesem Thema gemacht hat, also folgt mir unauffällig: