Meinen spontanen Besuch in Dortmund nahm die liebe Heike gleich zum Anlass noch mehr liebe Menschen einzuladen. Ich war ja doch nicht zum ersten mal dort und kenne viele der Mädchen aus dem Langhaarnetzwerk schon länger, dementsprechend freue ich mich immer sehr sie wieder zusehen! Mit dabei auch wieder Andrea (hier die dritte von links). Ich stehe übrigens rechts daneben, nur damit es keine Verwechslungen gibt oder so. Wirklich lauter tolle Mähnen, jede anders, aber jede besonders.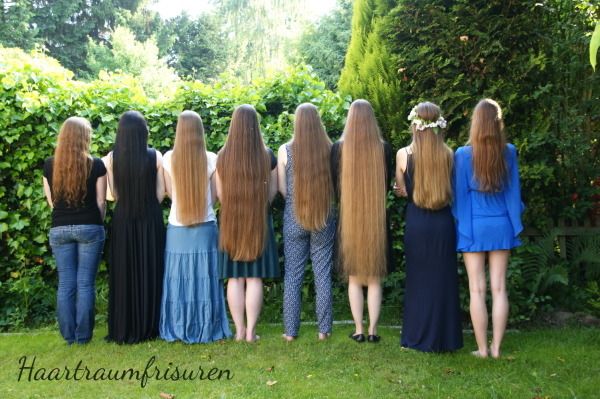 Heike took the chance while I visited her last week and invited some other girls. As I haven't been there for the first time I know a lot of girls from the "langhaarnetzwerk", some of them for a really long time. So I was very happy to see them again. Again, Andrea was also part of our group, she is the third one from the left. I'm standing on her right, just so there are no confusions. So many beautiful manes, every one different, but also special.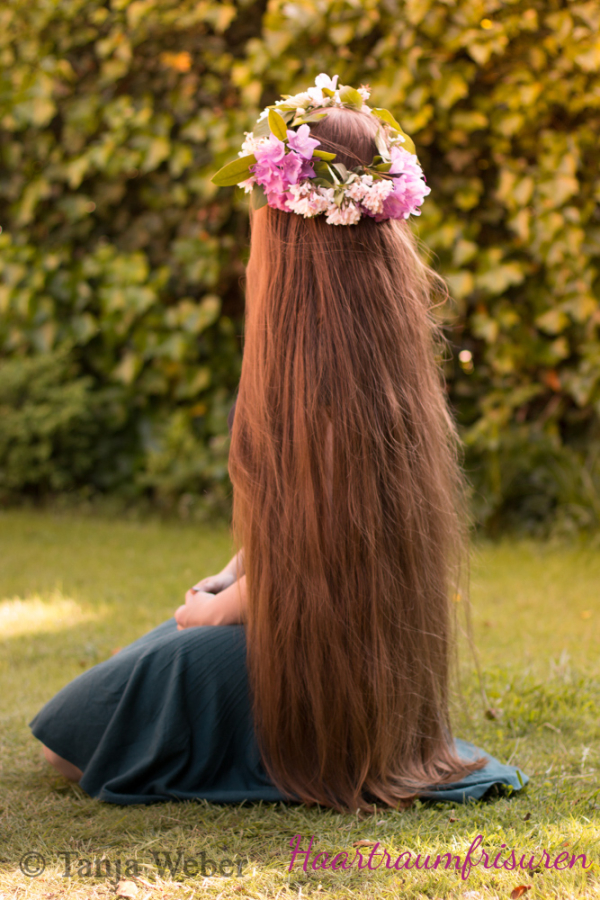 Wir haben zusammen gegrillt, gegessen, gequatscht und natürlich geflochten. Wenn ich schonmal soviele Schöpfe zur Verfügung habe muss ich natürlich das ein oder andere ausprobieren. Hier gleich mal die erste Frisur, zwei Fünfer Lace Braids mit Dutt. Einer schlängelt sich von der Stirn, der andere vom Nacken zur Mitte des Kopfes. Dort habe ich die zwei Zöpfe zusammen genommen und mit den restlichen, offenen Haaren als zweiten Strang eine Kordel daraus gemacht. Diese ist dann zum Dutt festgesteckt. Das ganze war relativ spontan und vor allem die Kordel mit den Fünfer Zöpfen gefällt mir total gut. Der Dutt war nicht ganz mittig, das schrie geradezu nach mehr Blumen. Weitere Frisuren kommen noch in nächster Zeit!
We had a barbecue together, ate, talked and of course did a lot of braiding. If I have so many heads to braid on I need to take the chance. Here is the first hairstyle I want to show to you. Two five strand lacebraids and a bun. One of the braids starts at the forehead the other one in the neck, going to the middle of the head. For the bun I made a rope braid out of tthe two five strand braids and the remaining open hair and pinned it. Spontaneous idea, but I really loved the rope braid thing! More hairstyles will come soon.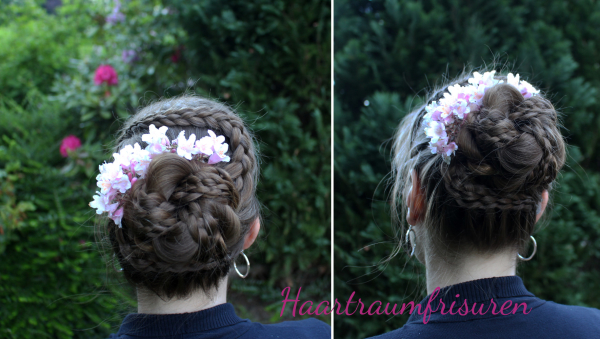 Wobei für Frisuren weniger Zeit war als gedacht, da wir zusammen mit Tanja losgezogen sind um schöne Fotos zu machen. Sie hat auch das tolle Foto mit der Blumenkrone gemacht. Schaut euch unbedingt auch andere Fotos von ihr an. Die weiteren Ergebnisse kenne ich selbst noch nicht, bin aber schon total gespannt! In dieser Zeit hat Heike wieder fleißig Haare geschnitten und es wurden Blumenkränze geflochten. Abschließend gab es außerdem wieder absolut leckeres, selbstgemachtes Eis für alle! Dieser Nachmittag war quasi die Kirsche und der Zuckerguss auf einem sowieso schon fabelhaften Wochenende! Oder in diesem Fall die Erdbeere und die Kakaonibs 😉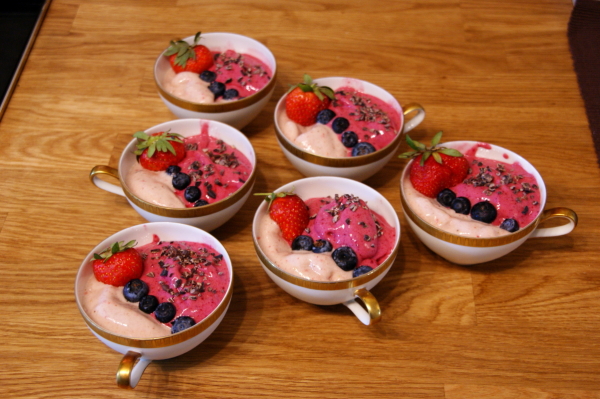 But there was less time for braiding then I originally thought because we went to take some pictures with Tanja. She also made the beautifuk picture with the flower crown. Her pictures are gorgeous, be sure to check them out! I don't know the other results yet, but I'm very excited! Meanwhile Heike was busy cutting hair and they made some beautiful wreths of flowers. And there was again delicious selfmade icecream for everyone!