Hier sind sie wieder, die Pullthrough Zöpfe. Diesmal als Half Ups, denn lange Haare muss man auch mal zeigen. Tatsächlich bin ich richtig begeistert, wieviele Half ups ich in letzter Zeit gemacht habe, denn noch vor kurzem beklagte ich mich ja, dass die viel zu wenig Aufmerksamkeit hier bekämen. So, diesmal habe ich also zwei fast gleiche Frisuren an zwei unterschiedlichen Schöpfen gemacht.
Here they are again, pullthrough braids, but tis time as half ups. Indeed I'm really pleased with the amount of half ups I'm trying at the moment. Maybe you remember that I was complaining that they don't get the attention they need here. So, this time, two almost identical hairstyles on two different heads.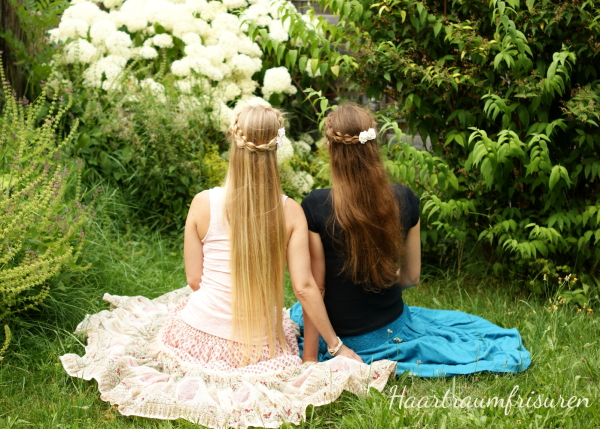 Auf dem blonden Schopf seht ihr eine Half Up Krone aus einem 3D Pullthrough Braid. Ich habe dazu im Prinzip ein Pullthrough Haarband gemacht und das im Kreis festgesteckt. Die Nahtstelle dann geschickt mit Blumen verdeckt. Ich muss gestehen, an diesem Morgen hatte ich die Nase von den kleinen Silikondingern eigentlich schon voll. Aber so filigran gehen eben keine andere Haargummis. Zum Glück hat mich hinterher das Ergebnis entschädigt, denn beide Frisuren finde ich wunderschön.
With the blonde hair you can see a 3D Pullthrough Crown, made from a pullthrough headband and pinned in a circle. I must admit I was sick of those tiny silicone things this morning, but in the end the result was worth the struggles.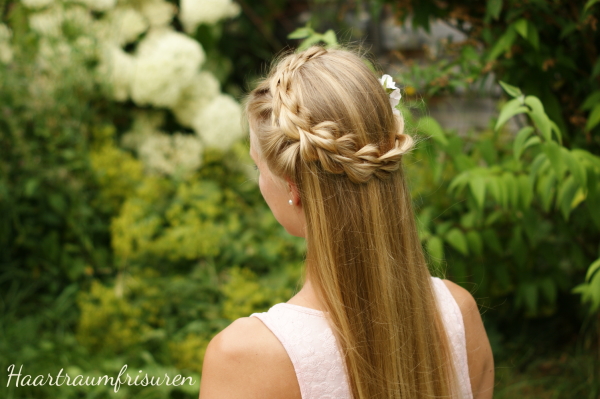 Heike von haselnussblond habt ihr bestimmt auch gleich erkannt. Wir wollte nicht so stark gegen die Wuchsrichtung der Haare flechten, darum bei ihr keine ganze Krone, sondern zwei einzelne Zöpfe vom Scheitel weg, hinten mit einem Gummi zusammen gebunden. Ebenso mit den tollen Blumen dekoriert, die ich jetzt schon mehrfach verwendet habe. Echte Allrounder eben.
I think you already recognized Heike from Haselnussblond. As we did not want to braid her hair against it's natural direction I did two braids starting at her parting and then combined at the back of her head. And also decorated with flowers.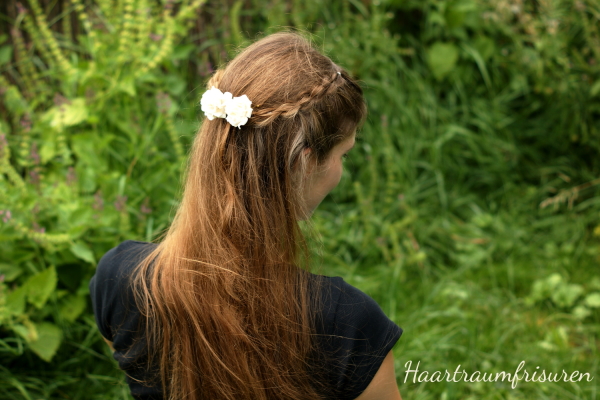 Alle Silikongummis wurden hinterher übrigens rausgeschnitten. Ich hatte ja schon beim reinmachen kaum noch Geduld, da wollte ich beim rausmachen nichts riskieren und meinen hübschen Modellen nicht mehr Haare als nötig (eigentlich überhaupt keine) ausreißen. Was sagt ihr, weiterhin viele Half Ups, oder lieber wieder mehr Zöpfe hier?
I cut all the silicone hair ties out in the end. My patience had come to an end after the braiding and I did not want to rip out any hair from my beautiful models. What do you say, do you like all those half ups, or would you prefer to see more braids?