Heute ist in mehrerlei Hinsicht ein besonderer Tag. Mein langes, schönes Wochenende geht zu Ende und ich mache ich mich auf den Rückweg, aber vor allem ist der erste Hochzeitstag von Herr und Frau Haselnussblond. Dazu von meiner Seite ganz liebe Wünsche, ich finde es ganz toll, dass ich vor einem Jahr an eurem großen Tag dabei sein konnte und dann so ganz zufällig auch dieses Jahr nochmal. Zu diesen Anlass wünschte sich Heike tolle Bilder mit langen Haaren und dem Hochzeitskleid. Beziehungsweise dem Plan B Kleid. Da es vor einem Jahr so wahnsinnig heiß war zog Heike nach einer Weile ihr wunderschönes Corsagenkleid aus und schüpfte ins das hier. Auch ein wirklich tolles Kleid.
Today is a special day in more than one way. My wonderful long weekend comes to an end and I'm going home, but above all it is the first wedding day of mr. and mrs. Haselnussblond. I'm wishing them all the best by the way. I was so happy to take part at their big day one year ago and coincidentially be here exactly one year later. For this occasion Heike wished herself some pictures with long hair and her dress. Not directly her wedding dress, but the plan b. It was so hot one year ago, so she had to take of her beautiful corsage dress and slip into this lighter beauty. Also a very beautiful dress.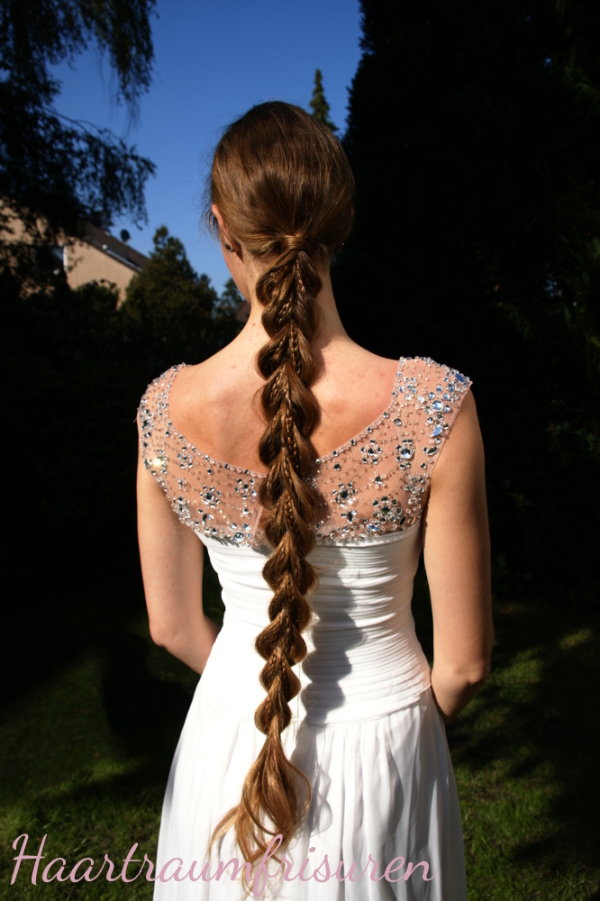 Dann haben wir die Tressen eingabaut, die auch letztes Jahr bei der Hochzeit zum Einsatz kamen. Die zaubern eine wunderschöne Länge. Der Zopf den ihr dann hier seht ist der sogenannte Dragontail Braid, nach einem Tutorial von Lilith Moon. Im Prinzip ein sogenannter Pulltrough braid mit kleinen Akzentzöpfen als Highlight. Und was für ein Highlight die waren. Bis jetzt schreckten mich solche Zöpfe ein wenig ab, denn all die Silikonhaargummis später wieder rauszumachen – nein danke. Aber leider stellte sich nach all der Mühe beim reinmachen (den Zopf habe ich gemacht, falls ich da jetzt nicht klar genug war) heraus, dass dieser Zopf jedes bisschen davon wert war. Er ist wirklich wunderschön. Besonders, elegant und ein bisschen verspielt. Perfekt zu Glitzer und weiß wie ich finde. Eigentlich auch schön für einen besonderen Anlass.
Außerdem finde ich immer wieder, dass diese Länge an Heike ganz natürlich aussieht, einfach so als gehöre das so. Und es steht ihr auch dementsprechend gut. Also wachst liebe Haselnussblondhaare. Zusätzlich gefällt mir das lockere Ende ohne Haargummi und mit den leichten Locken. Beim aufmachen haben wir übrigens ganz vorsichtig alle Haargummis rausgeschnitten um zu vermeiden, dass sie sich verheddern. Was sagt ihr zu dem Zopf, verschlägt er euch genauso die Sprache wie mir?
After this we put in her clip in extensions, just like last year at the wedding. They make a perfect length. The braid is a so called Dragontail Braid, after a tutorial by lilith moon. Indeed it is a pullthrough braid with accent braids as highlights. Until now I did back off of braids like this because I did not want to use all those little silicone hair ties and especially if I was thinking about getting them out of my hair again… But unfortunately the braid turned out so pretty, it was worth the work (my work, I did this braid if I did not make this clear until here 😉 ) Elegant and a little bit playful, really beautiful. Suiting for special occasions as I think.
Beside that I keep thinking how perfect this lenght suits Heike, it looks so natural. So grow dear hazelhair! Also I really like the open ends without hairtie and the waves. As we undid this braid we carefully cut all the hair ties out of the braid. What do you say, breathing braid, isn't it