Wann immer ich diesen blonden Engel besuche, haben wir ein paar verrückte Ideen im Kopf. Beim letzten Mal wollte ich unbedingt ein paar Perlen zum Einsatz bringen, die ich schon vor einer ganzen Weile besorgt hatte. Zunächst brauchte mein Engel aber Wellen als Grundlage für die geplante Frisur. Dafür gab es einen holländischen Lacebraid, der sich ein paar mal über den Kopf geschlängelt hat. Ohne Foto, als Beweis nur das Ergebnis vom nächsten Tag – Wundervolle, kleine, sprunghafte Wellen.
Whenever I visit this blonde angel we have some crazy ideas in our heads. The last time I wanted to use some pearls which I bought some time ago. But first my angel needed some waves as base of the planned hairstyle. For this I did a dutch lace braid on her head which winded over her head several times. No picute of this, but as a proof the beautiful and tiny waves this braid created.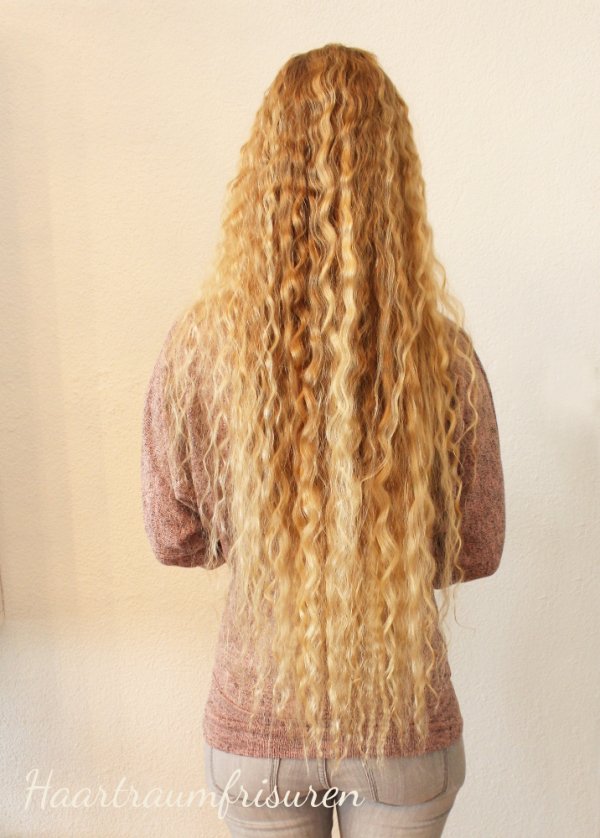 Und welche Frisur braucht jetzt Welle und Perlen? Eine Hochzeitsfrisur, genauer gesagt DIE Hochzeitsfrisur von Daenerys aus Game of Thrones. Eigentlich eine ihrer unspektakuläreren Frisuren, trotzdem finde ich sie sehr schön. Nach den Perlen habe ich übrigens eine Weile gesucht, denn eigentlich wollte ich welche zum reinclipsen. Leider gab es die nicht in schön. Fündig geworden bin ich dann bei ganz normalen Perlen. Die habe ich dann mit einer U-Nadel auf eine Haarsträhne aufgefädelt und ein Silikonhaargummi daruter platziert. Dadurch blieben die Perlen dann an Ort und Stelle. Die hier verwendeten Perlen sind eher groß, ich habe auch noch kleinere Perlen im Repertoire. Die haben wir auch noch verwendet, seid gespannt!
And which hairstle needs waves and pearls? A wedding hairstyle, to be accurate THE wedding hairstyle from Daenerys from Game of Thrones when she marries Drogo. One of her rather unspectacular hairstyles, but unless I think it's very pretty. I searched for pearls for this hairstyle for some time because I wanted some which I could clip in at the end. But I ended up with regular pearls, also very beautiful. I just used a u-shaped pin to put them on a strand of hair and added a silicone hair tie to hold it in place. This made the pearl stay where I wanted it to be. The ones I used here are rather big, but I also have some smaller pearls and we also used them in another hairstyle. Stay curious!