An diesem wunderschönen Sonntag möchte ich euch zwei Frisuren von unserem Wochenende neulich zeigen. Denn meine liebe Freundin Sabrina wollte gerne einmal einen Zopf mit Tressen haben. Also klippste Heike ihr ein paar rein und zwar die, die sie zur Hochzeit getragen hatte. Überraschender weise fügte sich die Farbe besser ein als erwartet und ihre Haare waren beinahe schon so lange wie die Tressen. Damit habe ich dann was geflochten.
On this wonderful sunday I want to show you two hairstyles from our weekend recently. My dear friend Sabrina wanted a braid with some clip in extensions and so Heike put some of hers in her hair. Surprisingly they fitted better than expected when it comes to colour and lenght. So I went on and braided something with all that hair.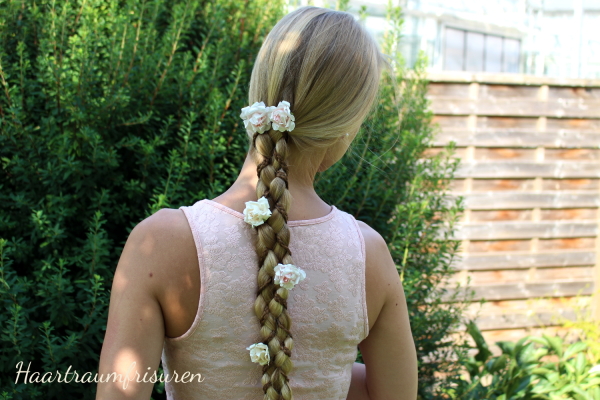 Und zwar einen Rapunzel Braid, welcher Zopf könnte passender sein für so eine Mähne. Die Akzentzöpfe aren übrigens auch aus Tressen. Super praktisch, wenn man die nicht vorher extra flechten muss, sondern sie einfach einklipsen und losflechten kann. Dekoriert mit den Papierblumen, von denen ich schon Anfang der Woche vergeschwärmt habe. Hier in rosa und beige.
I did a rapunzel braid, what would be more suting with this blonde mane. The accent braids are made out of extensions, too by the way. This is such a great idea, you can just clip them in and braid and don't have to braid them everytime you want to wear this braid. Such a time-saver. The braid is decorated with the paper flowers I told you about this week.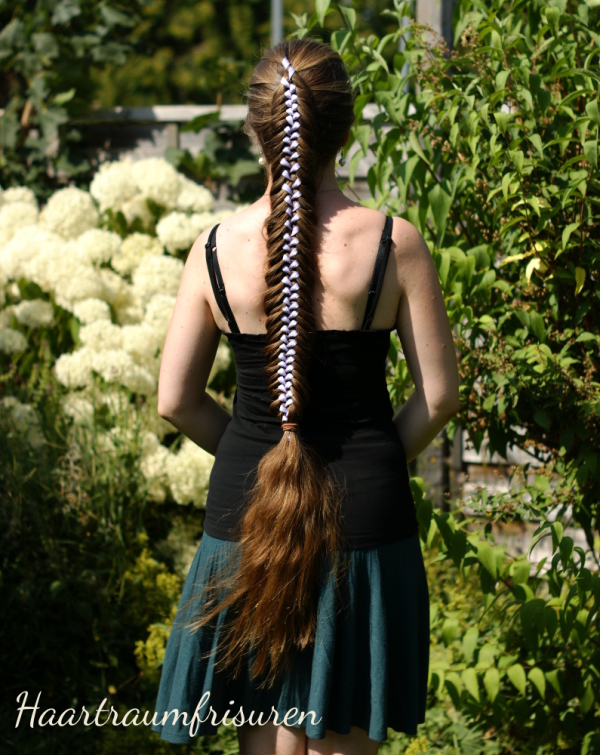 Dann wollte ich ja nochmal was mit Bändern um meine neuen Errungenschaften auszuführen. Heike hat sich dann mit einer Fischgrätenvariante mit Band ausgetobt. Tja und diesmal haben wir das Band doppelt genommen und aus 5 m 2,5 gemacht. Daher die lange Quaste, denn so hat das Band absolut nicht gereicht. Leider sieht man bei den Lichtverhältnissen nicht sehr viel vom schönen Band, das ist nämlich lila weiß mit einer Art Fischgräten Streifen Muster.
I wanted another hairstyle with ribbon to try out my new ones. So Heike tried this fishtail variation with ribbon. Unfortunately this time we folded the ribbon in half and it was too short this way. So we ended up with a lot of unbraided hair, but pretty anyway. The ribbon is purple and withe with a fishtail stripe pattern or something like this.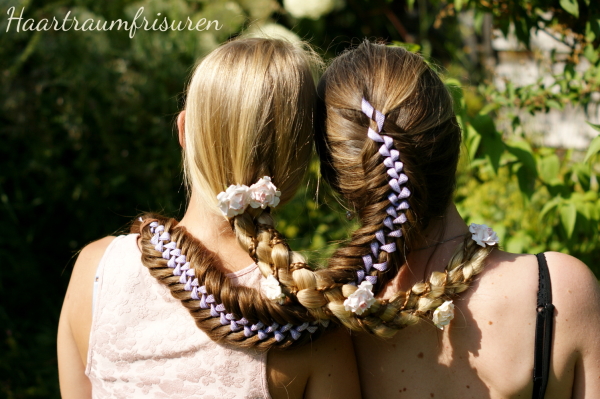 Und warum zeige ich euch diese Frisuren heute zusammen in einem Beitrag? Genau, weil wir sie zeitgleich getragen haben. Bilder mit zwei so unterschiedlichen Zöpfen finde ich toll, mal wieder wegen den Farben, aber auch wegen der gegensätzlichen Strukturen.
So, why do I show you these two hairstyles in one post? Exactly, because we wore it at the same time. I love pictures with two so different braids. Again because I love our colours, but also because I love the different structures of the braids.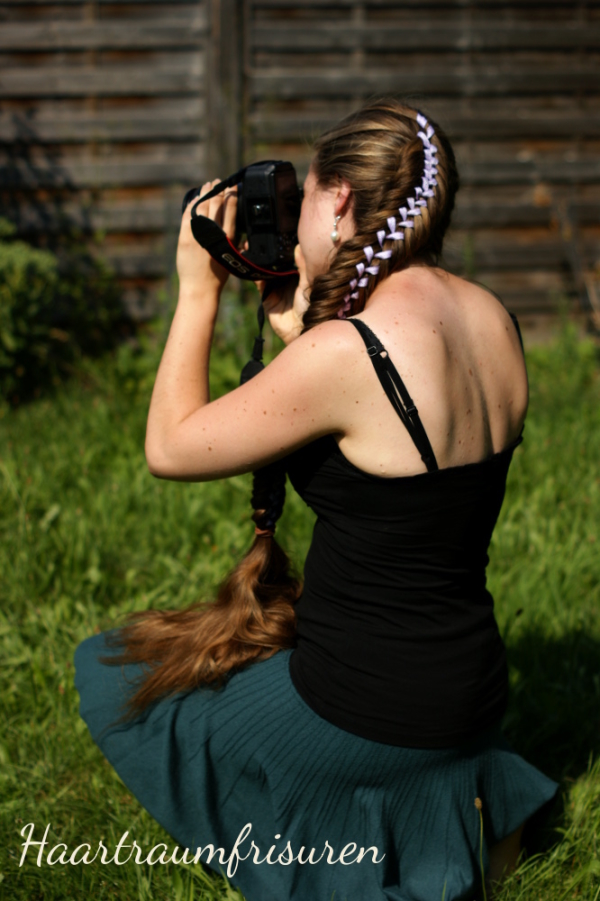 Hier noch ein Schnappschuss, von dem ich währenddessen nichts mitbekommen habe, so konzentriert war ich darauf den schönen Zopf zu fotografieren. Gefällt mir aber irgendwie wie die Quaste so auf meinem Schoß aufliegt. Zum Abschluss nur nochmal der Rapunzel Braid in ganz. Diese Ecke ist wirklich toll für Fotos, leider verblüht sie langsam, mal sehen welchen Hintergrund ich dann verwende.
Here a picture Heike did without me knowing it because I was so focused on taking a picture of the other beautiful braid. But I like how the end of the braid is lying on my legs. And to come to an end: once more the beautiful rapunzel braid and this time all of it.