Ich hatte euch ja schon versprochen, dass auch noch die kleineren von mir besorgten Perlen zum Einsatz kommen. Hier sind sie – jeweils eine für jeden Akzentzopf. An den Vrebindungsstellen mussten dann aber die großen her, das war für die kleinen einfach zuviel Haar. Finde ich übrigens eine tolle Möglichkeit um solche Akzentzöpfe aufzupeppen – die Perlen kann man auf ebendiese nämlich einfach auffädeln und so ein kleines Highlight setzen.
Jetzt aber zur Frisur. Eine ganz große Inspirationsquelle ist ja immer wieder Instagram. In diesem Fall hatte sich mein "Opfer" diese Frisur gewünscht. Zwei Englische Akzentzöpfe, zwei aus Fischgräten und dann im Nacken nochmal zwei Zöpfe. Diese sind immer gegengleich abwechselnd als Fischgräte und als Engländer geflochten. Kräftig pancaken und aneinander feststecken. Und schon haben wir einen tollen, breiten und sehr spannenden Zopf. Die Flechtwellen als Basis machen es übrigens leichter Volumen in die Frisur zu zaubern. Was sagt ihr? Ich bin eigentlich kein Fan von Zöpfen die mit Bobby Pins aneinander befestigt werden (finde ich einfach nicht alltagstauglich genug), aber dieser Zopf ist schon ziemlich toll, oder?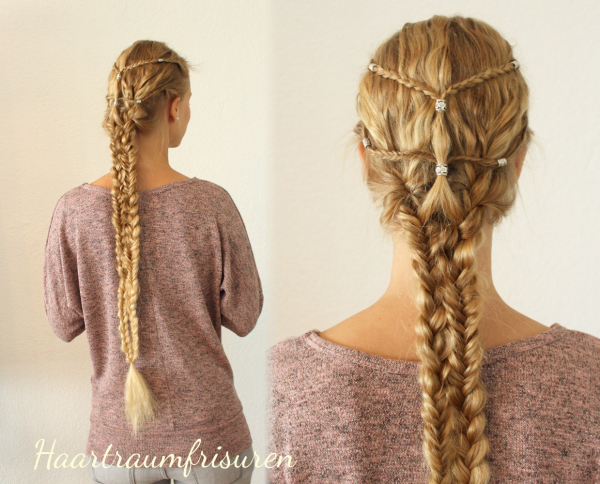 I did promise you to show you how I used the smaller beads I bought recently. Here they are – one of them for each accent braid. Where I combined those braids I needed to take the bigger ones beause it was just to much hair. By the way an super easy way to spice up small accent braids – just put some of the beads on them.
Now let's talk about the hairstyle. Instagram is one big souce of inspiration! In this case the braiding victim wished for this specific hairstyle. Two english accent braids and two fishtails. In the neck to parallel braids, braided counterwise as english and fishtail braid and pancaked. Then pinned together and you're done. With the braidwaves it was much easier to add volume to the hairstyle. What do you think? I must admit I'm no friend of braids which are pinned together with bobby pins usually. But in this case the result is really beautiful, isn't it?