Für das lange Wochenende hatte ich vor allem einen Wunsch an Heike: einen Pullthroughbraid. Der wird nicht richtig geflochten, sondern nach jeder "Windung" mit Haargummis festgemacht. Und weil ich auf das Gefummel mit den Silikonhaargummis keine Lust hatte, habe ich sie gebeten. Dass meine Haare allerdings zu dick sind um es mit besagten Silikondingern zu machen, daran hatte ich nicht gedacht. Also mussten extra kleine, dunkelbraune Gummis gekauft werden. Und damit es sich auch lohnt, entschied ich mich für den 3D oder three strand pullthrough.
For the long weekend I had one big wish from Heike: a pullthroughbraid. It is not really braided and you use a hair tie after each step. And because I did not want to mess around with those silicon hair ties I asked her to do it. I did not think about my hair beeing to thick to use the silicon hair ties. So we had to buy some for this braid only and we got small dark brown ones. And to make it worth the work I decided for a 3d or threeestrand pullthrough.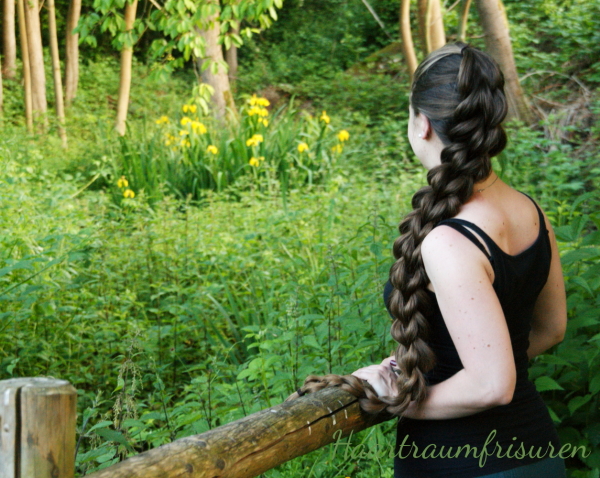 Also einmal nach einer Anleitung geschaut und schon war ich bereit loszulegen. Heike hingegen hatte das Flechtmuster nicht ganz so schnell durchschaut, also flechtete sie nach meiner Instruktion. Ich hielt ihr zwischendurch die Strähnen und beschrieb ihr was sie machen muss. Hat super funktioniert. Und bis zum Ende des langen Zopfes konnte sie es auch ganz alleine. Zu diesem Zeitpunkt waren dann auch gefühlt 30 Haargummis im Zopf.
Beim Blick in den Spiegel blieb mir, ähnlich wie beim Dragontail Braid neulich, der Mund offen stehen. So eine tolle Struktur, so lang (andere Zöpfe fressen ja oft viel Länge) und so dick! Selbst für meine Verhältnisse ein Monsterzopf.
So we looked up a tutorial, watched it a few moments and I was ready to start. Heike did need a little more time to understand the braiding pattern, so she worked with my instructions. I told her what steps to do and she lend me her hands. Worked really good and my braid was long enough, so in the end she could do it on her own. At this point there were about 30 hairties in my braid.
When I looked into the mirror, I was instantly amazed, just like withe the dragontail braid recently. What an amazing structure, so long (other braids tend to eat up so much lenght) and so thick! Even for my hair this is a huge braid!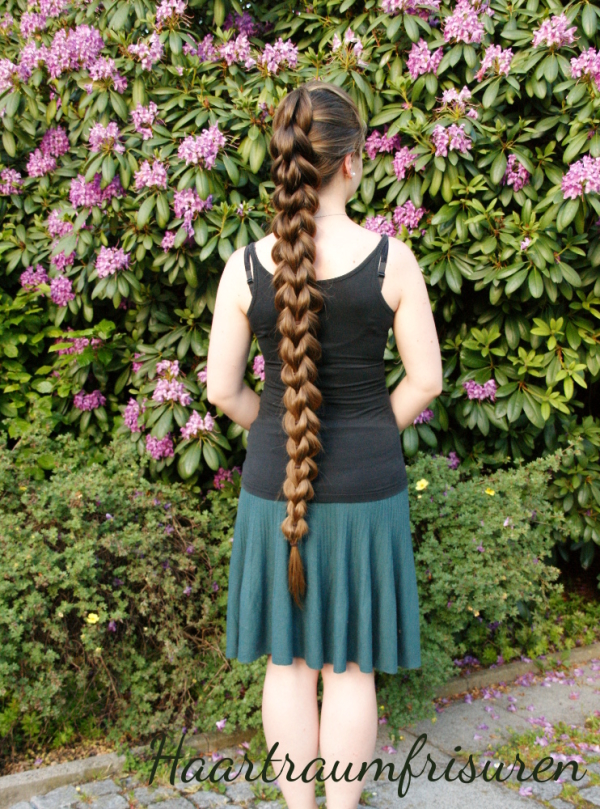 Natürlich mussten wir losziehen und nochmal schöne Fotos davon  machen, ich konnte mich kaum für eins entscheiden. Aber jetzt kommt das beste am Zopf, im Anschluss trug ich ihn noch den ganzen Abend, lümmete damit auf dem Sofa – und er hielt. Obwohl der Zopf stark auseinandergezogen wird, hat er perfekt gehalten. Ein wirklich stabiler Zopf, trotz lockerer und fluffiger Optik. Und da wir keine Silikongummis verwendet hatten war das aufmachen auch kein Problem und gleich passiert. Der wird also definitiv wiederholt, Liebe auf den ersten Blick sozusagen!
Of course we had to go and take some beautiful pictures of the braid. I almost couldn't decide which ones to show you. And here is one more amazing fact about this braid: after the pictures I wore it the whole evening, sitting on the couch, leaning against the braid and so on. It looked almost the same as when we did it. It holds so well, eventhough it is pulled bigger and looks rather loose. And as we used no silicone hair ties I had no problems undoin it afterwards. Love at first  sight, I will definetly try this one again!