Selten haben die Themen so gut zusammengepasst wie in letzter Zeit. Und das ganz unbeabsichtigt. Spulen wir also ein bisschen zurück. Zuletzt habe ich euch den großen Rückschnitt meiner Freundin gezeigt, davor meinen großen Schnitt. Die Bilder vom heutigen Beitrag entstanden dazwischen. Was auf den Fotos einen ziemlich coolen Effekt hatte. Aber warum der heutige Beitrag thematisch so gut passt? Weil ich zusammen mit Sabrina und Lena in München war was natürlich auch Senza Limiti beinhaltete. Jetzt kommt der Bogen – Lena hat zwar was gekauft, aber Sabrina und ich nur probiert. Wie schon am Sonntag kann ich euch also nochmal zwei Stücke zeigen die es noch nicht auf die Homepage geschafft haben, aber zu schön sind um versteckt zu werden. Wie gesagt, beide sind noch erhältlich, sollte sie also euren Namen schreien schreibt an info@senzalimiti.net.
The pictures for todays post were made inbetween my big cut and my friend Sabrina's big cut. Two things I showed you only recently. This was pretty cool on the pictures we took together. But before that Lena, Sabrina and me visited Senza Limiti. And while Lena bought something we two did only try something on. This is why I can again show you unique pieces that didn't make it to the homepage yet, but are two beautiful to stay on their own. So if one calls your name just write to info@senzalimiti.net.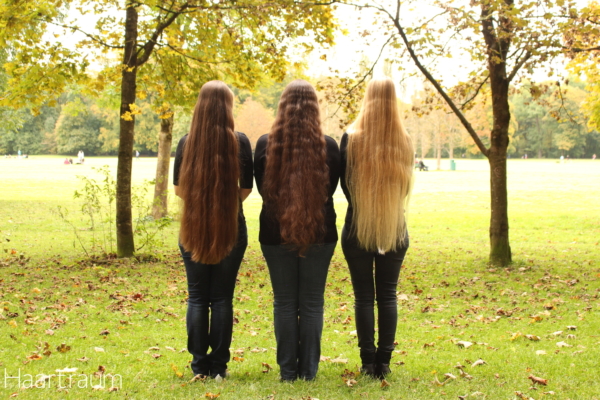 Die Fotos haben wir im Englischen Garten gemacht. Trotz wolkigem Wetter sind die wie ich finde richtig schön geworden. Die zwei Längenbilder aus meinem Beitrag über den Schnitt sind übrigens auch von diesem Tag. Das coole ist, dass wir drei quasi gleichlange Haare haben. Ja, jahrelang war ich beiden immer voraus was die Länge angeht, aber so frisch nach dem Schnitt enden unsere Spitzen fast auf gleicher Höhe. Wenn man das mit alten Längenbildern vergleicht irgendwie ziemlich cool. (Falls euch unser erstes gemeinsames Längenbild von 2012 interessiert klickt mal hier)
Und jetzt noch ein Stückchen zurück, vor dem Englischen Garten waren wir zu Besuch in Senza Limitis Werkstatt. Und während Sabrina diesen tollen Stab probiert hat, habe ich ein Auge auf eine KPO geworfen. Der Stab hat einen tollen, ganz schlicht gefassten Stein oben drauf. Diese Edelsteine sind immer eher groß, aber ich finde das ist auch für normalgroße Dutts passend.
We did the pictures in the english garden. Even though it was cloudy I like the pictures a lot. We also did the two lenght pictures you could see in the post on my hair cut. The special thing is we almost have the same hair lenght on this picture. Indeed I have been ahead of the two all those years concerning the lenght, but because of my recent hair cut our tips are alomst on the same height. (If you're interested in our first picture together from 2012 click here)
Now back to the jewelry. Sabrina tried this beautiful stick with gemstone. It has a very simple frame which makes it perfect even for smaller buns.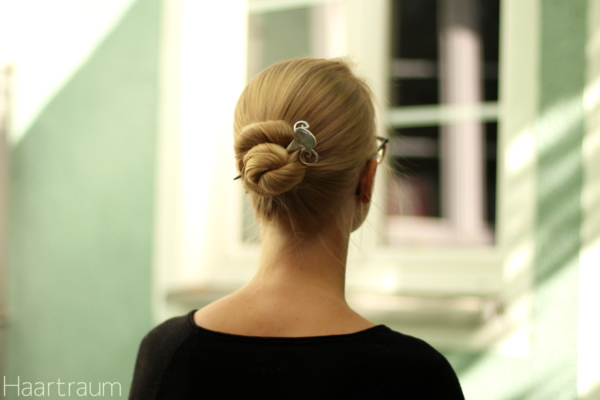 Genauso ein Einzelstück ist die KPO. Gefertigt mit handgemachten Blättern. Normalerweise werden diese "zugekauft", aber hier hat Giuseppe einmal selbst welche geschmiedet. Und dazu noch zwei gefasste Zirkonia. Je nachdem wie rum man diese Forke steckt zeigen diese Steine auffällig nach vorne oder eher dezent nach hinten und von der Seite sichtbar. Tatsächlich war diese Forke sehr schwer aufs Bild zu bekommen. Sie hat so viele unterschiedliche Seiten und Facetten, dass ich nicht finde, dass eins meiner Bilder ihr gerecht wird.
Meanwhile I had an eye on this unique piece. A KPO (you know I love this fork as it holds up so well). This one has handmade leaves and two zirconia. Usually they buy the leaves, but this time Giuseppe did them on his own. Depending on how you wear the fork the two stones are visible from the front or from the side which makes is more simple. Ideed I felt like this fork is hard to capture in a picture as it has so many different sides.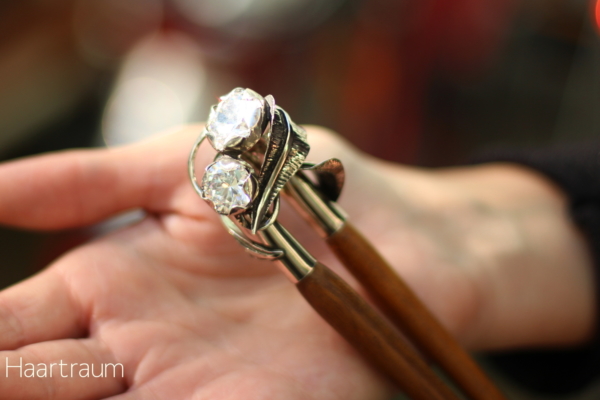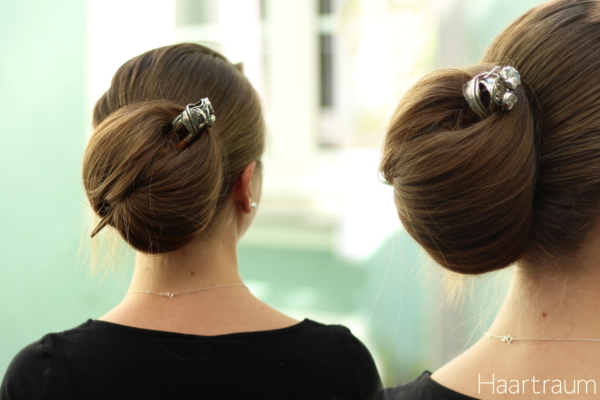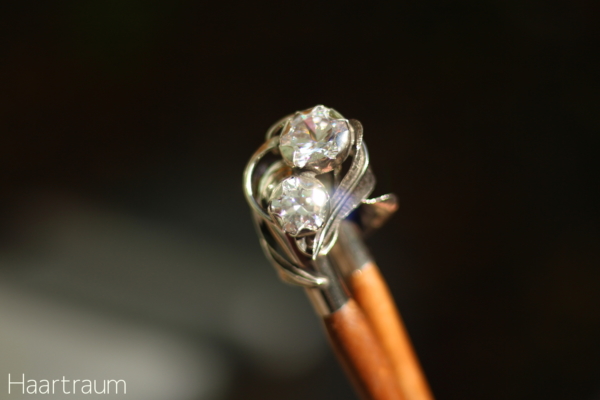 Danke ihr zwei für einen wundervollen Tag und dass ihr kein Problem hattet ein Foto vor einer Mülltonne zu machen (weil wir kein Stativ hatten) und dass euch all die Leute egal waren die zugeschaut haben. Ich habe übrigens auch die Instagram Accounts der beiden ganz oben verlinkt, schaut also unbedingt auch da vorbei!
Thanks to you two girls for a wonderful day and not being afraid of taking pictures in front of a garbage bin (because we were lacking a tripod) and for not caring all those people watching us. I've linked both their instagram accounts on top, be sure to check them out!