Hier habe ich zwei wunderschöne Frisuren für euch, ganz ohne viele Worte. Erst ein Halfup mit meheren Lace-Braids. Ich finde ja diese Länge super für Halfups. Und eigentlich wäre es mir lieber, man würde die Silikongummis nicht sehen. Dazu müsste man sie eigentlich nur mit einer Haarsträhne umwickeln. Das macht es aber fast unmöglich für die Trägerin das ganze alleine wieder aufzubekommen. Dann lieber so, ich finde die Frisur tortzdem schön und ein bisschen elfenhaft.
Two hairstyles for you, beautiful and without many words. If you want to know something, just ask. First a halfup with several lace braids. I think this is perfect with this lenght and a bit elvenlike.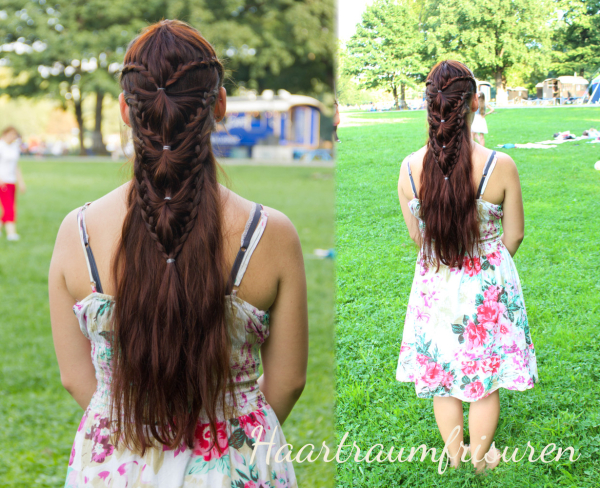 Als zweites einen geflochtenen Dutt, der sogar ohne Haarnadeln gehalten hat aufgrund des im Kreis flechtens. Ein paar kamen dann trotzdem rein, damit der mittlere Teil nicht unverhofft rausfällt. Im Prinzip ist das wie ein Spiralbraid, nur eben von außen nach innen geflochten.
Second a braided bun which stayed up without any pins. But I added some just to be sure. It's like a spiral braid, but braided the other way round!