Einen ganzen Beitrag möchte ich heute der lieben Zoey von Growbeyondyourlimits widmen. Weil ich ihr was schönes geflochten habe (zusätzlich zum Woven Fishtail Braid), sie mir was hübsches gemacht hat und wir ein paar tolle Bilder zusammen geschossen haben. Einfach so, weil ich sie zum ersten mal getroffen habe und es sehr genossen habe!
I want to dedicate one post to dear Zoey from Growbeyondyourlimits. Because I did a beautiful hairstyle on her (additionally to the woven fishtail braid), she did something beautiful on me and we took some beautiful pictures together. Just because I met her the first time and really enjoyed it!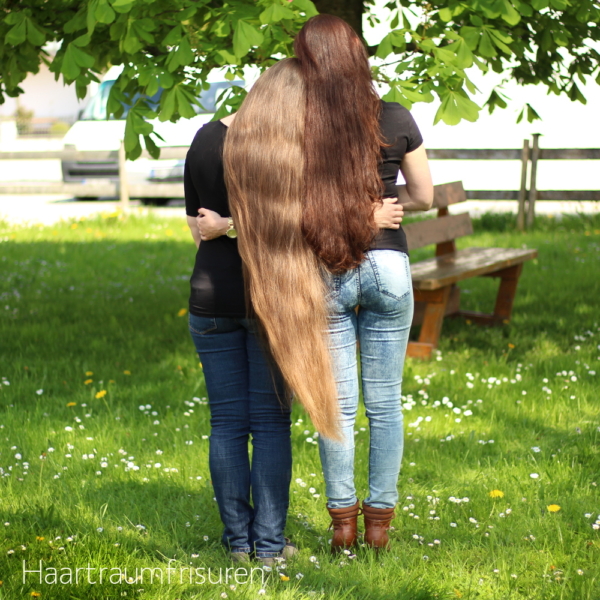 Einmal die Ausgangslage, Zoeys dicke, lockige Mähne und meine knielangen, glatten Haare die sich hier bei ihr anschmiegen. Sowohl Farbe als auch Struktur sind sehr unterschiedlich und ihre einzelnen Haare ist deutlich dicker als meine. Immerhin sehe ich neben ihr richtig blond aus.
Zoey mag Mermaid Braids. Zöpfe, bei denen nur ganz allmählich alle Haar hinzugenommen werden und die dadurch breit und locker werden. So einen hat sie seitlich bei mir gemacht. Allerdings stießen wir auf die Schwierigkeit, dass sich der Zopf durch sein eigenes Gewicht wieder in die Länge gezogen hat und so die lockere Struktur beinahe wieder verloren ging. Für ein schönes Foto hat es trotzdem gereicht. Ich muss gestehen, so lose Zöpfe sind für mich so ungewohnt, da ich immer ziemlich fest flechte. Irgendwie fühlt es sich dann beim reinfassen immer komisch an. So ähnlich geht es mir übrigens auch beim Pullthrough Braid.
So first the raw material you could say. Her thick and curly hair next to my kneelong and straight hair. They differ in colour and structure. If you look at one hair of hers it's thicker then one of mine. But at least I look really blonde next to her.
Zoey loves Mermaid Braids. Braids where you only add in litte amounts of hair until the end which creates a wide and loose look. She did a side one on me. But we had to fface one difficulty: my braid was so heavy it pulled itself apart when we wanted to do pictures. So I had to hold it up. But it stayed long enough for one beautiful picture, I have to admit loose braids like this feel kind of strange to me as I braid super tight usually. I feel the same when I touch my Pullthrough Braid.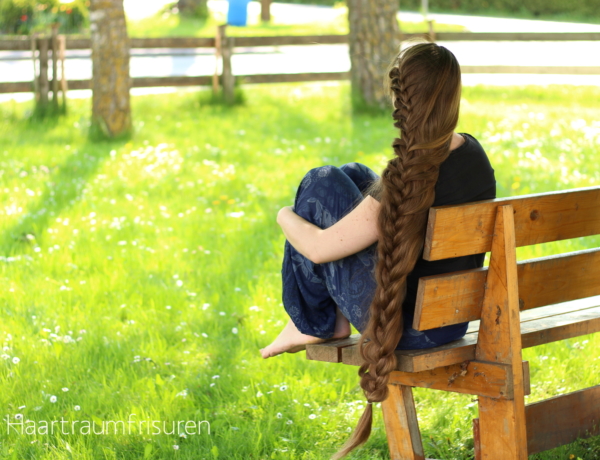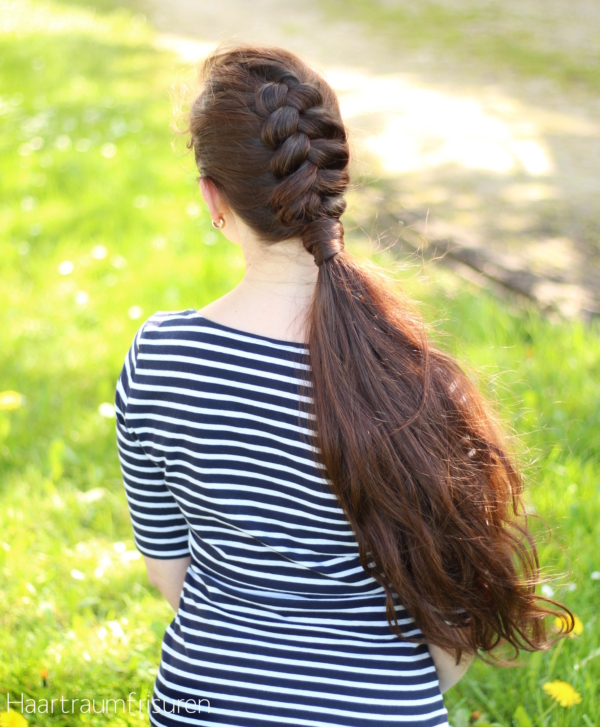 Die Frisur die ich Zoey geflochten habe war ihr Wunsch an mich, ein schön breitgezogener Holländer, der im Pferdeschwanz endet. Der ist Haargummi außerdem mit einer Haarsträhne verdeckt. Zusammen mit den Locken oder Wellen in ihren Längen ist das eine wirklich hübsche Kombination. Und eine passende Reisefrisur, denn das Foto entstand kurz bevor sie wieder aufbrechen musste.
Zeitlich jetzt nicht ganz korrekt zeige ich euch zum Abschluss ein gemeinsames Zopf Bild. Da Zoey ihren Zopf extra locker und breit geflochten hatte, ließ sie es sich nicht nehmen auch meinen etwas zu pimpen. Das sieht man vor allem in den unteren Zentimetern. So breit ist er da für gewöhnlich nicht mehr.
Einfach ein wunderschöner Tag mit wundervollem Wetter.
The hairstyle I did on Zoey was her wish from me. A big, pancaked dutch braided ponytail. Additionally I hid the hair tie under a strand of hair. In combination with her locks I really like this. And it was the perceft hairstyle for travelling because after this picture she had to leave.
But before all this we took a braid picture together. And as Zoey made her braid extra loose and pancaked it she insisted on pancaking mine, too. You can se this especially in the last few centimeters. Usually my braid is not as thick there.
Simply a beautiful day with gorgeous weather!