In letzter Zeit trage ich hin und wieder gerne einen Pferdeschwanz. Für gewöhnlich geflochten, denn dann hält auch der Pferdeschwanz besser. Ein runder Viererzopf gefällt mir zum Beispiel besser mit Pferdeschwanzbasis als ohne. Der Hybridzopf macht sich so auch ganz gut, vor allem wenn man den Zopfanfang etwas lose und fluffig lässt. Aber was macht man, wenn man zuviel Zeit in die Basis investiert hat und kaum mehr Zeit zum flechten bleibt?
Ihr seht es auf dem Foto, man macht einen Engländer (wobei der Zeitvorteil durch das anschließende Fotografieren wieder aufgehoben ist). Aber Achtung, der ist etwas auseinander gezogen, so dick ist dann selbst mein Zopf nicht. Die große Optik gefällt mir und hat definitiv für einige staunende Blicke gesorgt. Immer weider werde ich gefragt, ob das tatsächlich alles meine echten Haare wären. Ihr wisst die Antwort: ja, alles echt. Im Englischen nennt sich das auseinanderziehen "pancaken" und wie ich erst gelernt habe kommt das tatsächlich vom "Pancake" also Pfannkuchen, denn der Teig läuft in der Pfanne auseinander, wird breiter und flacher, eben wie der Zopf. Oder der Zopf eben wie der Pfannkuchen.
I like to wear ponytails the last time. Usually braided as this helps the ponytail to stay up. When I do a round four strand braid for example I prefer a ponytail as base, it just looks better as I think. A Hybridbraid also looks really good this way, especially if you make the beginning of the braid loose and fluffy. But what to do if you took to much time to make the base and there is almost no time left for braiding?
You can find my solution on the picture below. I did an simple english braid (even though including the time for the pictures I could have braided a hybrid braid, too) But attention please! This braid is pancaked! Even my braid is not that thick regularly. I like how big it is and it produced a lot of stares from other people. I sometime get asekd if this is really all my own hair. You know the answer: yes, it is, everything real.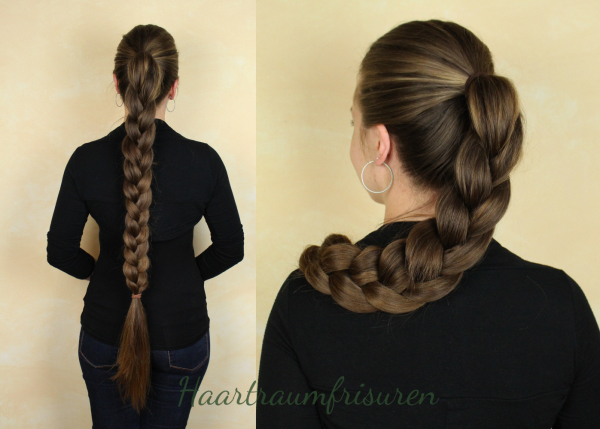 Für schöne Pferdeschwänze gibt es ja tausend Tricks, ich mache meinen meist so (weils schnell geht und trotzdem besser hält als einfach nur einen Haargummi reinzumachen):  Zuerst teile ich ungefähr auf Höhe der Ohren Haare ab. Dabei setzte ich die Zeigefinger an den Ohren an und lasse sie einen Halbkreis nach oben ziehen, so dass der untere Teil deutlich mehr Haare hat. Diesen unteren Teil binde ich dann mit einem Haargummi zusammen. Dafür nehme ich gern diese Telefonkabel ähnlichen Papangas. Dabei schaue ich, dass der Nacken möglichst stramm ist und nicht diese typische Beule bildet. Die kommt nach einiger Zeit von ganz allein, wenn der Zopf beginnt abzurutschen.
Dann nehme ich die restlichen Haare von der Stirn dazu, locker nach hinten und noch ein Haargummi drum. So kann ich den Ansatz schön fluffig machen, es ziept nicht so an der Stirn und gefällt mir einfach besser so. Bei Bedarf könnte man hier auch toupieren um das zu verstärken. Ich muss euch aber ehrlich sagen, ein Pferdeschwanz wird bei mir trotzdem nach eingier Zeit unbequem. Das Gewicht meiner Haare zieht sehr stark und das ist irgendwann unangenehm. Für einen Abend finde ich das aber ok, wer schön sein will muss leiden oder so 😉
Was sagt ihr zu dieser (von Heike liebevoll so getauften) Python? Bei Gelegenheit muss ich mal probieren wie breit ich meinen Zopf bekommen kann, wenn ich es wirklich drauf anlege.
There are one million tricks for beautiful ponytails, but I prefer to do it this way (as it is really quick and helps to make it stay better than with just one simple hairtie): I start with parting my hair above my ears in a way so the bottom part has more hair in it. I tie this part with a ponytail. For this step I like to use so called papangas. I take care that in the neck it gets really nice and smooth. This little bump will come anyway after the braid starts sliding down.
Now I take the rest of the hair and add it, keeping it loosely at my forehead. I like this look and this way it does is more comfortable. You could tese your hair here to make this effect even bigger. But I need to be honest with you, after a while it starts to get uncomfortable no mather what I do. The weight of my hair pulls on my scalp and some hours later it starts to hurt. But I like the look, so this is ok for an evening or so.
What do you think about this thick braid? I need to try how big I can make my braid sometime soon.