Erst letzte Woche habe ich euch einen Trimm gezeigt, den ich an einer Freundin gemacht habe. So wie der ist auch dieser hier schon ein bisschen her. Das Ergebnis finde ich aber einfach schön, darum möchte ich euch ein Bild davon zeigen. Und Außerdem möchte ich euch von meiner geheimen Superkraft erzählen, die ich hier entdeckt habe (bitte mit Ironie lesen). Denn so wie die letzte Kandidatin wollte auch die liebe Lady Amalthea ursprünglich gerne ein großes Stück abgeschnitten haben. Und so wie schon bei meiner Freundin zuvor konnte ich auch sie ohne große Überredung oder dergleichen dazu bringen viel weniger abzuschneiden. Nicht, dass das mein Ziel gewesen wäre. Jeder muss sich mit seiner Länge selbst wohl fühlen und demnach schneide ich auch kürzer, ganz unabhängig von meinen persönlichen Präferenzen.
Just last week I shoewd you another trim on a friend of mine. The one I'm showing you today happened a while ago like the last one. But I love the result and had to show it to you becasue of that. And I want to report you about my secret superpower I discovered (please recognize the irony). Like the last girl I gave a cut dear Lady Amalthea initially wanted to have a big cut. And like with my other friend before her I could convince her – without even trying to do so – to cut less. This was not my goal becasue she has to be happy with her hair and so I would cut as much as she wanted even if I would prefer something else.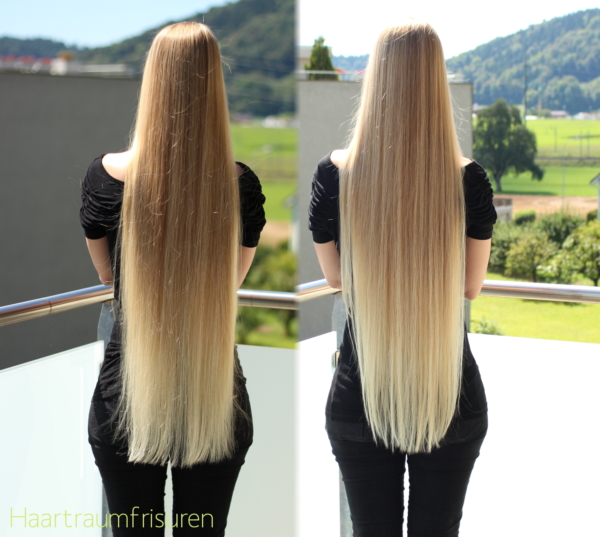 Irgendwie stimmte ich sie aber wohl versöhnlich mit ihren Haaren und aus dem geplanten großen Schnitt wurden nur wenige cm. Die große Veränderung macht vor allem die andere Kantenform aus. Das U ist vom letzten Schnitt ziemlich rausgewachsen und deshalb habe ich das nachgeschnitten. So stark wie hier habe ich es ihr allerdings noch nie gemacht, aber wie man sieht war es genau das richtige. Weil dazu aber an den Seiten doch viel weg muss, haben wir uns langsam rangetastet und den U-Schnitt in mehreren Schritten vertieft. Was sagt ihr dazu? Welche Kantenform tragt ihr bzw. welche gefällt euch am besten?
In the end we only cut a few cm. The big change was in the shape. Her U-shape was almost grown out and so I worked on it. But I never did the u as deep as this time, but you can see it was just the right thing to do. We got there in baby steps becasue I had to cut a lot at the sides. But the result is great don't you think? What's your prefered shape for your ends?