Bei unserem Besuch bei Senza Limiti habe ich neben dem wunderschönen Mondstein Notenschlüssel den ich euch schon gezeigt habe auch einen neuen Buncage mitgenommen. Das ganze war spontan und wirklich ungeplant. Und das obwohl ich schon länger von einer Luna träume…
When we visited Senza Limiti recently I bought not only the beautiful moonstone clef I already showed you, but also a new buncage. This was really spontaneous and not planned even though I have been dreaming o fa luna for a long time…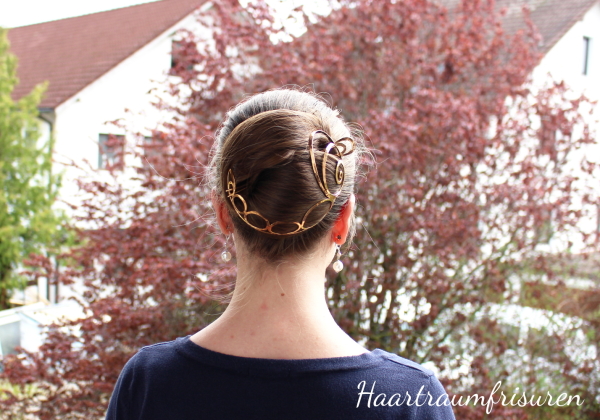 Auf dem oberen Bild seht ihr schon die Spange die bei mir eingezogen ist, aber eigentlich habe ich zuerst die unten probiert. Wie es dazu kam? Ich wühlte einfach in einer der Kisten mit vielen tollen Schmuckstücken und war neugierig, ob mir dieses Stück wohl passen würde. Und ja, das tat es. Schön fand ich es außerdem auch noch. Aber irgendwie fehlte ein kleines bisschen, ich war mir nicht sicher, da sie rosegold war und auch wenn die Form wirklich schön war, so richtig endgültig wollte der Funke nicht überspringen. Also beschloss ich es wie vorgesehen bei dem Notenschlüssel zu belassen.
On the picture you can see the buncage that moved in with me, but before I found this one I tried the one on the picture below. I found it just be seeking through one of those boxes with hair jewelry and was curious if it would fit me. And it did so. I also found it really beautiful, but it was rose golden and even though I liked the shape, I was not totally enthusiastic about it. So I decided to stick to my clef.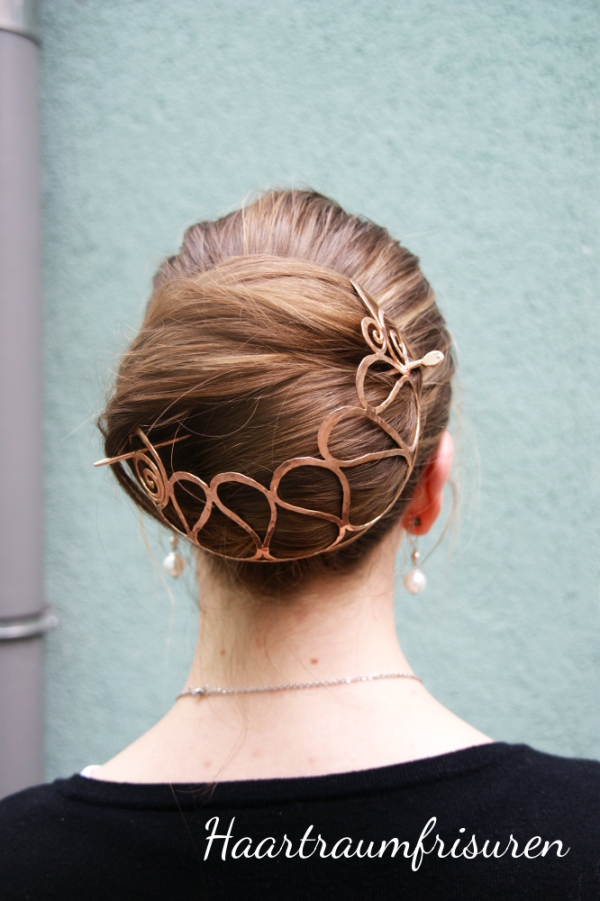 Gesagt und kurz danach doch wieder schwach geworden. In eben dieser Kiste fand ich direkt im Anschluss eine wunderschöne ebenfalls rosegoldene Luna – eine sehr offene Spange von Senza Limiti, die nur halb über den Dutt geht. Schon seit sich eine Freundin von mir eine der allerersten dieser Stücke sicherte begann ich damit zu liebäugeln. Aber regulär war nie eine passende Größe dabei, die wirklich gut auf den Dutt gepasst hat und eine Sonderanfertigung wollte ich nicht schon wieder, ihr wisst sicherlich mittlerweile, dass meine Sammlung auch so sehr groß ist. Also schmachtete ich seit dem immer mal wieder diese schönen Stücke an und machte mir keine weiteren Gedanken dazu. Als ich dann dieses Stück in der Hand hielt dachte ich zunächst sie könnte etwas klein sein, aber ich probierte sie einfach. Und siehe da – gleich beim ersten Versuch wurde mein Dutt perfekt rund und die Spange schmiegte sich noch perfekter an. Für meinen Geschmack wirklich absolut passend und durch das gold weniger auffällig als in meinem sonst so bevorzugten silber. Für mein Gewissen versuchte ich dann noch eine Weile standhaft zu bleiben, aber wie ihr seht nicht erfolgreich. Der Rest der Gruppe hat mich dann endgültig überzeugt.
It just never happens the way you think, right? Just after this I found a Luna in that same box, also rose gold. It's a buncage which is not going over your bun completely. Since a friend of mine bought one of the very first pieces I was looking at it. But regularly there was never one fitting really well. But I was thinking about getting one every now and then. When I finally had this piece in my hands I first thought it might be to small, but at first try it fitted perfectly.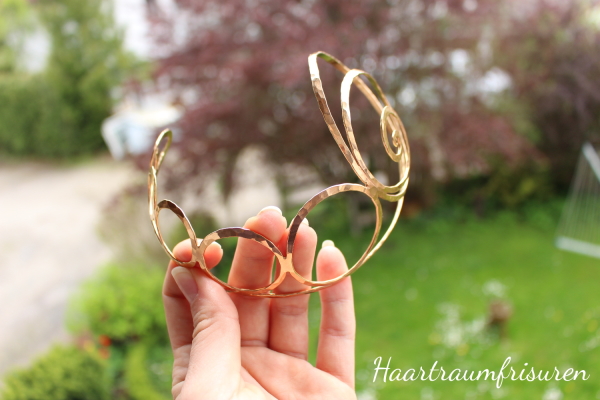 Und ich habe es keine Sekunde bereut, denn ich mag das Stück wirklich sehr. Auf den Fotos trage ich sie übrigens in einem simplen Lazy Wrap Bun den man überraschender Weise so absolut rund hinbekommen kann. Hatte mich selbst überrascht. Das tolle an einer solchen Luna ist übrigens, dass sie in einem gewissen Maß mitwachsen kann. Sollte der Dutt größer werden kann man sie noch leicht aufbiegen und sie passt dann auch weiterhin.
I did not regret it for a second since then. I really love this piece. On the pictures I'm wearing it over a simple lazy wrap bun. I was surprised it can be so perfectly round. By the way, a luna can grow a little bit with your bun, as you can bend it bigger or smaller.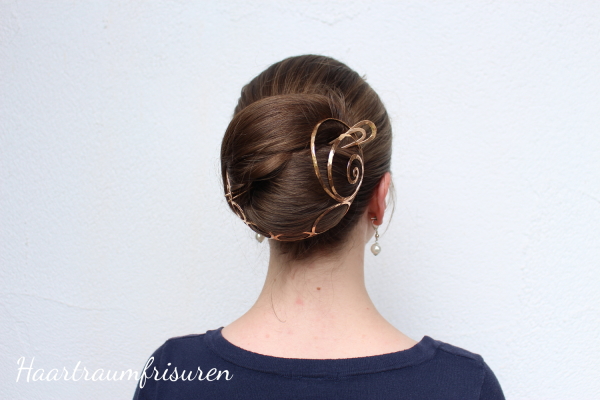 Zusätzlich lagen ganz viele andere tolle Neuheiten bereit, die wir fleißig probiert haben. Einige davon durften dann auch direkt beim ein oder anderen einziehen. Schaut doch mal bei Heike, Lenja und Andrea vorbei, sie zeigen euch heute auch, was sie so abgestaubt haben! Ein tolles Stück, dass ich nur für das Foto probiert habe ist diese einzigartige Forke mit zweierlei Metall und einem Labradorit. Durch die vier Zinken hielt sie super, obwohl sie eigentlich zu kurz war und der schimmer des Steins war wirklich wunderschön. Außerdem gefallen mir die Schnörkel!
Additionally they showed us a lot of other beautiful new things we all were eager to try. Some of them instantly found a new loving home. Take a look to Heike, Lenja and Andrea, they will show you today what pieces they got. One beauty I only tried for the picture is this fork with labradorite. It holds really well because it has four prongs even though it is too short for me. And I really like the stone and the combination of the colours.
Zum Abschluss möchte ich euch mal noch etwas anderes von Senza Limiti zeigen und zwar einen Ring. Dieser hier ist sicherlich nichts für jeden und auch eher nicht für den Alltag, aber trotzdem wunderschön. Mit grünem Stein und silber fällt er außerdem genau in mein Beuteschema. Leider war er auch ein bisschen zu groß für den Ringfinger.
Last but not least I want to show you something different you can find at Senza Limiti. It's a ring. Definetly not something for everyone and everyday, but I do think it is beautiful anyway. With its green stone and silver it is definetly what I would like. Unfortunately it is a bit too big for my ring finger.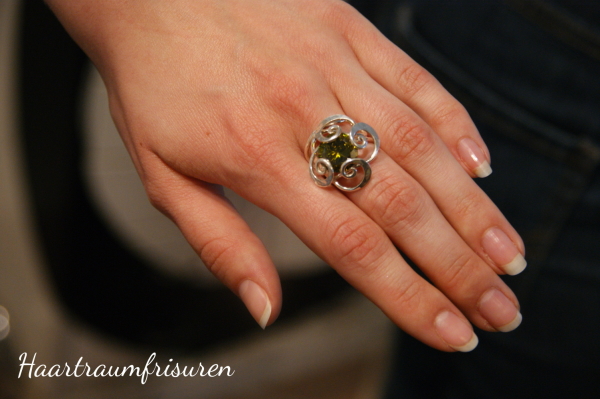 So ein Besuch in der Werkstatt lohnt sich wirklich immer, es hat viel Spaß gemacht nach herzenslaune zu probieren. Man muss sich allerdings immer bewusst sein, dass nein sagen dann oft wirklich schwer fällt, denn es kommt nur allzugerne vor, dass ein Schmuckstück nach einem ruft und man es nicht mehr aus dem Kopf bekommt, wenn man erstmal sieht wie gut es passt und die Schönheit in echt bewundern kann. Ist mir selbst schon oft genug passiert. Soviel zur geplanten Verkleinerung meiner Sammlung… Seid ihr auch schonmal bei etwas ungeplant schwach geworden?
Senza Limiti is always worth a visit, it was so much fun just to try everything. But be sure that it is really hard to say no once you've seen the bauty of those pieces in real and how wellt hey fit. It happened to me many times. Did you ever get week with one of their pieces?