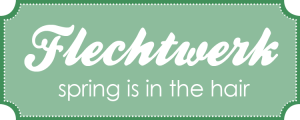 Das schwierigste für den Beitrag heute war tatsächlich die Auswahl der Bilder. Denn das flechten, dekorieren und fotografieren war so wunderbar entspannt. Das alles fand nämlich bei Heike an meinem langen Oster Wochenende statt. Sie hat mir einen Elastic Braid gemacht und ich ihr. Bereits am Vortag hatten wir die Läden geplündert und verschiedenste Blüten gekauft mit denen wir dann unsere Zöpfe dekorierten. Denn für das Frühlingsthema, da waren wir uns einig, mussten Blumen ins Haar und zwar reichlich. Und dazu passen meiner Meinung nach super diese lockeren und großen Elastic Braids.
The hardest thing for today's post was to choose the pictures. Because all the braiding, decorating and taking pictures was so relaxed. This all happened while I visited Heike. She did an elastic braid on me and I did one on her. One day earlier we went shopping for flowers to put into our braids. Becasue we were both thinking that there had to be flowers for this spring toppic. And I feel like those big and messy elastic braids are the perfect choice if you want to add flowers.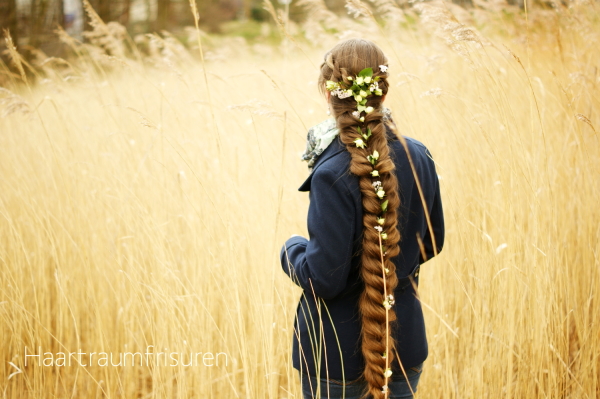 Der Zopf war mein Wunsch an Heike für das Wochenende, nicht weil er besonders schwer ist, aber aufgrund der vielen Gummis ist es eine ziemliche fummelei.

Das Prinzip beim Elastic Braid ist ganz einfach. Eigentlich. Tatsächlich haben Heike und ich aber festgestellt, dass wir diesen Zopf auf zwei unterschiedliche Arten machen. Sie nimmt je zwei kleine Strähnen (eine von recht, eine von links), dreht sie leicht ein und bindet sie mit einem Haargummi zusammen. Dann noch breit ziehen. Im Prinzip ähnlich wie bei einem Pullthrough Braid, nur eben mit sehr viel kleineren Abteilungen. Ich hingegen nehme zwei Strähnen (die ich auch leicht eindrehe, aber das ist nicht so wichtig), binde sie zusammen und flippe den so entstandenen Zopf einmal nach hinten durch. Dann halte ich den Gummi fest und ziehe unregelmäßig an den Strähnen um den Gummi nach oben zu schieben (so dass er den vorhergehenden versteckt) und dann an den Seiten der Schlaufen um das ganze breiter und unregelmäßiger zu machen. Kurz und knapp erklärt, könnt ihr den Unterschied zwischen meinem und Heikes Zopf erkennen?
The braid was my wish from Heike. Not becasue it is so hard to do, but because it's such a mess with all those hair ties. The pattern is really easy. At least we thought it is. But we saw that we both are doing it in two different ways. Heike takes two small strands, turns them and ties them together with an elastic. Then she pancakes it, like with an pullthrough braid. I also take two small strands and I also twist them a bit, but after I tied them together I flip them once. Then I pull on the elastic and the hair to hide the elastic I put in before and to make it irregular and bigger. Can you see the difference between our two braids?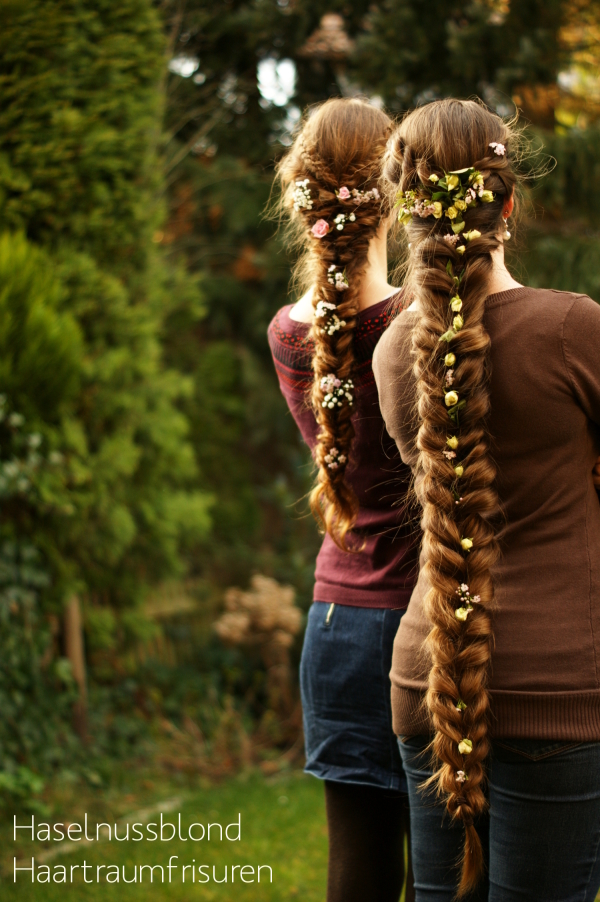 Am Anfang von so einem Elastic Braid mache ich übrigens gerne verschiedene Akzentzöpfe. Heike hat bei mir zwei Reihen Kordelzöpfe gemacht, ich bei ihr je einen flachen Vierer von links und rechts. Dann haben wir uns gegenseitig mit Blumen dekoriert, schön oder?
I love to add some accent braids at the beginning of such an elastic braid. Heike made two rows of rope braids on my head and I did two flat four strand braids. After this we decorated us with flowers. Pretty, isn't it?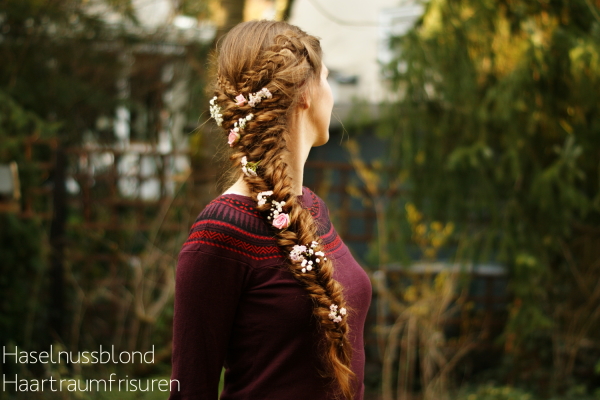 Ich muss gestehen, mein Zopf erinnert mich tatsächlich ein wenig an Rapunzels Zopf im Disney Film. Natürlich bin ich nicht so blond, aber dafür ist der Zopf riesig groß und mit Blümchen verziert. Kann mir bitte jemand regelmäßig so etwas machen? Spaß beiseite. So ein Zopf, breiter als mein Hals ist schon etwas gewöhnungsbedürftig, aber auf jeden Fall ein Hingucker. Und da haben sich auch noch ein paar Seifenblasen aufs Bild geschlichen…
I have to admit my braid really reminds me of rapunel's braid in the disney movie. Of course I'm not as blonde as her, but the braid is huge and decorated with flowers. I like it, but it's kind of unusual to have a braid wider then my neck. But you have to look at it no mather if you like it. And there are some soap bubbles on the picture, too!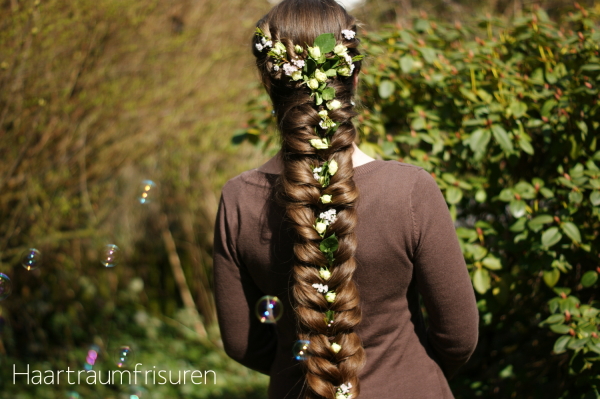 Ich hoffe ihr habt jetzt ein bisschen Frühlingsstimmung. Wenn das noch nicht reicht (und auch in jeden anderen Fall), folgt mir jetzt zu den anderen Mädels.
Now I hope you have some spring fever. If not (and in any other case) follow me now to the other girls.
Nächsten Monat hübschen wir dann alle gemeinsam unsere liebsten Standard Frisuren ein wenig auf.
Next month we want to pretty up our favourite everyday hairstyles.