Heute zeige ich euch eine Art Haarschmuck die bei mir eher selten ist. Ficcare. Aktuell sind die Stücke ja sehr begehrt, da sie nur noch begrenzt hergestellt werden. Für mich persönlich sind sie aber nicht besonders genug um den hohen Preis zu rechtfertigen, denn selbst Größe L ist eher knapp und hält nur in manchen Frisuren. Deswegen habe ich auch nur genau eine und zwar in Grün. Ihr habt sie vielleicht schonmal in meiner Galerie gesehen. Wenn ich sie trage, dann in einem Centerheld Bun oder in einem Flechtdutt.
Today I will show you my one and only Ficcare. At the moment they are really rare. For me they are nothing special, I think they are a bit pricy for the hold. L is somehow small and only fits in special hairstyles.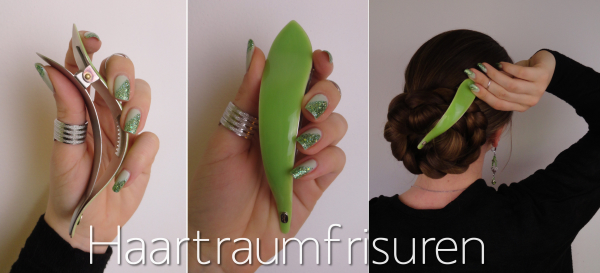 Außerdem passt sie ganz zufällig zu meiner Maniküre und ich wollte die Chance nutzen um euch meine Ficcare zu zeigen, denn aktuell trage ich sie hin und wieder. Das grün gefällt mir sehr.
Zusätzlich habe ich Ringe für mich entdeckt, die am Knöchel getragen werden. In die habe ich mich sofort verliebt und mir welche besorgt. Am besten zu sehen auf dem rechten Bild.
Hier noch den Flechtdutt mit der Spange. Dazu hat die liebe Zoey von growbeyondyourlimits mich indirekt angestiftet, bei ihr sieht man öfter so einen Flechtdutt.
I love the green colour and it fits my manicure. So I wanted to show it to you because I wore it now and then the last weeks. And you can see it maybe, I fell in love with knuckle rings. So I got some and I'm wearing them all the time at the moment.
Below is the picture of the braided bun with Ficcare, Zoey from growbeyondyourlimits inspired me to try this, she wears it a lot.