Wer mein Interview von Anfang des Monats gelesen hat weiß wie schön ich es finde, dass ich durch meine Hobby (-> Haare und Frisuren <-) schon viele neue Freunde gefunden und Bekanntschaften geschlossen habe. Das hat mir viele wundervolle Begegnungen, einmalige Erlebnisse und jede Menge Spaß beschert. Eines dieser Erlebnisse war zum Beispiel die Hochzeit von Heike letztes Jahr. Und vor kurzem kam noch so ein weiterer, ganz spezieller Tag dazu. Ich wurde wieder für eine Hochzeit "gebucht", diesmal im mittelalterlichen Stil auf einer echten Burg.
If you did read my interview at the beginning of the month (which was only german, sorry) you already know how much I love it how many new friends I found through my hobby (long hair and hairstyles). It brought so many beautiful expieriences, unique moments and wonderful meetings to me. Just like Heike's wedding last year. And not long ago I added one more of those special days. It was again a wedding, but a very special one, as it was a medieval event on a real castle.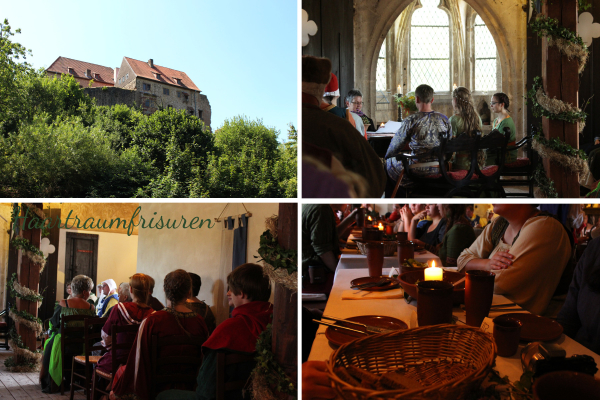 Ich muss sagen ich schätze so etwas sehr, denn als normaler Gast bei einer Hochzeit ist man selten so ins Geschehen eingebunden, wie ich es meist bin. Man trifft die Braut schon am Morgen, ist Teil der Vorbereitungen und erlebt ein paar wundervolle Momente voller Trubel und Aufregung. Für mich immer wieder eine große Ehre bei so etwas dabei zu sein. Besonders bei so liebenswerten Menschen wie auf dieser letzten Hochzeit, auch wenn meine Antwort auf die Frage "und, wie gehört ihr zum Brautpaar?" immer wieder für Belustigung sorgt. Ich mache die Haare. Aber bis jetzt war es bis zum großen Tag sowieso immer so, dass es mehr als nur ein dienstliches Verhältnis war. So ein großes, gemeinsames Hobby verbindet eben einfach.
I really cherish to be part of a wedding like this, you are with the bride early in the morning and experience all the excitement and the special mood before a wedding. I'm always honoured to get the chance to be part of something like this. Especially when with such lovely persons like on this wedding. And it's always a laugh when someone asks me how I belong to the couple and I answer "I'm doing the hair". But indeed, it has always become more than that. A hobby like this connects people in a wonderful way.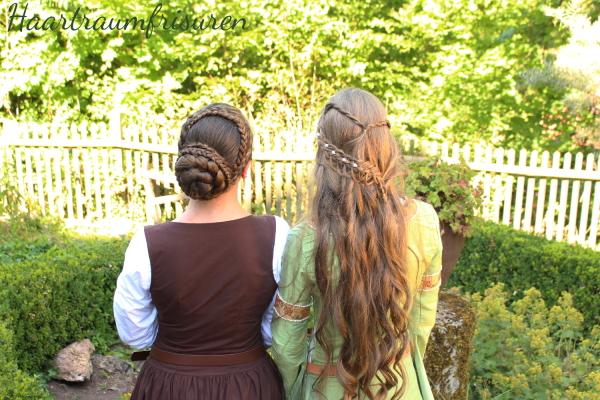 Hier seht ihr nun also die Frisur der Braut, es sollte offen sein, mit Locken. Ich wollte ein Haarband, genauer gesagt ein Fünferband, weil das schön zum Gesicht der Braut passte. Es sollte locker sein, damit ihre wundervollen blonde, langen Haare die ganze Aufmerksamkeit bekommen konnten. Und nicht nur von irgendeiner Vorlage kopiert. Natürlich geht es immer aufwändiger, schicker und selbstverständlich irgendwie anders. Aber es geht ja darum der Braut gerecht zu werden, um ihr wohlfühlen zu unterstützen.
So, here you can see the hair and a bit of the dress of the bride. I wanted to do a headband braid because I thought that fits best to her face. It should be open and loose so the beautiful blonde hair gets all the attenton it deserves. And not just a copy of some picture. Of course you ould always do a more complex hairstyle, more fancy and different. But it's about the bride and making her feel comfortable.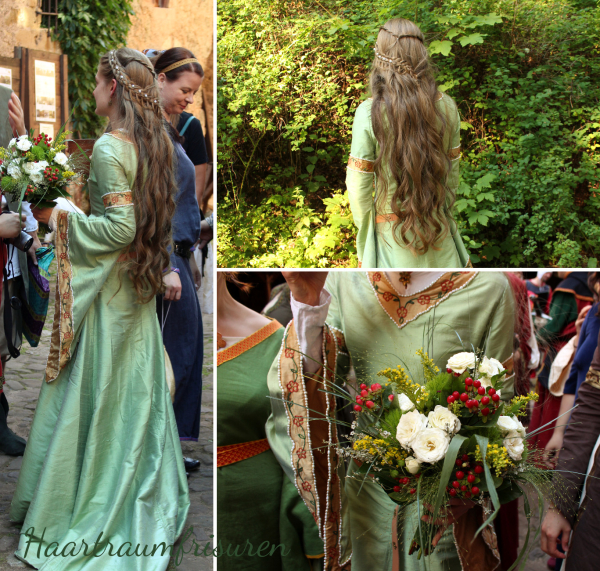 Für mich selbstverständlich ist es dann übrigens auch, wenn ich ebenso Teil der Feier bin, meine Haare wegzupacken. Egal ob man sie schön findet oder nicht, sie ziehen Aufmerksamkeit auf sich und die gehört an diesem Tag einzig und allein dem Brautpaar. Darum gab es für mich einen Dutt aus mehreren Lacebraids und Zöpfen.
For me it's naturally to put my hair out of the way if I'm part of the wedding. The attract attention and it's the big day of the bridal couple. This is why Idid some lace braids for me and bunned them.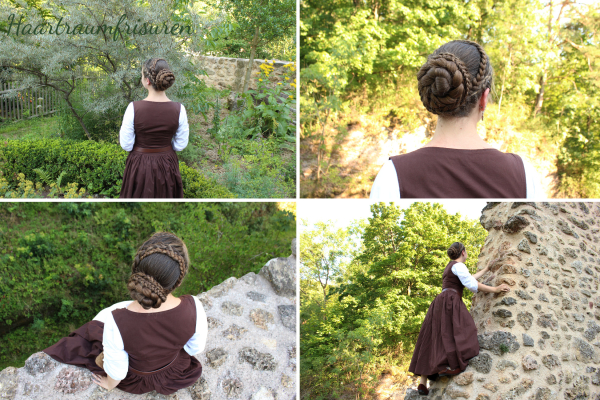 Abschließend bleibt mir nur zu sagen, danke ihr zwei, dass ich an diesem genialen Tag, nein an diesem Wochenende dabei sein konnte, denn ich hatte so wahnsinnig viel Spaß! Und ich hoffe euch allen gefallen die Fotos die ich mitgebracht habe.
Concluding there's only one thing left to say. Thanks to the wonderful couple, thanks to you two to give me the chance to take part on this special day and weekend. It was so much fun. And to all my readers: I hope you liked all the pictures I showed you!