Wenn nicht viel Zeit ist und ich keinen Dutt tragen mag muss ein Flechtzopf herhalten. Obwohl mein rauswachsender Pony schon recht lang ist, integriert er sich noch nicht besonders gut bei sowas. Sprich, er rutscht mit der Zeit gerne heraus. Das was ich euch heute zeige ist eine Möglichkeit wie ich trotzdem schnell einen Zopf mache und meinen Pony festtackere. Gleichzeitig sieht es viel aufwändiger aus als ein normaler Zopf.
Zuerst flechte ich einen holländischen Zopf mit der Ponypartie. Quasi ein Viertel Classics – ich flechte nur die linke Hälft der haare mit ein und auch da nur ungefähr bis zum Ohr. Dann nehme ich keine Haare mehr hinzu und flechte den Zopf zuende. Der ist dann ein Strang meines Flechtzopfs. Hält bombig und gefällt mir sehr. Leider war hier der Flechtzopf um einiges früher zuende als die sonstigen Haare und somit ist die Quaste recht lang. Dafür kann man diese Firsur locker zwei Tage am Stück tragen. Ich mache dann in der Früh nur schnell den "äußeren" Zopf neu.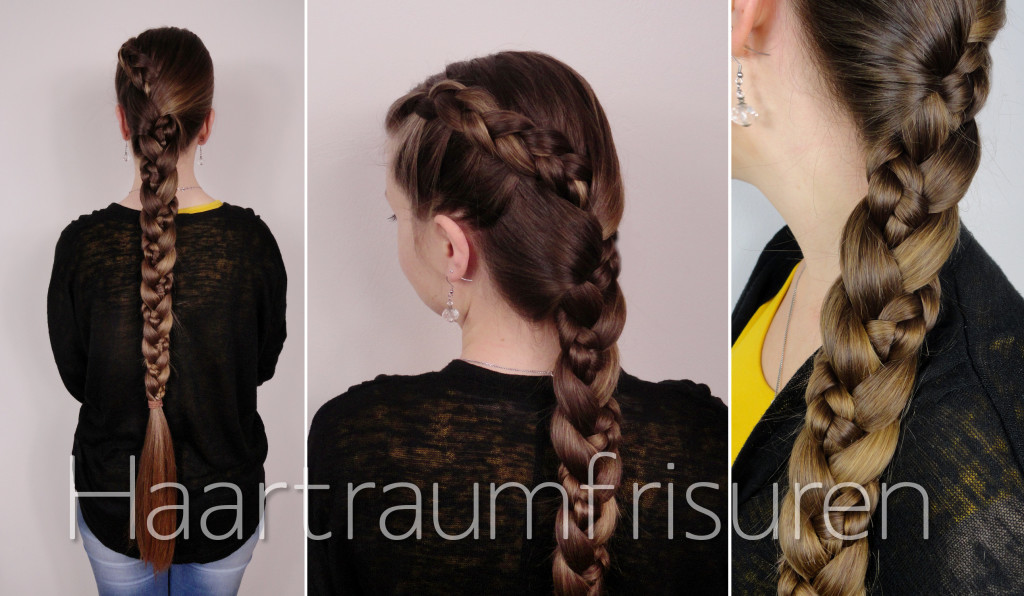 If there is not much time and I don't want to wear a bun I do a braid. But I need to fix my growing fringe – it still comes out after a while. So I do this with a dutch braid on the left side of my parting. The dutch braid is then one of the three strands of my braid. Looks more compicated then a normal braid, but doesn't take much longer. And you can easily wear it two days – just rebraid the "outer" braid in the morning.