Erinnert ihr euch noch an das tolle Zopf-Foto mit den rosa Blumen? Ein echter Rapunzel Zopf für mich. Und jetzt habe ich ein Bild davon. Also besser gesagt eine Zeichnung. Und ihr wisst bestimmt auch von wem? Ja genau, meiner liebsten Heike. Sie macht sowas übrigens öfter, bei ihr auf dem Blog unter der Kategorie Artwork. Ich finde das Bild wunderschön und darum muss ich es unbedingt mit euch teilen! Ich denke Heike wird euch noch mehr zur Entstehung erzählen, schaut also unbedingt auch bei ihr rein. Ich bin ziemlich begeistert von all den Details, meine blonden Strähnen im Haar, die Ohrringe und sogar die losen Strähnen die mir ums Gesicht fallen, alles hat sie aufgegriffen. Einfach toll!
Do you remember the beautiful braid picture with those pink flowers? A real rapunzel braid in my opinion. And now I have a drawing of it and I'm shure you know who did it. Right, my dear Heike. She is doing things like that on a regular base, check out here category Artwork. I really love this picture and so I had to share it with you. I think Heike will for shure tell you more about the picture, so be shure to check out her blog.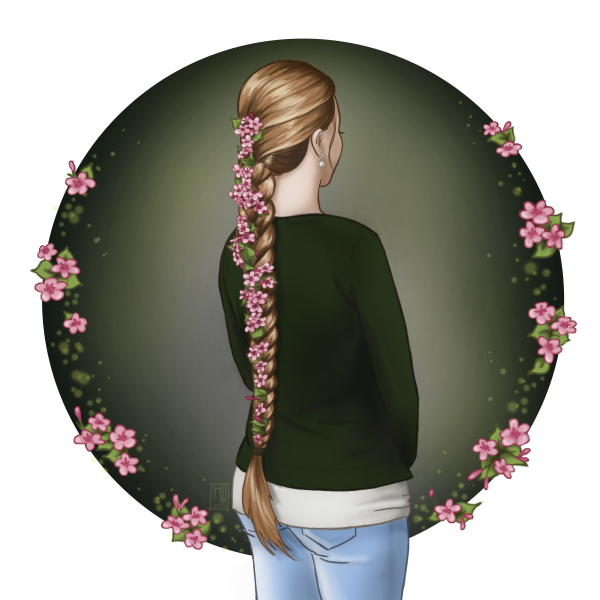 Und, wen es interessiert – ich habe ein kleines Interview rund ums Bloggen gegeben. Zu finden bei BGW Young Look. Damit ich auch ein bisschen was zu diesem Beitrag beigetragen habe, außer der Bildvorlage natürlich.