Während ihr das lest verbringe ich mein Wochenende vernab meiner Heimat bei der lieben Heike. Ganz spontan hat es sich ergeben, dass ich dieses lange Wochenende hier verbringen kann. Und bis jetzt ist es wirklich einfach nur toll. Wir haben gigantisches Wetter, der Sommer legt sich richtig ins Zeug, sodass wir perfekten Sonnenschein, warme Temperaturen und einfach optimale Bedingungen für jede Menge Spaß haben. Ich kann euch jetzt schon versprechen, dass es auch für euch massenweise schönes zu sehen geben wird. Die Frisuren die wir bis jetzt gemacht haben, haben sogar mir die Sprache verschlagen und für mehrfaches "Boa wie geil" gesorgt. Entschuldigt die Umgangssprache, aber so war es nunmal. Also gibt es die nächste Zeit all das zu sehen was ich an einem Wochenende erlebt habe und noch erleben werde, dass so unglaublich vollgepackt, produktiv und einfach nur schön war und ist. Nicht nur wegen all dem tollen Essen. Schaut dann auch unbedingt immer bei Haselnussblond vorbei, denn wer weiß ob sie sich für die gleichen Bilder aus all den Massen die wir gemacht haben entscheidet.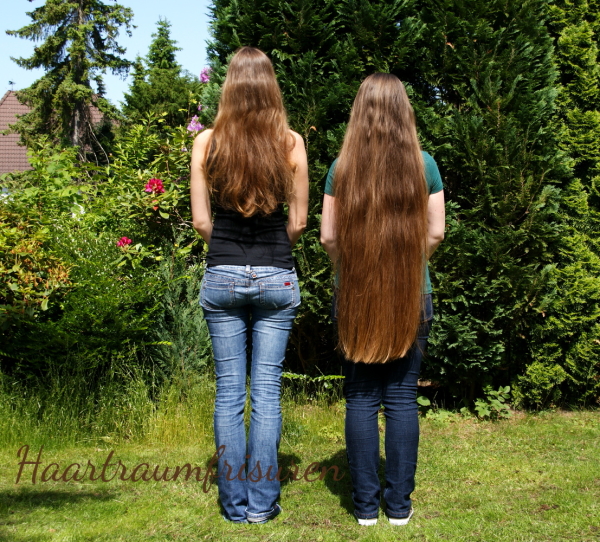 Für den Anfang ein Längenbild von uns beiden zusammen. Das Ausgangsmaterial sozusagen, damit wird gearbeitet. Interessanterweise wirken unsere Haarfarben auf dem Bild sehr ähnlich. Nur einmal wellig taillienlang und einmal glatt bis mitte Oberschenkel. Außerdem perfekter Glanz im Sonnenschein. Was dann noch nicht fehlen  darf sind Haarwurfbilder in allen Variationen, deshalb hier mal ein paar meiner Lieblinge. Die nächste Zeit wird dann vollgepackt mit noch mehr Haarbildern und atemberaubenden Frisuren. Das wird jetzt wirklich Schlag auf Schlag gehen, seid gespannt. Ich bin es auf jeden Fall!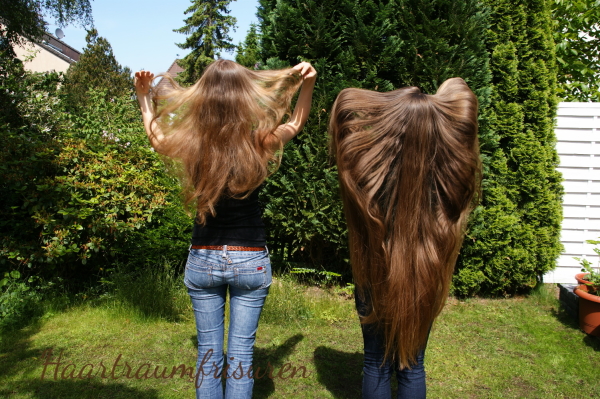 While you are reading this I am spending my weekend far away from home with my dear friend Heike. Spontaneously there was a way to spend the long weekend here (long because we have a holiday). And until now it is just awesome. The weather is gorgeous, the summer is giving its best so we have sunshine, warm temperatures and therefore best conditions for a really good time. And I can already promise you that there will be so many beautiful things for you to see. The hairstyles we have done so far amazed me so much! I was just like "Wow" all the time. So the next time you will see everything  I have and will expierience on a weekend that is so full of action, braiding and positivity. And gorgeous food by the way. And be shure to check out Haselnussblond everytime, I know she will show you some different pictures.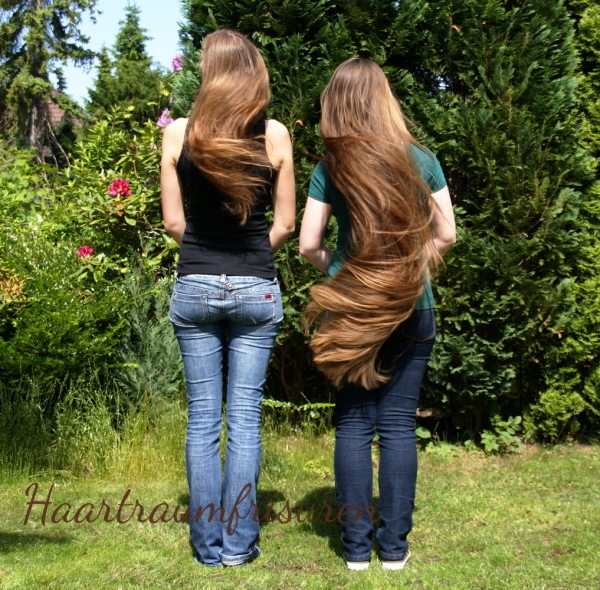 So here we got some lenght pictures to show you the base of all the braiding and hairstyles. Our colours are somehow a bit similar in the sun. Just different structure and lenght. And perfect shine because of the sunlight. And several of my favourite hair throwing pictures because I love them so much. the next time will be full of hair pictures and beautiful hairstyles. Be excited – I shure am thrilled already!