Manchmal packt auch mich der Neid. Nur ein kleines bisschen. Oder vielleicht doch etwas mehr. Wenn jemand längere Haare hat als ich zum Beispiel und nicht nur ein bisschen, nein gleich zwanzig Zentimeter! (Achtung, Ironie. Gerne wäre ich schon bei der Länge, aber alles zu seiner Zeit)
Dann auch noch in dieser gold blonden Farbe, wahnsinnig toll und fast so dick wie meine Haare. Habt ihr ein Glück, dass ihr mir nicht einfach so glauben müsst, sondern ich euch Fotos mitgebracht habe. Vor kurzem durfte ich besagtes Langhaar kennen lernen und hab sie dann kurz darauf gleich noch ein zweites Mal gesehen.
Sometimes I get jeallous, too. Just a little bit or maybe a little bit more. If somebody has longer hair then mine and it was not just a tiny bit, but twenty centimeters! (No, no real envy here, there will be a time for me to have long hair like that, too)
But can you believe this colour? And her hair is almost as thick as mine. Lucky you – I brought you some pictures. I had the pleasure to meet this wonderful long haired lady not only once but twice the last weeks.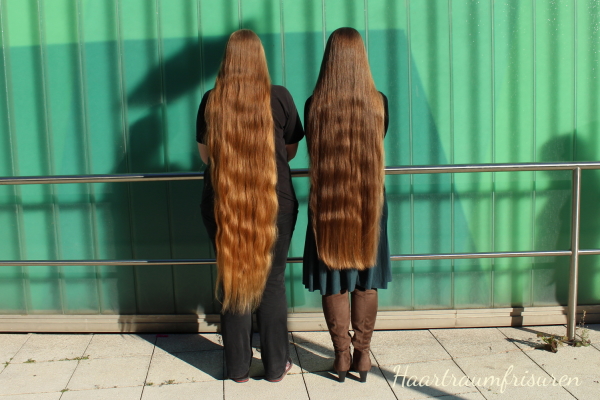 Der Wahnsinn, oder? Und dann hatten wir auch noch so wunderschönen Sonnenschein. Verzeiht mir, wenn der Beitrag heute etwas zusammenhangslos ist, ich packe einfach alle Eindrücke zusammen. Auf jeden Fall habe ich ihr dann auch noch einen Zopf geflochten, fast selbstredent, dass es ein Fünfer war. Schon beim flechten fühlte ich wie dick ihre Haare sind, im Zopf sieht man es dann auch. Ich mag ja sonst keine so großen Bilder, die man ewig scrollen muss, aber dieser Zopf hat etwas Aufmerksamkeit verdient.
Awesome, isn't it? And then there was this wonderful sunshine. Please be patient with me today, today the post could be kind of confused as I try to tell you all my impressions. Anyway, I braided her hair in the end and of course it had to be a five strand braid. The moment I started braiding I noticed how thick her hair is and afterards you could see it in the braid, so huge!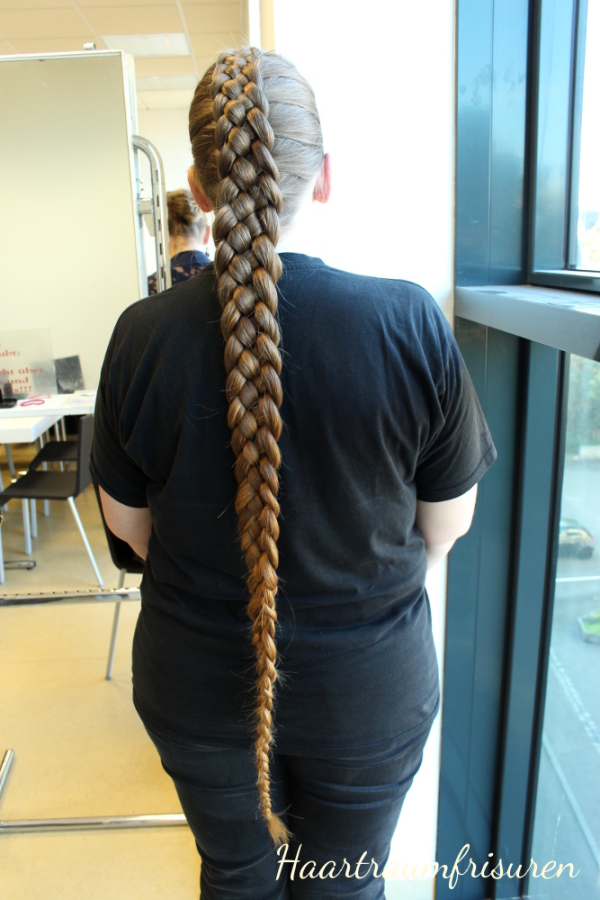 Ein bisschen Spaß muss natürlich auch noch sein, also ließen wir uns zusammen flechten. Das bisschen was ihre Haare länger sind als meine haben wir gekonnt ausgeglichen, indem ich meinen Kopf geneigt habe. Was für ein Mega Zopf das war! Und natürlich vielen Dank an die fleißigen Flechterinnen.
Of course we had to have some fun, so we made one four strand braid out of our two manes. As her hair is a little bit longer than mine, I layed my head to the side and everything was fine. The braid was so thick! I could not believe it, I just had to grab it.