Und auf einmal häufen sich die Anlässe für so ein Kleid. Letztes Wochenende konnte ich es wieder tragen und ebenso werde ich es kommendes wieder ausführen. Bei dieser Menge der Events muss ich ja schon fast über ein zweites nachdenken. Und ihr könnt euch freuen, denn ich habe mich wieder für einen Half-up entschieden. Die Haare waren schön, weich und vorbildlich brav, nur mit leichten Flechtwellen und so habe ich sie dann auch ausgeführt. Wenn ich sie offen trage greife ich übrigens auch mal vorsorglich zum silikonhaltigen Leave-in für die Längen um sie zu schützen. Die Frisur ist eher simpel – zwei hintereinander geflochtene Lacebraids von der Stirn nach hinten. Beide bis zum Ende geflochten. Von der anderen Seite habe ich einen kleinen Viererzopf begonnen, dem ich dann nach wenigen Runden erst den einen, dann den anderen Zopf hinzugefügt habe.
And suddenly there are several events to wear a dress like this. Last weekend I was able to wear it again and I will wear it next weekend as well. Good for you – some more creative hairstyles. this time I decided for a half up again. My hair was soft and so I wore it open. If I do so I sometimes use a leave in with silicones to protect my hair by the way. The hairstyle is rather simple – two rows of Lacebraids, both braids braided till the end. Then I started a four strand braid from the other side and added the two braids one after the other.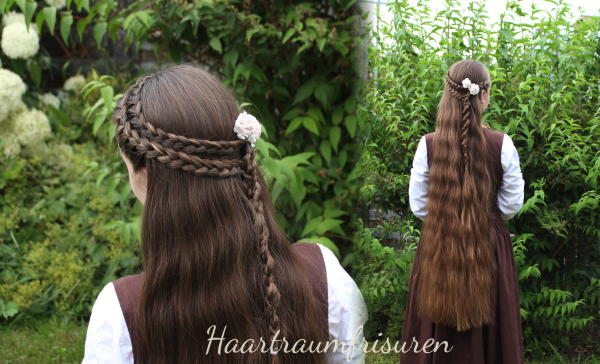 Dann hat man zwei eher dicke und zwei dünne Strähnen, was das Flechtmuster total spannend macht wie ich finde. Der entstehende Zopf ist eher kurz, aber trotzdem mag ich das so lieber als einen Half-up der nur am Oberkopf Akzente setzt. Die kleinen Blumen sind übrigens meine Entdeckung der letzten Zeit. Genauer gesagt Heike hat sie entdeckt, sie sind aus Papier mit Stiel aus Draht, lassen sich dadurch super einfach zu jeder Frisur hinzufügen. 8 Stück davon gibt es bei Rossmann für 1,29 oder so. Ich dachte ich gebe das an euch weiter, da es noch nicht lange her ist, dass wir sie gekauft haben. Meine sind leicht rosa, Heike hat welche in beige. Im Lauf der nächsten Woche werdet ihr sie noch öfter im Einsatz sehen. Wie immer will ich natürlich wissen was ihr dazu sagt, vor allem weil ich mir die Frisur ausgedacht habe während ich so vor mich hingeflochten habe.
This way you got two rather thick strands and two thin ones. This creates an interesting pattern as I think. The small flowers are made from paper and perfect for hairstyles because they have a wire handle. I bought them at a local drugstore recently, there will be more hairstyles with them the next week. As always I want to know what you think of this, especially as I made it up on my own while I was braiding