Ihr kennt bestimmt auch den Youtube Channel von Cutegirlshairstyles. Leider zeigen sie ja nur wie Frisuren an anderen gemacht werden, aber dafür natürlich jede Menge verrückte Sachen. Nicht alles ist auch für Erwachsene geeignet, aber auf Instagram werden die Frisuren immer fleißig nachgemacht. Diese Woche habe ich mich dem mal angeschlossen und ein wenig an einer Freundin geflochten. Ihre Haare habt ihr hier, auch in Videos schon öfter gesehen. Mittlerweile hat sie übrigens auch einen eigenen Instagram Account, wo sie auch ihre Haare zeigt, unbedingt mal vorbeischauen!
You probably know the Youtube Channel from Cutegirlshairstyles. They show how to do hairstyles on others, not everything is for grown ups, too as I think, but on Instagram so many people are recreating their styles so this week I tried some of them on a friend of mine. You have seen her hair here severals times, also in videos. Recently she started her own instagram account with hair pictures, be shure to check it out!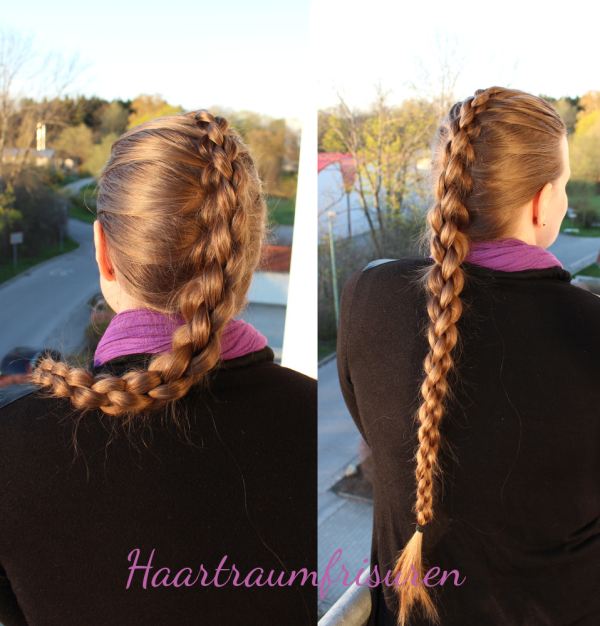 Die erste Frisur hier heißt bei CGH Dutch 3D Braid. Das ist ein runder Viererzopf, bei dem zusätzlich ein wenig die unteren Windungen auseinandergezogen sind. Dadurch wird das ganze etwas fluffiger, messy und sieht ein wenig anders aus. Das Flechtmuster ist aber das gleiche. Ihre Haare sind aber sehr weich und flutschig, also wirklich richtig – darum ist ein gepancakeder Zopf nicht so einfach bei ihr, die Haare flutschen gern einfach wieder zurück.
The first hairstyle is called Dutch 3D Braid at CGH. This is a simple round four strand braid, a bit pancaked. This way it looks more fluffy and a bit messy. But her hair is very soft and slippery, it tends to just slip back in place.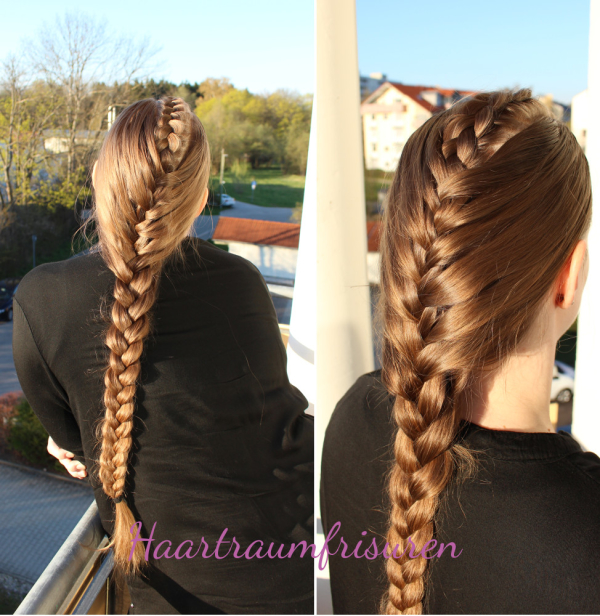 Das zweite nennt sich Tuxedo Braid. Oben ein breiter Holländer, darunter ein lockerer Franzose. Ich persönlich mag hier nicht, dass man vorne an der Stirn die Scheitel des Holländers sieht. Trotzdem wollte ich es gerne einfach mal versuchen. Was sagt ihr zu den Frisuren?
The second one is called Tuxedo Braid. At the top a dutch braid and below a loose french braid. I don't like that you can see the partings from the front, but I wanted to try it anyway. What do you say to the hairstyles?