Gut einen Monat trage ich jetzt schon meine neue Länge. Oder Kürze, wie man es auch nennen will. Und soll ich ehrlich sein? Es fühlt sich so gut an. Vor dem Schnitt habe ich lange Zeit überlegt, wie kurz ich sie wirklich schneiden soll und kurz auch mit Steißlänge geliebäugelt, einfach weil offen tragen dann noch einfacher wäre. Habe mich aber dagegen entschieden und das war definitiv das richtige. Ich liebe jeden einzelnen cm den ich aktuell auf meinem Kopf trage.
It has been one month since my big cut. And to be honest it feels so good. I still love it. Before the cut I spend a lot of time thinking about how short I should go and even thought about going above my butt because it would be even easier to wear it open this way. But I decided against it at this was so so the right thing. I love every single cm hair on my head.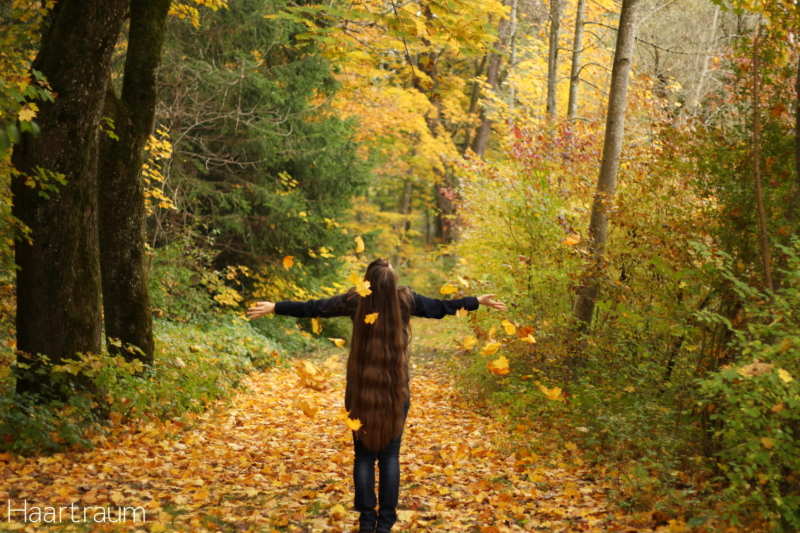 Ganz komisch zu beschreiben, aber diese Länge fühlt sich einfach richtig an. Beim Handling, also bürsten, flechten oder hochstecken gibt es kein einziges Mal einen Moment in dem ich genervt bin, sie gehen auch nie im Weg um. Das bestätigt mich voll und ganz, dass es genau das richtige war. Wären sie kürzer würde mir aber definitiv was fehlen. Wie schon vor etwa einem Jahr als ich den Pony geschnitten habe gab es keine Sekunde der Reue. Den Pony liebe ich übrigens weiterhin heiß und innig. Auf den Bildern habe ich übrigens Flechtwellen, wie unschwer zu erkennen ist. Wie auch zuvor trage ich viel und gerne Zopf und der hinterlässt oft solche Wellen. Sieht manchmal fast aus wie mit dem Lineal gezogen.
It's hard to describe, but this lenght just feels right. The handling is so easy, when I brush or braid it there was no moment where I was annoyed. This just reassures me that it was the right thing. But if my hair was shorter I would definitely miss it. Like one year ago when I cut my bangs there was not one second of regret. By the way I still love my bangs! On all the pictures I'm having braid waves, easy to see. As before the cut I love to wear my hair in a braid.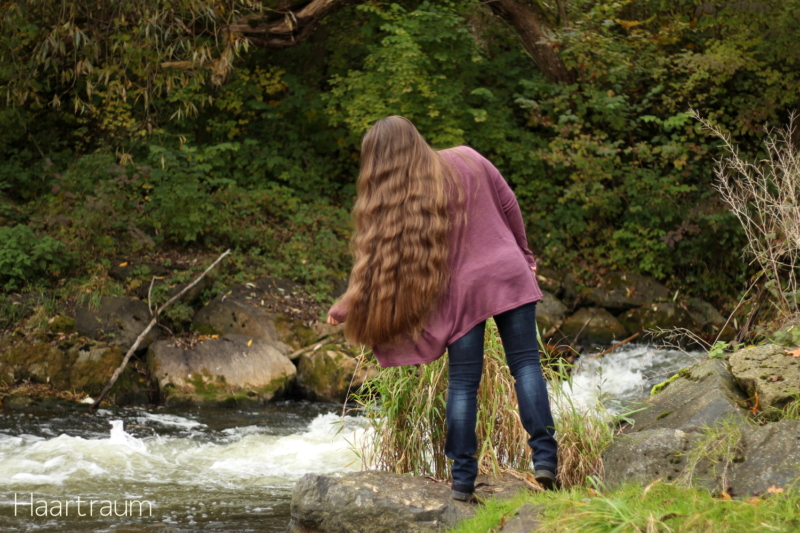 Was ich jetzt aber auch wieder mehr trage ist Dutt. Er ist immer noch schwer, aber eben nicht mehr ganz so wie vor dem Schnitt. Die neue dicke Quaste lässt sich zwar sehr viel schwerer verstecken und puschelt auch gerne mal wieder an der Seite raus, aber damit komme ich zurecht. Was mir aber im Zopf und auf den Längenbildern ganz deutlich wird (und was ich auch gleich nach dem Schnitt geschrieben hatte): ich will mein U wesentlich flacher, parabelförmiger (Die Bilder die ich hier zeige sind nicht repräsentativ, sondern meist sehr vorteilhaft). Es darf an den Seiten ruhig etwas nach oben gehen, aber die Mitte soll viel flacher sein. Mein aktueller Plan ist die Zeit im Weihnachtsurlaub zu nutzen und mal in aller Ruhe das selber schneiden zu üben. Sollte das was werden lass ich euch natürlich zusehen. Bis dahin wachsen ja noch ein oder zwei cm nach und dann bringe ich das bestimmt übers Herz, also nochmal ein paar cm zu opfern. Und wenn nicht dann definitiv ein paar Monate später.
Lange Rede, kurzer Sinn: ich wollte euch einfach ein bisschen an meiner Freude an meinen Haaren teilhaben lassen bevor ich mich jetzt wieder auf neue Videos und Flechtfrisuren stürze.
But I also love to wear buns more often now. My bun is still heavy, but a little bit lighter which makes it slightly more comfortable to wear. My new and thick ends are hard to hide under the bun and tend to come out at the side, but I can handle that. But when I look at my braid and at pictures I'm sue about one thing (which I already said right after the cut): I want my U-shape to be flatter, more like a parable. The middle, almost straight part should be thicker if you get what I mean. At the moment I'm planing to try to cut it myself around christmas. If it works I want to show it to you.
Anyway I just wanted to share my joy about my hair with you before I get back into videos and braiding.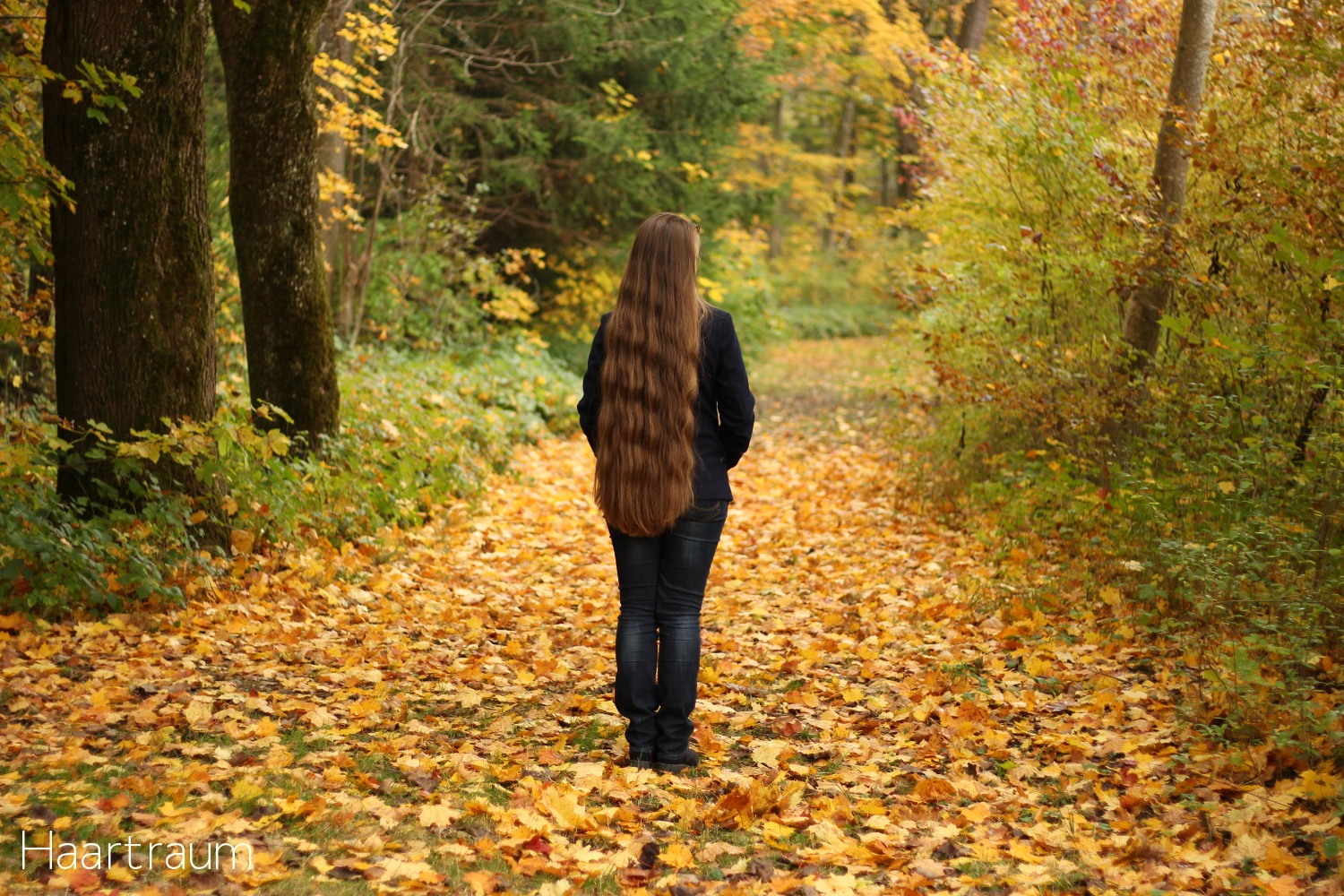 Nochmal in eigener Sache
Nach so vielen lieben Worte von euch möchte ich euch ein kurzes Update geben. Beim letzten Beitrag kündigte ich eine kleine Pause an um für meine Haustiere da zu sein. Um ehrlich zu sein war ich beim Schreiben desselben ziemlich aufgelöst und dabei mich von meiner kleinen süßen Maus (also meiner Zwergwidderdame Chilli) zu verabschieden. Seit Wochen "kämpften" wir gegen Nierensteine, schmerzhaft für sie und anstrengend für mich. Sie reagierte kaum noch und es schien als hätte sie selbst aufgegeben. Nach einem Besuch beim Arzt (eine andere Ärztin als ich zuvor besucht hatte) bereitete ich mich darauf vor sie gehen zu lassen. Denn auch da bekam ich nur bestätigt was ich befürchtet hatte, wenn sie selbst nicht mehr will kann man kaum etwas tun. Da ich aber noch Zeit brauchte und nicht einfach so aufgeben wollte nahm ich sie wieder mit, zusammen mit einem letzten Behandlungsversuch. Ich verbrachte also eine Woche damit sie zu pflegen und zu knuddeln und ihr könnt euch nicht vorstellen wie mein Herz explodiert ist, als es wieder aufwärts ging. Sie sitzt also immer noch neben mir während ich das schreibe (denn die zwei wohnen in meinem Arbeitszimmer, oder besser ich arbeite in ihrem Zimmer). Wir haben noch ein gutes Stück Weg vor uns bis sie wieder fit ist, aber immerhin können wir das gemeinsam machen.
You had so many kind words for me after my last post I wanted to give you a quick update. I announced a short break because my rabbit was really ill. Indeed I was really overwhelmed when I wrote my laast post because I was preparing to let her go and say goodbye. We were fighting kidney stones for weeks. Painful for her, exauhsting for me. The doctor only confirmed what I already new that day. It seemed like she had given up. But I was not ready to give up and so I took some new medicine (first time at this doctor my aunt recommended me) and gave it to her. So over one week I spend every minute with them, caring and cuddling. And you cannot imagine how my heart exploded when she started getting better. So she is still sitting next to me while I write this (as they live in my working room). It is still a way to go until she gets better, but at least we can go on together.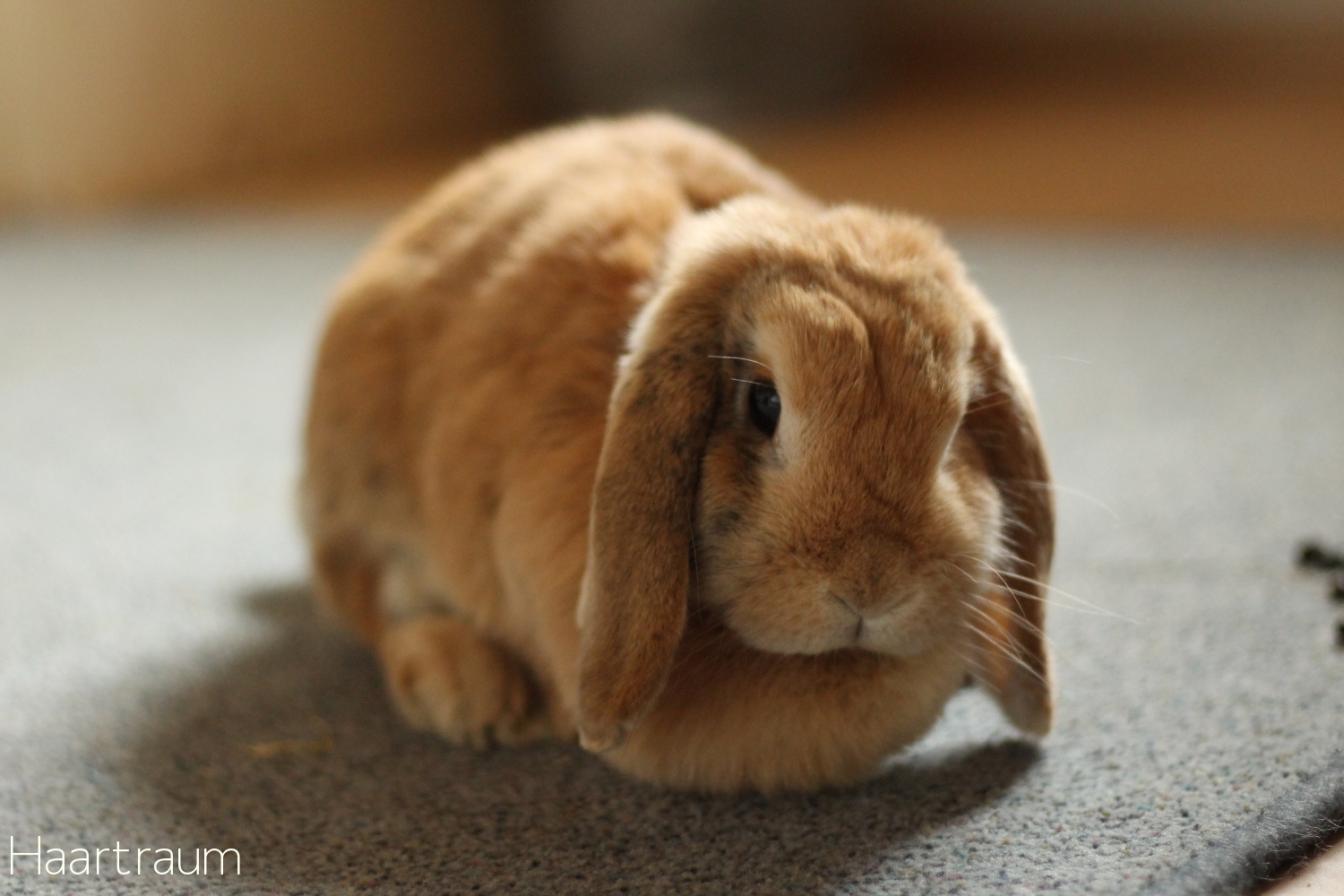 Veränderungen
In der Zwischenzeit war ich übrigens nicht ganz untätig, sondern habe im Hintergrund am Blog gearbeitet. Ich habe so ziemlich alle Unterseiten neu aufgearbeitet, die Haarpflege Seite war mir vor allem ein Dorn im Auge. Mittlerweile habe ich doch einiges an Inhalt hierzu gesammelt und es wurde zu unübersichtlich. Also ist das jetzt auch in Unterkategorien aufgeteilt in denen ihr bereits alle relevanten Videos findet und nach und nach möchte ich auch die relevanten Blog Beiträge verlinken. Die Galerien haben ein neues Gesicht und zusätzlich gibt es jetzt auch eine mit meinen liebsten Längenbildern. Auch unter "About" findet ihr jetzt ein wenig neuen Inhalt, unter anderem auch mein Equipment, ganz einfach weil das etwas ist was ich aus persönlichem Interesse immer sofort bei anderen Bloggern oder Youtubern suche. Vielleicht interessiert es euch ja auch. In diesem Sinne viel Spaß beim stöbern!
In the mean time I was not quite as inactive as initially planned because I did work on the blog in the background. I reworked almost all sides. Especially the "hair care" section had gotten so confusing. This is why I added more sections. They already contain all the videos and I will add important blog posts in the future. I changed the look of my galerys and there is also a new one including my favourite lenght pictures. The "about" section is also reworked. Now it includes my equipment because this is one of the first things I look for when watching at other blogger and youtubers sides. Maybe you'Re interested, too. So have fun exploring!