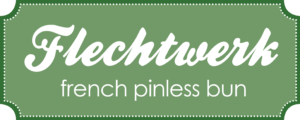 Der French Pinless Bun ist prinzipiell eine einfach Frisur. Sofern man einen französischen Zopf flechten kann und, und hier liegt der Haken, die Haare lang genug sind. Man braucht für die eigentliche Frisur je nach Haardicke wirklich ordentlich Länge. Zum Glück kann man ein wenig schummeln, dazu habe ich vor langer Zeit mal eine Anleitung gemacht (Wow, fast genau vor drei Jahren…mittlerweile kann ich das besser).
Wir nutzen diesmal die Vielfalt der Haartypen in unserem Flechtwerk Team um zu zeigen wie anders doch ein und dieselbe Frisur aussehen kann. Also auf jeden Fall auch beim Rest vorbeischauen:
Haselnussblond, Growbeyondyourlimits, Nixenhaar, Waldelfentraum und Wuscheline
Ich habe den French Pinless um ehrlich zu sein schon lange nicht mehr getragen, vermutlich habe ich ihn einfach aus den Augen verloren. Ich fand schon immer, dass er sich sehr angenehm trägt. Er sitzt fest, denn ich mag es überhaupt nicht, wenn ich ständig das Gefühl habe der Dutt verabschiedet sich falls ich mich zu schnell bewege, aber auch nicht zu fest, so dass Kopfschmerzgefahr besteht. Allerdings gibt es optisch ein Problem – das ich auf den Fotos natürlich so gut wie möglich vertuscht habe. Auf dem linken könnt ihr es aber trotzdem erahnen, da sieht man so einen kleinen Knubbel da wo ich angefangen habe den Zopf im Kreis zu legen. Ich habe mehrmals versucht es anders zu stecken, aber wirklich besser ist es nicht geworden.
Außerdem geht mein Zopf mittlerweile ungefähr eineinhalb mal herum. Das und die Tatsache, dass der Anfang des Zopfes natürlich viel dicker ist sorgen für ein leichtes Ungleichgewicht und die rechte Seite ist viel schwerer. Ich muss sagen ich finde meinen dicken Zopfanfang nicht sonderlich geeignet für diese Frisur. Ich weiß das ist jammern auf hohem Niveau, aber jeder Haartyp hat so seine Vor- und Nachteile, oder?
Ist mir auch eigentlich egal, ich trage ihn trotzdem, weil er so bequem und einfach ist. Habt ihr den Dutt schonmal getragen?
The french pinless bun is a rather simple hairstyle. If you can braid a french braid you have everything you need. Or almost because you need rather long hair for this one. But of course you can cheat and split your braid to reach around. I did a tutorial on this ages ago.
Today we use all the different hairtypes in our Flechtwerk community to show you how different on hairstyle can look, so be sure to check out the versions of the other girls:
Haselnussblond, Growbeyondyourlimits, Nixenhaar, Waldelfentraum and Wuscheline.
I must admit it has been a whil since I last wore this style. But I always found it very comfortable to wear. But there is a little problem when it comes to the looks. Of course I tried to hide it on the pictures, but you can still see the little blopp on the left picture where I started to wrap the braid around. I've tried it several times, but it didn't get any better.
And by now my braid reaches around about one and a half times. Because of this and because the beginning of my braid is way bigger then the end the right side is a lot heavier. Indeed I don't like the big beginning of my braid for this hairstyle. Every hairtype has its pros and cons, hasn't it?
But I don't care, I wear it anyway because it is so comfortable. Have you ever done this bun?