Schon im letzten Post gab es eine Frisur mit den ausgefallen blonden Haaren einer Freundin zu sehen. Ebenso diesesmal. Und auch wie letztes Mal gibt es eine Frisur die ich auf Pinterest "gepinnt" hatte und unbedingt mal noch nachmachen wollte. Ihr seht, ich arbeite fleißig daran, dass ich dort nicht schneller Frisuren sammle als ich sie machen kann.
Diese Frisur besteht aus vier Lacebraids, zwei davon werden zu Blumen gesteckt, zwei werden zusammen gefügt und enden in einem Engländer. In der Mitte der Blüten habe ich jeweils ein Glitzersteinchen platziert. Aber ich muss gestehen, dass hochstecken dieser Haare ist etwas ganz anderes als bei meinen eigenen Haaren und ich bin noch nicht ganz zufrieden mit dem Ergebnis. Ihre Haare sind einfach viel feiner, weicher und dadurch rutschiger als meine. Während ich bei mir mit U-förmigen Nadeln meist besser klar komme, hält es bei ihr eher besser mit den typischen Bobby Pins.
As in my last post, there is a hairstyle with this gorgeous blonde hair today. Also a hairstyle I pinned on pinterest before. I'm collecting hairstyles I want to try on my own and here is another one.
This one is made out of four lace-braids, two of them are bunned into flowers and the other two are combined to one braid. I have placed some glitter in the middle of the flowers. But I have to say I find it way more easier to pin my hair into buns. Her hair is smoother and thinner than mine. Bobby pins work better then my usual u-shaped pins.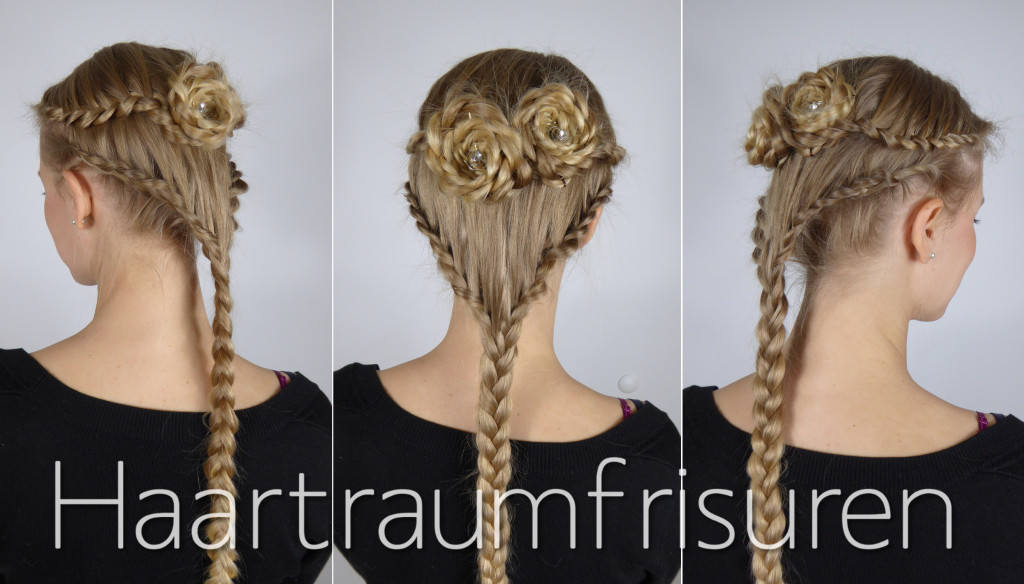 Ohne viel weitere Worte – wie findet ihr die Frisur? Sicher nichts für den Alltag und eher ausgefallen, aber ich finde sie sieht viel komplizierter aus als sie ist. Leider habe ich kein Bild von weiter oben gemacht, denn da kommt der Effekt der Frisur irgendwie noch besser raus. Das dürft ihr euch jetzt leichter nur vorstellen.
Davon abgesehen kann ich euch sagen, ich quille über vor Ideen, ich muss nur noch Zeit finden diese umzusetzen.